Fido : Celebrating Ten Years of Canine Care & Classes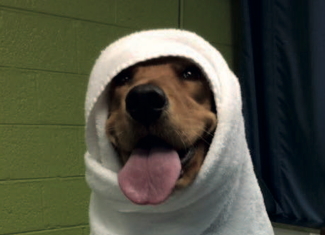 By Jennifer Goeddeke
With a spacious, brightly-painted new location at 23440 Woodward Ave (previously the TV Fitness building), it's clear owner Tammy Crenshaw and her dedicated team are doing things right!
Previously located for several years at 703 Livernois, at a smaller locale, an expansion of services offered and enhanced class space has literally just opened up for Fido's canine clients. When I recently had an opportunity to stop by and meet with Crenshaw, I was also introduced to Sarah Maki, who wears several Fido 'hats' as head trainer, groomer and office manager.
Together, Maki and Crenshaw have formed an effective and lively partnership, with a shared 'no-force' approach when dealing with all dogs. Positive-reinforcement is the name of the game and, although this may sound simple or even obvious, not all dog training or dog grooming facilities are created equal! Both Maki and Crenshaw have many years of experience and education in training and grooming, which allows them to understand our dogs' unique signals.
Crenshaw has worked with dogs for 17 years, initially focusing on pet-sitting and dog-walking. She then started training at Bubble & Bark in Ferndale, back in 2006, after graduating with honors from Animal Behavior College. She went on to receive her certification from the Council For Professional Dog Trainers in 2011. Originally, she met with Maki as a client. Soon after she began to realize Maki already had notable skills with dogs, and invited her to sit in on some classes. "I was smart enough to grab onto her!" Crenshaw explained, smiling: "We are now basically business partners, where Sarah takes on most of the staff and office managerial role."
Maki gained her Honors Degree in 2009, at the same Animal Behavior College as Crenshaw, and proudly completed her grooming qualifications at the Bingo Institute of Grooming last year. Maki added that the bad grooming experiences she had with her own dogs at various places inspired her to create 'Fido's Gray Dog Grooming', so that all dogs' boundaries could be respected.
The main goal is for each dog to associate a visit to Fido with enjoyment. Traditionally, grooming can be a stressful time for dogs, and so dogs may be reluctant to enter the facility — but not at Fido! Various methods have been implemented by Crenshaw, Maki and staff, to ensure your dog is comfortable and happy during each phase of care. Ideally, they want to see enthusiastic tail-wagging from all dogs coming in! Appointments are set so that 'overbooking' does not occur, and pets are not waiting around.
Your dog sets his or her own pace during the appointment, and can take a break if the groomer sees signs of anxiety. For example, your dog may be fed during nail clipping, by way of distraction. Other tried-and-tested approaches involve the use of toys, treats, potty-breaks and offering water. Further low-stress grooming methods include rubber mats being placed in tubs, to minimize noise echo. Aromatics such as essential oils are often used to soothe the dogs. Additionally, a soft cloth 'Happy Hoody' is used to put over a dog's sensitive ears, and greatly mutes the blow-drying noise which most dogs dislike. For older or larger pets, there is an extra tub available which is lower to the floor, which makes it easier for your dog to maneuver.
Had to ask : What are some of the anxiety cues to look out for in our own dogs, at home? Tammy informs us: Yawning (signaling stress) and different types of tail wags — in fact, all kinds of body language is used; we miss a lot of their signals, apparently, just by being human! Crenshaw explained further, "….more studies are now available on dogs and cats, leading to better understandings. We are primates, they are canines and felines…so although we can feel a great deal of connection and understanding toward our
pet…many signals and even emotions are different from ours…often with regards to  their moral com-pass. Corrections for 'bad behavior' may not always be what it seems…often, dogs are reacting to our tone and body language when 'acting guilty'…they develop appeasement postures and faces to appear submissive and create a better response from us…a stressed-out dog may be giving many communicative signals before finally snapping or biting!"
Regarding classes at Fido, there are plenty to choose from, from various phases of puppy obedience to 'canine good citizen,' 'leash reactivity' and 'advance field trip,' just to name a few. All staff members at Fido are carefully chosen for their combination of education and experience. Currently there are five lead trainers, three assistant trainers and a team of eight dog walkers. Both Crenshaw and Maki agree that seeing a dog change from being conflicted or unhappy to being more content and relaxed is hugely rewarding. Maki commented, "… it really seems to come down to an 'aha' or 'lightbulb' moment for the dog, where he or she realizes that his or her communication is finally being understood."
Clearly, there is so much to learn about our loyal and beloved canine companions. It is certainly re-assuring to know there are gentle and fun approaches, such as those used by Fido staff, to help train and groom these amazing family pets!
23440 Woodward Ave, Ferndale
www.fidodogtraining.com or
www.facebook.com/fidopersonaldogtraining. Tammy Crenshaw or Sarah Maki may be reached at 248.607.9350 or fidofetch@sbcglobal.net.