Ferndale Radio Project Progressing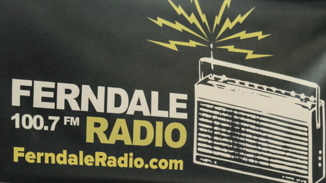 By David Wesley
Photos by Bernie Lamframboise
Seven years ago, Michelle Mirowski was struck by proverbial lightning on her front porch when she and her friends came up with the idea for a community radio project in Ferndale. Following the passage of an important communications law during the Obama administration, a tiny crack opened up in the local radio spectrum, allowing for the creation of a Low-Power FM (LPFM) radio station right here in our home town of Ferndale.
With the help of The Rust Belt and tons of local donations, Michelle and her team are only a few thousand dollars away from making the fresh and impactful change in radio that will nourish local talent and influence Ferndale life through the years to come.
Michelle sat down with me for an interview about Ferndale Community Radio: Its inception, its current state and its shining future.
DW: How and why did you start the Ferndale Community radio and how has it evolved since its inception?
MM: It was started from a passion for local radio! Local, community-based stations represent the creativity of the region they are based in, as well as helping bring communities together. The further along we got into FCR, the more we realized how perfect a community-based station is for Ferndale. Seven years ago, we just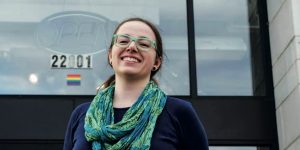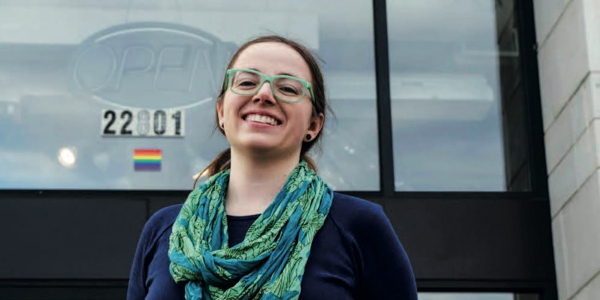 had a great idea. Now, we have an FCC permit for an FM station (100.7 FM), a secure location for our tower and studio (Rust Belt), we have a structured plan for running the station and a number of local folks who want to be volunteer DJs. The support has been overwhelming. We are also less than $5,000 from reaching our goal to get everything going. If you go to ferndaleradio.com, you can donate to help us reach the finish line.
DW: What are some of the most rewarding aspects of FCR for you, and how has it affected the city?
MM: Seeing people's faces light up when we mention our project is one of the most rewarding parts of the station. Folks want a place where they can share their creative projects and learn about new music and ideas.
This will give the Ferndale residents another tool to communicate with each other. FCR has given the city something extremely unique to look forward to. It is extremely rare that a city has their own community station!
DW: What do you plan the future of FCR to be?
MM: Once we are up-and-running, we hope to partner with lots of organizations in Ferndale. For example, we want to partner with the schools and air local football games, and work with students who might be interested in radio. This will also be a great place for local musicians from all genres to play their music. In year two or three we want to start streaming. This will be an avenue for the creative projects that make Ferndale, Ferndale. The station is here to enrich the already vibrant and talented community.
●    We are only a few thousand dollars away from succeeding with this project.
●    Local businesses that want to sponsor the station in return for on-air mentions should reach out to us at ferndaleradio@gmail.com.
●    T-shirts and hoodies, as well as guest DJ spots, can be found at ferndaleradio.com.
It's the best way individuals can help.
●    Weds. April 19: Special Fundraiser at Zeke's Rock 'n Roll BBQ, all day, mention Ferndale Community Radio and 15% of your receipt will be donated to FCR.