Ferndale Police Department Offers Active Intruder Training for Ferndale Businesses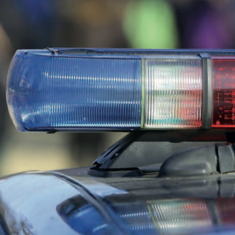 Story By Maggie Boyle
THE MOVIE THEATRE SHOOTING IN AURORA, THE SHOOTING AT THE ORLANDO NIGHT CLUB, and other high-profile school shootings like Sandy Hook and Marjory Stoneman Douglas High School have all increased public awareness of dangerous situations in public places.
Programs to educate the public about violent intruders are becoming more common. Ferndale Police Department (FPD) has begun active intruder training for the public and for Ferndale businesses. In late September, Sergeants Dan Kuzdal and Janessa Danielson gave a presentation for the general public, held at the Ferndale Public Library.
"We want to inform businesses and organizations to prepare," said Sgt. Kuzdal, an 11-year veteran with FPD and a member of the SWAT team. "We rely on the public to be prepared as much as possible."
Recently, the Credit Union One Staff in Ferndale was scheduled for active intruder training, according to Sgt. Baron Brown, FPD Community Engagement and Public Information Officer.
Dangerous situations do not always involve shootings. In September 2018, a teen was stabbed to death at Warren Fitzgerald High School. Sgt. Danielson, who uses the term "Active Intruder Training" rather than "Active Shooter Training," points out, "It's not just a gun all the time." Sgt. Danielson has been with FPD for 14 years, and serves as the school resource officer. She has conducted mock drills on active shooter and other dangerous situations. Sgt. Danielson noted, "Homicide is a leading cause of workplace death for women."
Although most research has focused on school violence events, the lessons learned from school violence translates to surviving violence in other workplaces. Law enforcement response in these situations has evolved over the years. For example, the trend is moving away from assembling SWAT teams in favor of solo entry by a police officer.
Another evolving area includes changes to the traditional "lockdown" response to a violent intruder. Traditionally, people were instructed to hide under desks or chairs. There are problems with that approach. "When you are lying under a chair or desk, you are an easy target," Sgt. Danielson said.
Three problems have been identified with the passive approach in a traditional "lockdown", Sgt. Danielson said. "What if you can't get to the locked location? What if the intruder has keys? What if the intruder is already inside with you?"
Modified approaches to the traditional lockdown include options like jumping out windows, if possible, and barricading doors to slow down an intruder. If the intruder does gain entry to your immediate area, throwing things and running away from the intruder is also possible. Sgt. Danielson advises not to run in a straight line away from an intruder. Rather, use a zig-zag path to confuse the intruder. Also, know where your best exit is at all times. Sgt. Danielson points out, "Remember, like on an airplane, the closest exit may be behind you."
Ferndale Public Schools (FPS) has taken steps to reduce the possibility of school violence. Currently, there are 102 surveillance cameras located in Ferndale High School alone. Sgt. Kuzdal adds that every (FPS) classroom is equipped with a "Jacob Kit." These trauma kits are available for use, should severe casualties occur. The kits are named for Jacob Hall, a six-year-old who died after massive blood loss during a school shooting.
To learn more about additional active intruder training sessions for Ferndale businesses, call the Ferndale Police Department at (248) 541-3650, press 5, and ask to speak to the Community Engagement Officer.
"We love to hear from the community," Sgt. Brown said. "We're an open book.
TIPS FOR DEALING WITH A WORKPLACE SHOOTING:
Run, if a safe path is available.
Try to escape or evacuate even if others insist on staying.
Encourage others to leave with you, but do not let the indecision of others slow down your effort to escape.
Once you are out of the line of fire, try to prevent others from walking into the danger zone and call 9-1-1.
If you cannot get out safely, find a place to hide.
When hiding, turn out lights, remember to lock doors, and silence your ringer and vibration mode on your cell phone.
As a last resort, working together or alone, act with aggression, use improvised weapons, and fight.
Source: Michigan State Police Department