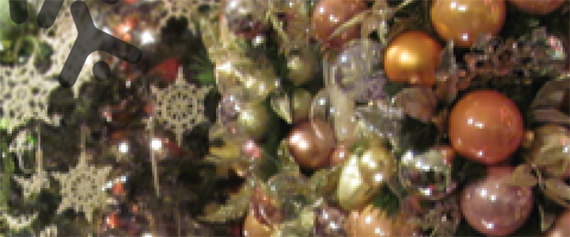 Ferndale is the place to be this December 9–11, for the 2011 Ferndale Holiday Market and Ice Sculpture Festival.
There will be a Ferris wheel, a train for kids to ride around in, and even Santa will be there with live reindeer, hay rides, and tons of ice sculptures all on Nine Mile Road on the east and west side of Woodward.Como's Restaurant & Motorcity Casino Hotel are putting on a giant party and it's FREE.
There will be a giant, heated tent full of great Christmas shopping opportunities, including lots of international gifts and imports, as well as great gift ideas for Christmas.
There will be live entertainment at Como's, with
bands including the Howling Diablos Saturday evening and the Jill Jack Band Friday night. The
bands start at 6:00 P.M. on Saturday and Sunday so come early. On Sunday, the bands play during the afternoon. There will be lots of pizza and beer specials too.
There's even magic and clowns for kids during the daytime hours.
This event is being produced by the Ferndale DDA and Integrity Shows, the people who bring you the Funky Ferndale Art Fair and the Ferndale Live Green Fair, so you know it's going to be great.
Special thanks to our sponsors including the Metro Times Magazine, WDET Public Radio, and of course the Ferndale Friends for making this great Holiday event possible.
If you are interested in volunteering or in sponsorships or exhibitor space at this or any of the Ferndale events mentioned here please contact Bart Loeb at 734.320.522 or bart@LiveGreenFair.com
Thanks and hope to see you there.
If something happened with our health, we believe there is a solution to any maladies in a medicament. What medicines do patients purchase online? Viagra which is used to treat impotence and other states coupled to erectile malfunction. Learn more about "sildenafil". What folk talk about "viagra stories"? The most vital aspect you should look for is "sildenafil citrate". Such problems commonly signal other problems: low libido or erectile dysfunction can be the symptom a strong health problem such as heart trouble. Causes of sexual dysfunction turn on injury to the penis. Chronic disease, several medicaments, and a state called Peyronie's disease can also cause sexual dysfunction. Even though this medicine is not for use in women, it is not known whether this medication passes into breast milk.