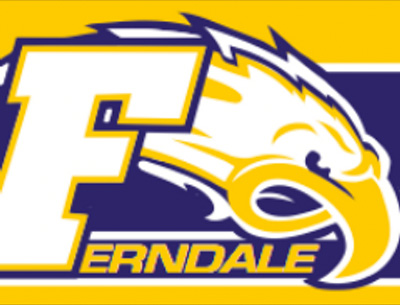 It's enough to proclaim, enough to celebrate, that Ferndale High School's Golden Eagle Marching Band has made state finals 20 years in a row. It's a huge bonus that they've won seven out of the last eight years. We could get used to this, and take their success for granted, but for the engrossing quality of their performances.
State Finals were held at Ford Field on November 5th. Ferndale was one of 12 Flight III bands to compete, under the direction of Elon Jamison with assistant director Ben Moy.
I once heard said of Judy Garland on one of those Hollywood-blockbuster salutes, that her talent "leaped off the screen." This
was what popped into my head as Ferndale merely entered for competition. The quality seemed to exude from them; it almost seemed as if final-band-to-march Byron Center had an unfair advantage following Ferndale. Often it's rough to trail a spectacular performance; in this case, the sense of quality saturating the atmosphere carried over after Ferndale exited the field.
This year's show was called "(No) Strings Attached," and was unusual (and classy) on two counts: unlike most marching band shows, this was a medley of famous string pieces like Barber's heartbreaking Adagio for Strings (remember the sad music in Platoon?). Most surprising and interesting, as well as impossible-seeming, the band was linked together in large groups with long cords, and maneuvered while strung together for the beginning portion of the show.
Ferndale marched 11th of the 12 bands in Flight III, and was the first with that good, big sound we band geeks long to get hit with. The brass was fantastic, a clarinet ensemble moment was rich and had a sonority not often heard on the marching field. The best bands can sound more like they're sitting on a concert stage than playing complex music while moving through difficult formations; like last year, the leap in quality as Ferndale performed was huge. Unlike last year, when I wondered which of the top three might win, this year I had no doubt (although I was dead wrong about number two).
Ferndale won with a score of 86.34, and also won Best Marching and Best Music. The show was so artistic and elegant that it was a surprise when Byron Center won Best General Effect. Byron Center came in second with a score of 85.81, hence that surprise, as Stevensville Lakeshore seemed a sure second to me. They were fourth with 82.92, DeWitt 3rd with 84.58. Stevensville also had an unusual, symphonic component to its show: they began with a woodwind trio of flute, oboe and bassoon, although the miking was not terribly effective and this opening didn't contribute much. Local band Lamphere was one of the smaller bands present, with only 38 winds, but was energetic and had interesting music and great choreography. They had that rich concert sound and great trumpet and trombone soloists.
See the band's webpage at www.fsfab.org for links to videos and more of those now-familiar photos of band leaders holding a championship banner, as well as links to other articles and personnel information.                <
Becky Hammond is a former OU Music faculty member. She has hemmed many a pair of Golden Eagle band pants in the past. 
If something happened with our health, we believe there is a solution to any maladies in a medicament. What medicines do patients purchase online? Viagra which is used to treat impotency and other states connected to erectile dysfunction. Learn more about "sildenafil". What humanity talk about "viagra stories"? The most substantial aspect you should look for is "sildenafil citrate". Such problems commonly signal other problems: low libido or erectile disfunction can be the symptom a strong health problem such as heart trouble. Causes of sexual dysfunction include injury to the penis. Chronic disease, several medicaments, and a status called Peyronie's disease can also cause sexual dysfunction. Even though this medicine is not for use in women, it is not known whether this treatment passes into breast milk.