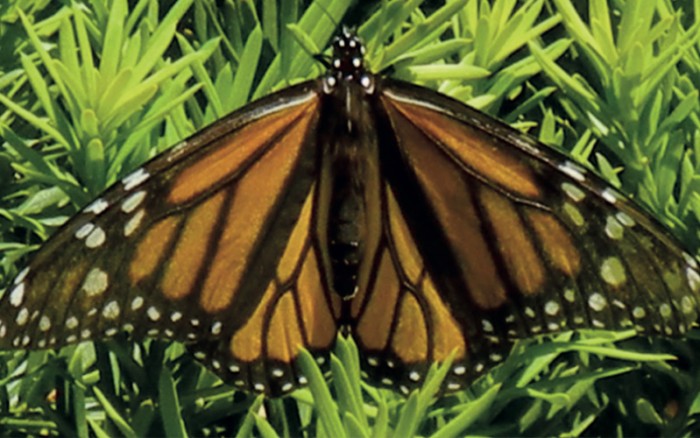 Story by and photos by Rebecca Hammond
The mighty monarch is struggling.
Monarch butterflies, those beautiful and familiar harbingers of warm weather, are facing multiple threats, their numbers down more than 90 per cent. GMO crops, pesticides used on farmland and in home gardens, deforestation in Mexico (the winter haven of monarchs): all have contributed to this huge decline.
It's time for the people to lend the monarch a hand. When I posted on the Ferndale Forum Facebook page that Ferndale should be a city-wide haven for monarchs, with as many milkweeds (a favorite monarch food) planted on as many properties as possible, the city yelled back, "Hey! Okay!" Within a day, a new Ferndale Monarch Project page was pulling in as many as two dozen "likes" a day; any time that slowed down, a reminder on Ferndale Forum produced a burst of new ones.
This is a community-driven project. We distributed about 15 packets of last-year's milkweed seeds. Seeds can be unreliable with milkweed, so as my front-yard milkweeds began to sprout I began
digging up extras and offering them on our page. And they were snapped up. Green Garden Child Development Center in Madison Heights took two. Pinwheel Bakery was the next business to contact us, planning a front-window display. Renaissance Vineyard Church is the first house of worship to state an intention to plant a garden.
A request to Ferndale resident Douglas Christie for help with a logo and signs led to involving his artist brother Dan; the two are at work, and the prototypes are gorgeous. Jessica Keyser, director of the Ferndale Library, asked for a butterfly garden to be planted on the city's cleanup day. Gretchen Abrams will add another at Ferndale High School late in May. Not only that, we've spread to Ypsilanti and Clarkston as well as Madison Heights and Pleasant Ridge, with interest from Highland Park. We've sent seeds to several spots in Ohio, and to Illinois and Colorado. A corridor of habitat up the metro area, and then the state, is our long-term goal.
A butterfly garden can be as few as two plants: one milkweed, and one nectar plant. Monarchs lay eggs only on milkweeds, monarch caterpillars eat only milkweed leaves. With these plants under such strain due to agricultural practices, I'm led to believe that if we save monarchs it'll be in urban areas. One urban risk remains, and it's a big one: the systemic garden pesticides called neonicontinoids, which end up in every part of a plant, reportedly being able to kill a monarch caterpillar after a few bites of leaf.
Nectar plants are common flowers many of us already had. Bee balm, coneflower, goldenrod (an important one, because it's a late-bloomer needed by the last of four generations of monarchs to live, breed, and reproduce each summer, the generation that leaves here and flies thousands of miles to Mexico,) dandelions, and lobelia, to name a few.
Ferndale resident John Hardy told me he used to see many monarchs in his garden, but none at all the past few years. "I really miss the beauty and gracefulness they add to my garden. They also contribute to the ecology of the garden. There will always be a place for them in it, so I wanted to do all I could to try and make sure that their numbers are restored and they can once again return to the numbers seen in the past."
Chantel Maloney was poignant: "I love butterflies and it breaks my heart to think that monarchs are becoming endangered. If I can help turn the tides simply by planting milkweed, then I have a responsibility to do that. I started last year on my own, trying to plant butterfly-attracting plants that were not treated with insecticides, but joining with the Monarch Project has helped me tremendously. It is empowering to know there is a community of people all working towards the same goal. Plus, the group keeps me educated and updated on events while also offering insights on gardening and attracting butterflies. It's been a pleasure being a part of the project and I am excited for the positive change we can bring."
Look for the Ferndale Monarch Project on Facebook and around town.
If something happened with our health, we believe there is a solution to any maladies in a preparation. What medicines do patients purchase online? Viagra which is used to treat impotence and other states coupled to erectile dysfunction. Learn more about "sildenafil". What men talk about "viagra stories"? The most vital aspect you should look for is "sildenafil citrate". Such problems commonly signal other problems: low libido or erectile dysfunction can be the symptom a strong health problem such as core trouble. Causes of sexual malfunction turn on injury to the penis. Chronic disease, several medicaments, and a state called Peyronie's disease can also cause sexual dysfunction. Even though this medicine is not for use in women, it is not known whether this curing passes into breast milk.