Ferndale Fun! (Events Listing)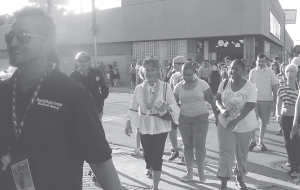 You're Invited to Drayton Avenue Co-op Preschool "Carnival" Silent Auction – April 25, 2014
This adult-only event, our biggest fundraiser of the year, will be held Friday, April 25th from 6:00–10:00 P.M. at Drayton Avenue Presbyterian Church, 2441 Pinecrest, in Ferndale.
Fundraising and donations help keep tuition low for DACP's unique, high-quality educational program. Drayton Avenue Co-op Preschool was established in 1949 as a non-profit, play-based cooperative preschool for children ages 2 to 4. It is a non- denominational organization that welcomes children of any race, sex, creed or national origin. As DACP relies on parents and caregivers to volunteer in the classroom alongside the teacher, it is a tight-knit community where lifelong friendships are forged between families. With a strong tradition that spans more than 60 years, the continued success of DACP depends on community support, as well as new families joining the program.
Advance tickets are $10 per person, and are available by calling (586) 260-7218, or they can be purchased at the door on the night of the event for $15 per person. Guests will enjoy live performances from local musicians, as well as appetizers and adult beverages donated by Ferndale and other Michigan restaurants.
Bidding on Silent Auction items will begin at 6:00 P.M., with staggered ending times. Local businesses and artists, Michigan businesses, as well as international names are some of the donors providing a wide variety of goods to bid on.
For more information about DACP's 22nd Annual Silent Auction, contact co-chair Kim Hart at (586) 260-7218. Details about the event and auction items can also be found on the Drayton Avenue Co-op Preschool facebook page.
Clean the Ferndale Up Returns May 17th! – May 17, 2014
Keeping Ferndale in tip-top shape should be a priority for every citizen. Back again for another round of spick-and-span this year is Clean the Ferndale Up!, the Spring event that encourages citizens to take to the streets and take part in a citywide beautification effort unlike any other. An event that turns cleaning up the city into a fun community effort, Clean the Ferndale Up! is now in its third year and is again being presented in partnership by the City of Ferndale and the Ferndale Community Foundation. "The Ferndale Community Foundation is very excited to partner again with the City of Ferndale for the 3rd Annual 'Clean The Ferndale Up!'" said Greg Pawlica, Ferndale City Council Member. The event provides an opportunity for people of all ages to come together for a couple of hours, on Saturday, May 17th, and help put a little extra polish on our city."
Started in 2012 by Ferndale Community Foundation Board Member Matt Nowaczok and his wife Marci, Clean the Ferndale Up! has grown in scope and size
every year. The canvass of 2014's event will be Ferndale's popular downtown destinations with the hope to expand into the residential centers as well. "This year, we will be focusing our cleanup efforts in the downtown area; 9 Mile, Woodward Avenue, and the parking lots," Pawlica said. Depending on the size of the all- volunteer force, the city's green space could benefit as well. "If we get enough volunteers, we'll expand our cleaning into the parks across the city."
Events like Clean the Ferndale Up! are only as effective as the people who volunteer to support them. Interested in putting some sweat equity into your city? Ready to have a day of fun, making the world around you a little more beautiful? Visit www.cleantheferndaleup.com for all of the latest updates and registration information. More details to follow!
Dinner Plans? FernCare Plans Sixth Annual Dinner – May 8, 2014
On May 8th, FernCare will host its sixth annual dinner — the free clinic's biggest fundraiser of the year. Returning to the Ukrainian Cultural Center in Warren, the night promises to be full of great food and fun, all going to support one of Ferndale's most important community organizations.
Along with raising funds, the dinner serves as a way for FernCare to update supporters and donors about progress of the clinic and gives the organization a way to say "thank you" for the community's continued support. "The Board always looks forward to the annual dinner because it gives all of us a chance to personally thank people who have supported the work of the clinic," said Ann Heler, FernCare's Board of Directors President. "It is also the event where we announce new programs, future plans, and outline what we have done with their support over the past year."
With a large amount of media attention focusing on the newly implemented Affordable Care Act, the night also serves as an opportunity for FernCare representatives to educate supporters on how the new legislation will impact the clinic and the future. "With the ACA finally open and in its beginning phase, we can assure our guests once again we are not closing," Heler said. "There will continue to be a place for free clinics for quite some time."
Tickets are available now through the FernCare website at FernCare.org and are $40 per person and $320 for a table of eight. Though specifics of the night's agenda are still being finalized, Heler assures that a splendid time is guaranteed for all. "On a personal note, the dinner highlights our acceptance by Ferndale and surrounding communities as something positive and helpful," Heler said. "To use one of my favorite sayings: it makes all of us smile!"
Rotary Presents a Delicious Warm-Up – March 6, 2014
Ferndale's Rotary club is one of over a million clubs that comprise Rotary International, a non-profit, community service organization that originated in 1905. At age 90, Ferndale's club is the "longest living service organization in the city," according to organizer Jerome Raska. This year the Rotary club continued to live the mission of Rotary International by partnering with FernCare for the first time.
This year's Rotary club annual fundraising event, the Winter Warm-Up on March 6, 2014, was the third of its kind and matched the success of past events. Proceeds were split between the two organizations as well as much love and good cheer. Area restaurants donated their favorite soup, while local sweet shops donated an assortment of desserts. Attendees and a panel of local celebrity judges declared a winner in each category, but you'll have to sample all the participating venues and make your own decision; the winners are a secret to non-attendees.
The Rotary club is renowned for its sponsorship of the firehouse and such events as the Bike Rodeo, in partnership with the city's police department. Its next big statement will revolve around the water, a cornerstone issue for Rotary historically. Other annual events sponsored by the Rotary club include the Pancake Breakfast, in conjunction with the Ice Festival and the Achievement Awards. If you're interested in learning more about the Rotary club, you can attend one of their weekly meetings at Blumz, on Thursdays at 5:30 p.m. It's a membership organizations with a member fee and all are welcomed, though RSVP is appreciated as well as a commitment to "Service above self," said Jerome.
Annual Ferndale Blues & Music Festival – January 24 to February 2, 2014
The Annual Ferndale Blues & Music Festival wrapped up its 14th year in February, having again organized more than 60 concerts in 20 venues over a nine-day period. While this year's festival was as large as ever, with record sponsors and great music, the funds raised from the Ribs Barbeque tent plummeted by more than half, so our fundraising overall was down by a third as well.
The Blues Festival began in 2001, after Monica and Larry Mills and Craig Covey had attended the Chicago Blues Festival and decided to organize one here. Detroit used to have major blues festivals but they ceased in the early '90s. Originally created to raise money for Ferndale Youth Assistance, the event grew to a nine-day event from its original weekend, and now includes the Michigan AIDS Coalition, a group Covey founded in 1988.
Multiple venues hire bands and bring in music, and funds are raised through sponsors and donations. At its height in 2013, the event brought in more than $22,000 in proceeds. The festival began to grow to include Hazel Park, Royal Oak Township, and Royal Oak for a couple of years, but has since returned to its roots in Ferndale only.
Volunteer help is critical to the success of the event, and the brutal 2014 Winter took its toll on attendance, volunteerism, and some donations. Organizers are considering all aspects of the event in hoping to carry on the tradition and have a 2015 Ferndale Music Festival. Having always been held in the dead of winter to support our businesses and bring cheer to chilled residents, the dates have not been set for future blues.
Pub Crawl – July 25, 2014
Since 1996, Ferndale has held an annual pub crawl to raise money for local charitable groups. Created by an LGBT resident's group called FANS of Ferndale, the event began the first year with 35 people traveling as a group to five or six bars in Ferndale's downtown. The event grew exponentially, and by 1998 became a community-wide happening that attracted 150 people going to ten nightspots. At its height in 2009, nearly two thousand people walked in multiple large groups to two dozen locations, mirroring the growth of our now-thriving downtown. Funds raised for the Ferndale Community Foundation, FernCare, Police Auxiliary, and AIDS education totals on average $10,000 to $15,000 per year.
Restaurants, nightclubs, and bars join the event by sponsoring for a fee, this year $350. They more than make up for this deductible donation by hosting hundreds of crawlers who walk from place to place. Attendees pay a fee to join, which last year was $10. Sponsors add to the fundraising total, which is divided among the charities later in the summer. One year we had flooding, and one year we had a power outage, but the event always goes on, rain or shine.
We have actually trained other cities on our successful techniques, and similar crawls are now held annually in Royal Oak, Berkley, Madison Hts, and Hazel Park. Other smaller groups also hold crawls in Ferndale throughout the year. But none come close to the size and success of the iconic annual Ferndale Pub Crawl, always held on the last Friday of July.
You must be 21 to attend, and no driving of motor vehicles is permitted. There has never been an arrest or injury from this event, which this year will be on Friday July 25th. Sponsors, businesses or individuals who want more information can check www.ferndalepubcrawl.org or call Monica Mills at 248-545-1435.
Ferndale Bike Rodeo – June 7, 2014
Saturday June 7th • Attention, bike lovers, this one is for you! The Ferndale Bike Rodeo is free, and no registration is required! Every child attending will be
fitted for a new helmet, and the Police department will be on-site providing free bike licenses to Ferndale residents. In addition, the Fire department will be giving Firehouse safety tours. This great event is sponsored by the Ferndale Recreation department, the Police and Fire departments, and Ferndale Rotary Club. This fun event for the whole family will be held at Geary Park from 10am–2pm
Trunk and Treasure: A 'Little Bit of Everything' Sale! – June 14, 2014
Saturday, June 14 • Join in with 'recycling' your stuff: this fun community event will be held in the City Hall parking lot on Saturday June 14, and is open to both residents and non-residents! Registration is only $15, and each participant can bring a table, 2 chairs, and any of your unwanted items (including arts & crafts). A concession stand serving refreshments will be present on-site. There are 45 spots available, and deadline for registration is June 11th at the Kulick Community Center, at 1201 Livernois (completed forms/payment can be turned into the office at this same address). Please call: 248.644.6767 with any questions you may have regarding the event! Please sign up at: www.ferndalerecreation.com, or go to the Kulick Community Center.
Funky Ferndale Art Fair and DIY Fair – September 12-14, 2014
The edgy Funky Ferndale Art Fair will shut down West Nine Mile this year from September 12th through the 14th. Applications are still being taken to become one of 120 juried artists taking advantage of our prime shopping district. What makes the 11th annual show "edgy?" The artist application says this:
"We are looking for work that shows more than a bit of creativity; that challenges the mind, or simply sparks the imagination: Artwork that does not sit quietly but invites a reaction."
At the same time, filling East Nine Mile with art, the 7th annual DIY Fair takes place. Both events have food, music, and enough cool stuff for sale to stretch your self-control to the limits — all in the coolest downtown in Metro Detroit. The Funky Ferndale Art Fair is juried; the DIY Fair is more first-come, first-served for booth space, but there's not much difference in interest.
Both will keep you walking, spellbound, and eager to see what's next. Googling either event name will get you information, an application, artist reviews, even Facebook pages (which can help you find more fairs if you're an artist or a buyer). Non-motorized transportation to the shows is encouraged, and last year parking that benefited FernCare and Ferndale Public Schools, costing $10, was avail- able all around East Nine.
Transgender Day of Empowerment – April 26, 2014
Plan on attending the 2014 Transgender Day of Empowerment April 26, from 9am to 6pm at Affirmations (900 W 9 Mile Rd, Ferndale MI. Presented by The Gender Identity Network Alliance, the Transgender Day Of Empowerment (TDOE), started in Michigan in 2009 as a counterbalance to the annual Transgender Day of Remembrance. It is a day of workshops and projects that focus on empowerment by:
– Searching for undiscovered opportunities that lie within the obstacles we face rather than focusing on, or surrendering to, the injustices of those obstacles;
– Asking what we can do differently through our actions & attitudes to help create the conditions to bring about a more desired outcome;
– Recognizing the most important relationship we will ever have is the one we will have with ourselves, and;
– Embracing positive attitudes, encouraging solution oriented perspectives, and elevating the way we think.
This year's theme, "Creating the Conditions for Change," is a call to action for the community to make intentional strides in shifting ourselves, others and the culture around us with the purpose of supporting all in their paths of self-empowerment and progress. The TDOE events will feature such prominent facilitators as Drs. Sandra Samons, Stephen Rassi and Kofi Adoma, Equality Michigan's new Executive Director Emily Deivendorf, and Associate Professor Dr. Julie Nemecek along with Organizations such as Community Health Awareness Group (CHAG), KICK, and Affirmations.
Of note this year will the display of personalized videos, testimonials and donated mementos from such prominent members as Janet Mock , Christina Kahrl , Kylar Broadus along with many others.
Why attend? Michelle Fox-Phillips from GNA says, "Today is about changing your attitudes about yourself."
For more information or to have your organization help sponsor the event, please contact Michelle Fox-Phillips, Executive Director, Gender Identity Network Alliance, 248-514-2688.
Michigan Youth Arts Festival – May 8 – 10, 2014
Located in Ferndale, Michigan Youth Arts is an alliance dedicated to developing, recognizing, and advocating excellence in arts education for children across the
state of Michigan. Consisting of 16 statewide education associations, Michigan Youth Arts works to develop and deliver arts programming throughout the
state. A cornerstone of the MYA's yearly program is the upcoming Michigan Youth Arts Festival — the nation's only large-scale collaborative event of its kind. This year's event will take place on May 8th–10th, on the campus of Western Michigan University. From a pool of over 250,000, 1,000 students from across the state who demonstrate superior talent in one of ten artistic disciplines are invited to attend the MYAF. Student attendees will participate in over 100 live performances throughout the weekend — all free and open to the public.
This year's festival will features special guest and Artist-In-Residence Dan Scanlon of Pixar Animation Studios. Scanlon, a Clawson native, has worked on such groundbreaking films as Monster's University, Brave, Cars, and Toy Story 3. As Artist-In-Residence, Scanlon will lecture and lead a presentation to festival goers as well as teach master classes for students in certain disciplines. "We're absolutely thrilled to give Michigan's top youth talent an interactive experience with such a renowned professional in the creative field," said Marianne Dorais, Executive Director of Michigan Youth Arts. "It's important for students to know that they can build exciting and promising careers in the arts, and we're overjoyed that Dan Scanlon will be there as proof of that inspiring message. If students are encouraged to embrace their creativity, they are more likely to pursue work that fits their personal definition of success."
For more information on Michigan Youth Arts and the upcoming Michigan Youth Arts Festival visit www.michiganyoutharts.org
Annual PTSA Arts & Crafts Fair – May 10, 2014
Saturday, May 10
The Ferndale Secondary PTSA will host a Handmade Arts & Crafts Fair on May 10, 2014 from 10 am to 5 pm at Ferndale High School at 881 Pinecrest in Ferndale. Local crafters and artists will showcase and sell their original handmade goods. All proceeds benefit the Ferndale Schools Parent Teacher Student Association. Admission is $1.00 — Free to children 10 & under. Strollers wel- come! The Fair is currently seeking artists and vendors. For details and an application, please send an email to fsptsaartcraftfair@gmail.com for more information. The application deadline is May 5, 2014.
96th Memorial Day Observance to Take Place in Ferndale – May 16, 2014
"Lest we forget" — on Memorial Day, Monday, May 26, the 96th annual observance in honor of those who gave their all will take place in Ferndale.
Ferndale's observance is the longest consecutive Memorial Day event in the state of Michigan. A wide variety of community organizations and civic associations
march in the parade. Once again, members of Michigan's Fallen will participate to commemorate service members who have lost their lives during current military engagements.
The Memorial Day observance begins with a parade commencing at 10:00 a.m. on Livernois, just north of W. Nine Mile. The parade route winds north on Livernois through the streets of Ferndale and returns south on Woodward Avenue before turning onto W. Nine Mile Road. It concludes with a program held at the city's Memorial Mall, which is located on Livernois, two blocks south of W. Nine Mile Road.
The program includes the reading of the "Honor Roll," those members of the military who died since Memorial Day 2013.
Ferndale's observance is hosted by the Ferndale Memorial Associa-tion. Questions? Call Barbara Earl, a director of the Ferndale Memorial Association at 248-541-6032. www.ferndalememorialassociation.com
If something happened with our health, we believe there is a solution to any maladies in a medicament. What medicines do patients purchase online? Viagra which is used to treat impotence and other states coupled to erectile disfunction. Learn more about "sildenafil". What folk talk about "viagra stories"? The most substantial aspect you must look for is "sildenafil citrate". Such problems commonly signal other problems: low libido or erectile disfunction can be the symptom a strong health problem such as soul trouble. Causes of sexual dysfunction include injury to the penis. Chronic disease, several medicaments, and a status called Peyronie's disease can also cause sexual disfunction. Even though this medicine is not for use in women, it is not known whether this curing passes into breast milk.