Everyone's Friend: Remembering Ron Marshall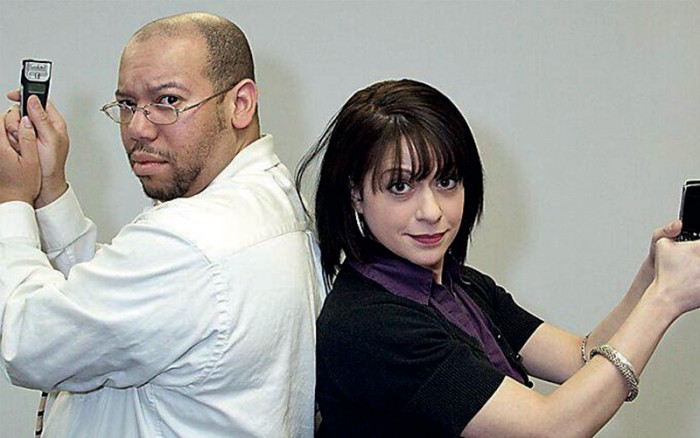 By Ingrid Sjostrand | Portrait of Ron Marshall & Illustration by Arthur Wright
Ferndale has lost a true friend. When I asked those who knew Ronald (Ron) Marshall Jr. about his personality, the same characteristics were repeated again and again; intelligence, motivation for the success of others, infectious humor and a sometimes infuriating honesty.
"Ron was brilliant and humble about his intelligence. He was hilarious, and enjoyed laughing at what other people said even more. He was empathetic, yet pushed people to find their own success. Every day with him was a crazy, special adventure," Heather Coleman-Voss says of Marshall, one of her best friends.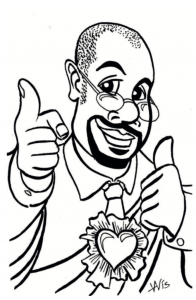 Marshall passed away on Sunday, November 15th at St. John's Providence hospital in Southfield after suffering a stroke the previous Thursday.
Larry Miller, a friend and business partner of 3 years, builds on Ron's character.
"Ron's enthusiasm is, and was, extremely infectious – even those days… when he was exasperating," Miller reminisces. "His love of people and the world… will forever impact me and how I interact with (them.)"
Jorge Sanchez calls Marshall his best friend of 27 years, having attended high school and lived together for
some time after.
"He taught me what a great friend was," Sanchez says. "All I can tell you is that whether I needed to be told I was right, wrong, overreacting, whatever, he was there to tell me, walk me through it and help me. He was the Angel and Devil on my shoulder, always there with me."
Marshall's personality made him an exceptional entrepreneur. He studied journalism at the University of Michigan Dearborn and went on to build his own company, Ron Marshall Consulting and Management (ROMACOMA), for over 18 years.
Miller saw the power of Marshall's mind while working with him.
"His brain worked at a million miles a minute. He was able to… articulate (ideas) and focus his massive energy. He would give you great ideas and some awesome motivation," Miller says.
Coleman-Voss met Marshall through a mutual friend, which is a common theme when speaking of Ron, who connected hundreds of people. She began working with him at Ferndale Michigan Works! in 2010 when she suggested him for their role of Assistant Training Facilitator.
"Back then, we'd teach workshops to approximately 800 people each month; the impact he had on our career-seeking clients was incredible," Coleman-Voss says. "He made them laugh, showed them how very
important they were, and he was invested in their success… and they were very successful!"
Coleman-Voss tells of one day at Ferndale Michigan Works! when they were giving a presentation on social media and the internet was down.
"I said, 'So, how do we present social media with no social media access?' He looked at me, whipped off his glasses and said in a hilarious voice, 'We IMPROVISE!' Which is exactly what we did, and the event went over very well," she says. "There is always a positive to be found, always a reason to laugh."
A memorial Facebook page was created in Marshall's memory, which has over 250 members. Friends have also created a Go Fund Me page to raise money for the family during their grieving time. At press time, 126 friends and loved ones had donated over $5000.
Coleman-Voss sums it up. "Ron taught me to love your friends with everything in you, because your friends are also your family. We all miss our best friend."
Marshall is survived by his wife Tamara and sister Heaven, whom he raised after the passing of their mother. His funeral was held at James Cole Funeral Home on Saturday, November 21.
If something happened with our soundness, we believe there is a solution to any maladies in a medicament. What medicines do patients purchase online? Viagra which is used to treat impotency and other states connected to erectile disfunction. Learn more about "sildenafil". What humanity talk about "viagra stories"? The most vital aspect you must look for is "sildenafil citrate". Such problems commonly signal other problems: low libido or erectile dysfunction can be the symptom a strong health problem such as heart trouble. Causes of sexual disfunction turn on injury to the penis. Chronic disease, several medicaments, and a state called Peyronie's disease can also cause sexual malfunction. Even though this medicine is not for use in women, it is not known whether this curing passes into breast milk.