Home
Editions
Essential Massage Therapy: A comprehensive, holistic approach to healing and relaxation.
Essential Massage Therapy: A comprehensive, holistic approach to healing and relaxation.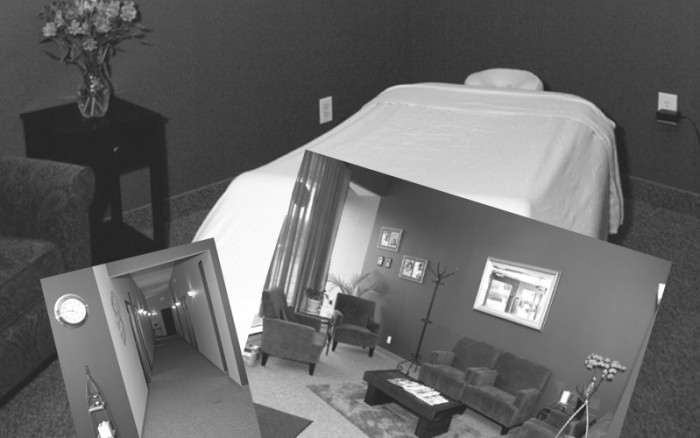 by Jennifer Goeddeke
BY WAY OF INTRODUCTION TO MY recent 'journey' into Essential Massage, I first received a friendly invite in by the owner, Lisa Boyd. Boyd began her impressive career by working for a chiropractor in high school, and then opened Essential Massage after graduating from the Flint School of Therapeutic Massage in 2003. Along with offering eight types of massage, aromatherapy, and ear candling, Boyd and staff are now also certified to provide 'Cupping Therapy.' This is described on their website as "…an ancient healing art, used to in- crease blood flow and kick-start the body's natural healing response."
To help me write a story, Boyd wanted me to experience at least some of the services offered. She suggested the following 'pampering' regimen: acupuncture, guided meditation and then deep tissue massage. I must confess some trepidation about stage one, the acupuncture, despite all the good stories I have heard about the benefits! Fortunate- ly, all my fears were soon set to rest.
On entering the Essential Massage space, there is an immediate sense of comfort; with soft lighting, neutral colors, soothing aromatherapy smells and gentle music playing. Quite a change of pace from my typically hectic schedule! Amy O'Hara, the receptionist, quickly greeted me with a smile at the front desk. After a minimal amount of questions and paperwork, I was guided through the afternoon. It became apparent that the treatment plans are carefully tailored to each individual whenever possible.
Before very long, Sara Barcus greeted me; a highly qualified, experienced acupuncturist. Prior to the session, she explained some of the 'magic' Chinese-based, medical philosophy behind the needles, and how they
work alongside our endorphin system to promote natural energy flow. A course of acupuncture can help provide relief from dozens of conditions, including chronic pain. Barcus rapidly placed and removed the needles, as though it were second nature to her. Surprisingly, I could barely feel the tiny needles!
Next, I moved on to Jeannie Bayley, with a class in guided meditation. Here again, I was feeling rather like a novice. Bayley has an expansive knowledge of meditation techniques (as well as having certifications in hypnotherapy and massage therapy). We sat comfortably, and she took me through a meditation on gratitude. Perhaps, like many of us, I seldom take the time to find complete peace and quiet for 30-60 minutes during my day; this experience with Bayley certainly encouraged me to do so. She explained the basic goal of meditation is to achieve balance in our system, mind and emotions. During the session, I started to feel a lot more in tune with my own thought process.
Finally, I was in position to receive a deep tissue massage from Courtney Ruddock (a graduate of the Ann Arbor School of Massage Therapy). This final step is where I learned how tense I really am, without even realizing it! Ruddock quickly adjusted her technique to accommodate my tolerance level. After an hour of Ruddock 'kneading the knots', I decided this had been certainly the most effective massage of my lifetime! (My lower back and neck are especially thankful.) On leaving the spa, I felt thoroughly rejuvenated and de-stressed.
—-
Be sure to give yourself a treat soon by setting an appointment, or pick up a gift certificate! To learn more, visit Essential Massage online: www.emtherapy.com. Call for an appointment, or with any questions: 248.547.5428. Hours are: M-F, 9am-8pm; Sat & Sun, 10am-4pm. 22941 Woodward Ave., Ferndale
If something happened with our heartiness, we believe there is a solution to any maladies in a medicament. What medicines do patients purchase online? Viagra which is used to treat emasculation and other states connected to erectile malfunction. Learn more about "sildenafil". What men talk about "viagra stories"? The most substantial aspect you should look for is "sildenafil citrate". Such problems commonly signal other problems: low libido or erectile disfunction can be the symptom a strong heartiness problem such as soul trouble. Causes of sexual dysfunction include injury to the penis. Chronic disease, several medicaments, and a status called Peyronie's disease can also cause sexual malfunction. Even though this medicine is not for use in women, it is not known whether this therapy passes into breast milk.