Dino's Take Two: Dean Michael Bach of Dino's & M-Brew
By Jill Lorie Hurst
"WHY DO YOU GO AWAY? SO THAT YOU CAN COME BACK. SO THAT YOU CAN SEE THE PLACE YOU CAME FROM WITH NEW EYES AND EXTRA COLORS" – Terry Pratchett, A Hat Full of Sky
"Ch-Ch-ch-ch Changes. Turn and face the strange," wrote David Bowie. When I heard Dino's Lounge and M-Brew were up for sale, I grabbed this assignment so I could meet Dean Bach before he left Ferndale.
He agreed to meet up at Dino's on a gray Monday afternoon in February, a week after the opening of Belle Iron Grille, his new place in Gaylord. Bach was emotional, pragmatic and wise as he looked around Dino's and talked about childhood on the East side of Detroit. "I grew up in the 48205." Life in the restaurant world, a ride that started as a 15-year-old dishwasher at Eastside Charley's.
He took a risk on Ferndale when he bought the Rialto Cafe at the corner of 9 and Woodward, opening Dino's Lounge in 2002. "We were ahead of the curve then."
Some thought he wouldn't make it. He talks about the cook who quit two weeks after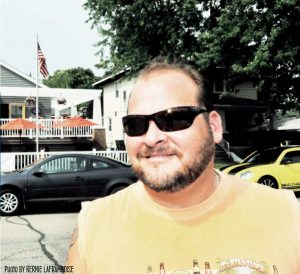 opening, sure the place was destined for doom. Instead, Dino's and later M-Brew ("my independent child, it runs without me, which is what I wanted") became part of the fabric of fabulous Ferndale.
From the start he wanted Dino's to be "a little bit of everything. Something for everyone. The corner bar for Ferndale." Philosophical. "Today every place is a concept. Does the town need a neighborhood gathering place anymore?"
BOTTOM LINE, HE THINKS IT'S TIME FOR DINO'S TO CHANGE. He had ideas, of course. On this day they included selling or partnering. Stepping away. "I owe it to Ferndale and myself to do something that's right for the community."
He looked at me. "What do you think?" Me?! I hope they keep serving the chips. He smiles. "Everybody loves a good kettle chip."
His idea? "I take a lot of ideas from my staff. Everyone has good ideas." He's listened and learned from his staff, his parents, local leaders and Ferndale residents. He listens to his wife, Denise, who encouraged him to throw himself into the restaurant business he loved, full-time, back in 2008. When he turned 50, the couple started looking forward, open to change.
A 4th of July visit to Lake Otsego clicked for Denise. "This is where I want to be." Bach, emotional, remembers the moment. Laughs. "I couldn't believe that (city girl) Zsa Zsa wanted to move to Green Acres."
He loves the new place, Belle Iron Grille, and he is enjoying becoming part of a new community. "It's making me grow as a person to learn about this different culture. Talk about different viewpoints, but people are the same everywhere." He is enjoying this new experience.
OUR TALK RETURNED TO FERNDALE AGAIN AND AGAIN. Thoughts about Ferndale's future? He is optimistic. "Ferndale will continue to grow, but Ferndale of the future will still be Ferndale." I liked his faith.
A few days after we spoke, I learned that Dean Bach had taken Dino's and M-Brew off the market. Bach reached out from the beach in Aruba! "We're definitely happy about… reinventing Dino's and making some adjustments to M-Brew. I just felt I wasn't quite ready to simply sell and leave."
Dino's Lounge is located at 22740 Woodward in Ferndale. M-Brew is at 177 Vester Ave in Ferndale. Belle Iron Grille is located at 4029 Old US 27 in Gaylord.