Detroit Native Shows Some Love for His Roots in Innovative Designs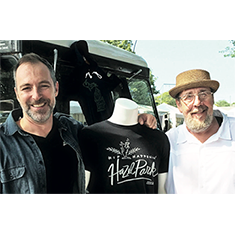 By Sara E. Teller
DETROIT GT, A DESIGN & APPAREL COMPANY SPECIALIZING IN DETROIT AREA PRODUCTS, WAS STARTED BY CHRIS GORSKI IN 2003.
"It was a creative outlet for me while I was working in advertising as the art director at CampbellEwald," Gorski said. "It was just fun to do, to illustrate all the time. I would come up with these sketches and co-workers would tell me, 'That's funny, you should put that on a shirt.' So I did. It started as a hobby. I would bring the shirts to work and take them to small events."
Gorski's hobby ended up paying off big time. "In 2009, I was let go at Campbell-Ewald," he explained. "Actually, because of this side business, my boss laid me off first. He handed me my severance check and said, 'Go make t-shirts.' I listened to him, freelanced for about a year, and during that time, I began to build the business."
A car enthusiast and collector as well, Gorski started to sell the apparel out of a vintage Chevy. "I didn't want to be in a tent, I wanted to sell out of a vintage car," he said. "Then, when the owners of The Rust Belt Market opened shop in 2010, I would take my truck there and sell my shirts. They were open every weekend, and I have been there since the beginning."
Gorski also began selling his designs, many of which begin as simple sketches, at other venues and events such as Auto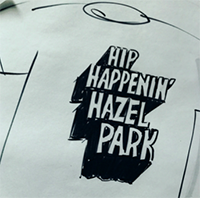 Rama, Motor City Pride, the Berkley Art Bash, Ferndale Pride, Hazel Park Art Fair, and Northville's Buy Michigan Now. He also sells in area malls such as Twelve Oaks, Briarwood, and Partridge Creek (in The Art is in Market stores) and online via an Etsy page.
"I live in Ferndale and have a 3,000 square foot studio there," Gorski explained. "This is where I press the shirts. Most are heat transfers, and I also do some silk-screening. This is done at the Eastern Market. I have three employees who mainly help with sales. And my husband, Jason, usually has some time off around the holidays to help by visiting stores, de-cluttering and restocking."
Gorski creates special t-shirts for each city he travels to and sets up shop. "I do some research and come up with something that is recognizable with a twist. For Hazel Park, I created a "Hip and Happening Hazel Park" shirt," he said.
RECENTLY, GORSKI SAID HE HAS EXPANDED HIS BUSINESS to include a line of home décor made up of "simple, modern, iconic illustrations" of various buildings in and around Detroit. "There's coasters, art prints, and canvas prints," he said.
When he's not busy creating, Gorski likes to focus his time on his other passion – cars. "I love classic cars, especially Chevys," he said. "I'm a car collector. My father had a Corvette when I was younger that he sold to put an addition on our home. I remember many Sundays driving around lots with him looking for a replacement."
They eventually found one in an unlikely spot. Gorski remembered, "My aunt also had a Corvette and she sold it to him to restore. It was a project we were able to work together on."
Gorski also enjoys traveling. "My husband is a flight attendant, so we have the benefit of flying stand-by. Sometimes we get to do a long layover in a city, anywhere from 24 to 36 hours," he explained. "He is from Greece, so we also travel there to visit family."
Gorski always carries around a sketch book and has a pen in hand, he said, adding, "Even at the bar, I'll sit there doodling. I'm always doodling about current events, drawing something happening around me while people are watching, or while I'm traveling."
For a full list of where to pick up the latest DetroitGT gear or to shop online visit DetroitGT.com.