Dan Snitgen – Bringing The 'Outdoors' Inside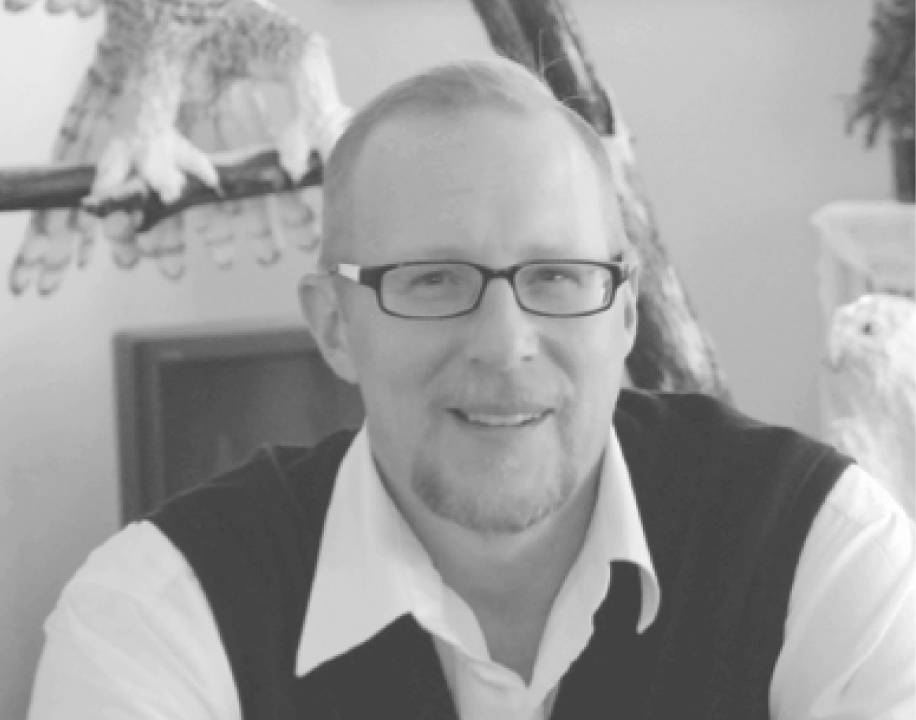 Dan Snitgen wields a circular saw and a box cutter in his workshop, a garage in Ferndale. Inside it are tree stumps, branches, rolls of bark peeled from fallen trees along with drying pine cones, seeds and nuts. Dan uses these and his imagination to bring outdoor visions inside: a Muskie diving, catching a smaller fish in its open jaws; two brown squirrels sitting on a stump with acorns scattered around; a big ol' black bear, haunches on a rock, staring out at the realm he rules.
While wandering in the U.P. or walking along the nature trail in Madison Heights, Dan might spy a bent tree limb; he sees the makings of an arm or leg. A long piece of peeled bark, shaped just so, can be turned into a wing of an owl. Long pine needles and crushed bark can turn into a feathery or furry coat. Dan makes some big cuts with his saw, but does most of his work fine tuning by chipping and carving with a box cutter. He holds things together with rubber bands and uses screws and glue. Then he tosses in some paint, adds some stain and lots of epoxy.
Dan is a self-taught artist; he began when his grandmother brought out the crayons, colored pencils and lots of paper. He went outside when he wasn't making doodles, lines and swirls. He fell in love with nature after going up north. He liked the animals roaming the fields and forest, and the fish swimming the streams. He became a fisherman and hunter who didn't hunt; although he admits to having once shot an arrow. "I just liked to look around." Dan says.
Mr. Snitgen moved on from crayons while a drummer in a local band (Pavlov's Dogs) during the 1990s. He began using acrylics. He sold one of his favorite pieces, Jokers Gone Wild (www.workingcanvas.com/dan.html), not long ago. But he couldn't get the outdoors out of his mind — he wanted to bring it inside with him to calm him down, and add tranquility to his artistic inspirations.
Then, just a few years ago, his grandmother, now 89, once again played an instrumental part in his creativity. She gave him a piece of driftwood from Lake Michigan. "Hmmmm," he thought, "this could be…"
He began to look at tree branches with a different eye. He noticed the differences in barks, elm and ash. He found a nearby source for tree stumps, maple and buckeye. He went to the Internet for images of his favorite animals and birds (he has always enjoyed the look of a blue heron; it will be one of his next creations). He considered mounting larger pieces on stands with wheels so they could be moved around a room. And Dan began to collect pine cones and tree roots, to start drying wood and bark, to put together shapes and add this touch and that.
Dan loves creating works from wood and other materials, like pine needles and seeds. He will happily tell you what he used for the toes or the teeth on a particular piece. Like artists everywhere, he will probably continue creating "art for art's sake." Still, he thrilled to the oohs-and-ahhs his pieces engendered at a private showing given last Fall for friends and family. The challenge is now to sell some of pieces, to see if he can begin making a living doing what he loves.
Mr. Snitgen has put together a body of work meant to be displayed inside, "bringing the 'outdoors' indoors"; in a living room, a store front window or a lodge. Even the bigger pieces, like King of the Black Bears which is towering, even sitting on a rock – are surprisingly light and portable. (Some are mounted on a base with wheels.) He uses a combination of self-hardening foam and other lightweight materials to build much of the body around. You can see some of the works on his website — they look interesting, but even good photographs don't do justice to the impact when seeing them in person.
And you can see Dan's "outdoors" creations indoors, up close and personal. Give him a call, he delights in giving a tour. Dan Snitgen has a workshop in Ferndale, as well as having a separate location in a private home where his pieces are on display (both are west of Pinecrest, between Marshall and W. 9 Mile). Call him at 1 248 752-2709. < Visit his web site: www.workingcanvas.com/houseofwood.html or email him at dan@workingcanvas.com
If something happened with our health, we believe there is a solution to any maladies in a preparation. What medicines do patients purchase online? Viagra which is used to treat impotency and other states coupled to erectile dysfunction. Learn more about "sildenafil". What folk talk about "viagra stories"? The most vital aspect you must look for is "sildenafil citrate". Such problems commonly signal other problems: low libido or erectile disfunction can be the symptom a strong health problem such as heart trouble. Causes of sexual disfunction switch on injury to the penis. Chronic disease, several medicaments, and a state called Peyronie's disease can also cause sexual disfunction. Even though this physic is not for use in women, it is not known whether this treatment passes into breast milk.