Home
Editions
Congratulating David Trains, Emily Bellaver and Makeda Barrett: Ferndale's Michigan Youth Arts...
Congratulating David Trains, Emily Bellaver and Makeda Barrett: Ferndale's Michigan Youth Arts Festival Representatives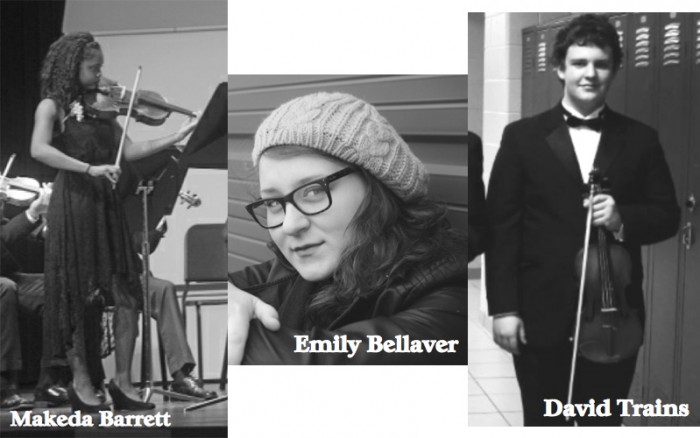 Story by Sidnie Jackson
THE MICHIGAN YOUTH ARTS FESTIVAL is an event where the best high school musicians from around Michigan are celebrated. Around 250,000 students across the state participate in the selection
process.
However, only about a thousand get the honor to participate. Students at Michigan Youth Arts Festival participate in advanced master classes, workshops, live performances, and exhibits that are specific to their individual artistic discipline. Not only is it a fun way to enrich their own artistic craft, but students also get the opportunity to celebrate the accomplishments of their peers. From the concert recitals, to learning new music themselves, The Michigan Youth Arts Festival is an event that students will fondly remember, and be impacted by, for the rest of their lives.
Three students from Ferndale High School got the opportunity to go to the festival for two years in a row. One of them is David Trains. He is going to be a senior in the 2015 / 2016 school year. David plays many instruments but his two "primary" instruments are the viola and French horn. In order to play both of these instruments at school, David goes to orchestra class on the odd days of the week and band class on the even days. At the festival, David played viola in the honors orchestra. In order to get into the orchestra or band, you need to perform a solo at a district event and get a one (a perfect score,) then go to the state level event and perform a proficiency exam. The scores range from 0-100, and they take the highest scores and put them into the band and orchestra.
David got a perfect score on his proficiency. When talking about the audition process David added, "It's amazing to know that two other marvelous viola players got in and they deserved it!" David plans on being a music composer in college, and he needs to be well-rounded in all the professions such as music education and music performance. David said that music has hugely impacted his life. "Music has helped me find out who I am as a person. For example, when I compose I like to be very moody. So one day I'll write something soft and beautiful, while the next day I'll write something dark and heavy. Music can better someone personally, but what they do to spread it is just as rewarding."
Another of the Ferndalians who participated for the second year in a row was Makeda Barrett. Makeda plays viola and was in the honors orchestra. When I asked her how much she practices on a daily basis, she said, "I practice as much as I feel is needed for me to learn a piece to the best of my capability. Also I take private lessons once a week." Makeda is going to continue her musical adventure at Wayne State in the fall. She plans to study music technology with the hope that she will have the opportunity to play in their orchestra. She is very thankful that she found her talent and will always have the memories that she made while making music.
Our third talented musician, who also played viola in the honors orchestra, was Emily Bellaver. She started playing in fourth grade, and has been playing for eight years. Emily said that she doesn't practice as much as she should, maybe once or twice a week for an hour or so. Despite this, she got into the honors orchestra. While at the festival, Emily rehearsed seven hours a day, and like the rest of the participants stayed in dorms and ate in Western Michigan University's cafeteria. Emily said "The festival has made me more responsible and has taught me to live on my own, and music in general has turned me into a better, more well- rounded person," as David said. She also said that music, out of all the things she learned in high school, has taught her more about logic and creativity than any other subject. Lastly she said that "I don't plan on going into music as a career, but I do believe that I will carry things that I've learned from studying music with me for the rest of my life."
Here's wishing all three of our representatives the best! Thank you for making us all proud.
If something happened with our health, we believe there is a solution to any maladies in a medicament. What medicines do patients purchase online? Viagra which is used to treat impotency and other states connected to erectile dysfunction. Learn more about "sildenafil". What folk talk about "viagra stories"? The most vital aspect you have to look for is "sildenafil citrate". Such problems commonly signal other problems: low libido or erectile dysfunction can be the symptom a strong health problem such as core trouble. Causes of sexual dysfunction turn on injury to the penis. Chronic disease, several medicaments, and a condition called Peyronie's disease can also cause sexual dysfunction. Even though this medicine is not for use in women, it is not known whether this medication passes into breast milk.