By: Jeff Milo
JAMIE D'ANGELO MARKED THE FIFTH ANNIVERSARY OF RUNNING FERNDALE'S NEW WAY BAR BY MAKING A SIMPLE, YET BOLD MOVE. Starting in January, there would no longer be admission fees on nights featuring live local music. "That door charge was just bothering me," D'Angelo said. "It just didn't suit me well."
It might be expected that a handful of folks would opt to go find another bar if they find out there's a cover charge for their intended destination, but for D'Angelo even just seeing one person turn away was one person too many.
Under D'Angelo's management, the New Way's standing in the local music scene has certainly elevated; it's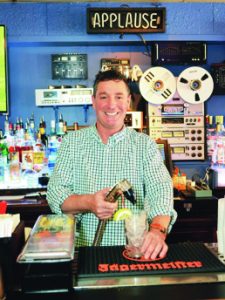 now among the regular hotspots of weekend nightlife activity, where you're likely to find a variety of contemporary artists like the band Remnose. "I've met a lot of fellow local musicians through the New Way, for open mic nights formerly hosted by [now-deceased] Brian Miller," said Remnose singer/songwriter Marlon Morton.
D'ANGELO IS A LIFELONG MUSIC LOVER who does have some experience in the food service
industry — but his main gig used to be construction. "I was a builder," as he puts it… But with New Way, he's been able to build some-thing beyond bricks and mortar, and instead with heart and soul. New Way sprang from his own vision of making it into a traditional neighborhood bar for Ferndale, with the blue-collar intimacy and easygoing-ambiance of a classic "dive bar."
It's also a bar going out of its way to build a home for musicians. "We're their host," he said. "We want (local bands) to feel welcome. Without them, I'd barely have a business. And without them it certainly wouldn't be anywhere near as much fun!"
Morton recalls when D'Angelo brought up the idea of free shows. "I'm sure he brought it up to many other of his regulars," said Morton. "But as a musician, it's a win-win. Bands are compensated for the music they provide and the people they bring to their shows, while the no-cover policy can help bring in more people who might otherwise never have heard your music."
"You'd have no way of knowing that (D'Angelo) owns the place the way he's just out amongst the crowd," Morton continued. "(He's) just enjoying watching everybody do their thing. (D'Angelo) likes to consult with the locals and regulars about any changes he wants to make; he genuinely wants to know what they think."
Now, five years in to running the New Way, D'Angelo is definitely in a groove, with a solid staff, an upgraded PA system, updated lighting, and new monitors for the stage. Then there's the satisfying result of improving the menu, beers on tap and liquor selection.
D'Angelo has a starting rate that Morton appraised as quite amenable to regional artists. Before the switch, his motto was to always give bands 100 per cent of the cover charge, but now there will be a rate that can fluctuate depending on the bill and number of bands. The sound engineer is also compensated in this new "no cover" era. "So far I've kept (prices) the same," said D'Angelo. "I might have to raise (some items) by a quarter here or there, but so far everything is the same. I'll look at things after a few months."
Along with regular weekly concerts, The New Way has a strong following for its weekly stand-up comedy nights (on Mondays) and open mic nights (on Wednesdays). Singer/songwriter Ryan Dillaha (leader of the band The Miracle Men) took over as host of the Wednesday open mic nights after the untimely passing of Brian Miller. Dillaha deemed D'Angelo's decision to be "a positive one."
THE OPEN MIC NIGHTS DILLAHA OVERSEES became one of New Way's surest ways of nurturing a sense of community between performers and music lovers. "They have a crowd and following at that bar, but I have noticed how they were sometimes deterred at the door by being asked to pay for a band they didn't know. I think it's a good move for musicians to have folks hear them who normally wouldn't, and for the bar to get the bands' fans in there too."
"People who love music but aren't familiar with the incredible scene in Detroit need an 'in…,'" said Lisa Joan,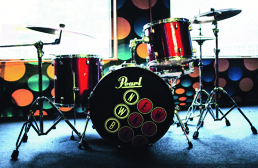 a Ferndale resident and ardent music fan often found deeply embedded in the audiences of several venues on a weekly basis. "And if they don't have a friend in it or a connection to the scene, then I don't even know how they could dip a toe into it. Free shows are a way…, and I hope it works out for the (New Way) and for the bands."
D'Angelo said it came down to a simple platitude: "Treat people nice!" That went for his customers, his staff, and the bands he wants to host on a regular basis. "I have a passion for this; I really love what I do. I'm glad to be there every day…I'm lucky to be there every day."
One of D'Angelo's favorite events of the year is Record Store Day, when local quartet Duende performs a matinee rock show. This annual vinyl-celebrating holiday was on April 21, and if you visited New Way during the afternoon, you were treated to a free show from Duende. Then again, you can walk in any weekend, this year, free of charge.
A five-dollar fee will no longer be a barrier to someone discovering their new favorite band. In fact, you'd be surprised how many of your new favorite bands might be living just down the street from you. You'll find them at the New Way.