By Sara E. Teller
THE MUCH-ANTICIPATED FRONT PORCH EVENT is coming to Ferndale's streets once again Saturday, June 23rd, from 12:00 PM to 6:00 PM. This annual "day of music on Ferndale porches" will be set along Woodward Avenue and in the neighborhoods just south of Nine Mile. Dozens of bands will be featured on the porches
of pre-selected area homes.
The 2018 festival will be bigger than in 2017, when it originally came to life, according to Michael Benghiat, the founder and executive producer of the event. "We are expanding from 25 porches last year to 30 for this year's event, which will allow us to add even more performances. Last year we were only west of Woodward. This year we will expand to the east side of Woodward. A map, and one integrated with Google Maps, will be available before the event."
There will be an eclectic mix of performances this year, even more so than in 2017. "While the platform of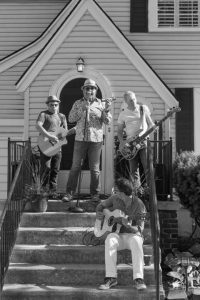 this event plays well for the acoustic folk /Americana / roots / country performer, it is our goal to offer a diverse mix of music," Benghiat explains. "With the addition of more porches we hope to achieve that even more than last year. We look to have an even wider array of music offerings including gospel, psychedelic rock, R&B, hip hop, classical and more. That's important to us, to expose as much great music as possible for those who choose to come out."
Last year, a film crew was also present, and bands were interviewed in order to develop a pilot for an ongoing music television show titled The Front Porch. The idea was pitched to Detroit Public Television and the network gave it the green light for production. "We are in the early stages of exploring production for that," Benghiat confirmed.
Sponsors are sought each year in order to cover The Front Porch costs. "We are finalizing sponsors for this year," Benghiat said.
He added that the response was so positive in 2017, those involved just knew it had to be bigger this year. "The event was such a huge success," Benghiat said of 2017. "It went beyond our expectations. The interest was so great which led us to expand to the east side of Woodward this year and to add additional porches."
He contributes this success to the area's talented musicians and Ferndale's homeowners willing to share their space. "Of course, we have all the great porch hosts and fabulous musicians to thank for helping us to bring this event to life. With it being our first go-around last year we wanted to make sure we got the event under our feet and to provide the best possible experience for attendees," Benghiat said.
Those interested in attending can find more information at http://thefrontporchmi.com or on Facebook at
facebook.com/pg/FrontPorchMI.