Story and photos by: Malissa Martin
When Suzanne Row and her husband Bill first bought their house she had a vision. She saw kids running and playing in the backyard while she sat watching and smiling. Fast forward 20 years and Rowe said her vision came true. The longtime Ferndale resident and her husband are moving to Florida in October to enjoy their retirement.
Rowe is a real estate agent and her husband just retired after working 20 years as a musical instrument salesman.
Rowe said it's going to be hard to say goodbye to Ferndale and she recalls how the city has changed over the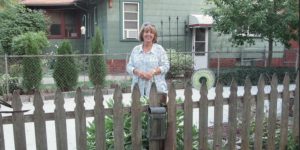 years. "I'm an East Side Detroit person, and this felt like the old neighborhood. When we moved here it was kind of cool, but so different. Not so hip, but it still had that charm." Rowe said.  Taking a stroll to get pizza at Michigo Pizza and Assaggi Bistro or going shopping on Woodward Avenue are activities she said she will surely miss. She will also miss community-enriching events like the Ferndale Perennial Exchange. "Everybody get together and it was bring-a-plant, take-a-plant. It was always a fun event." Rowe said.
During her time in Ferndale, Rowe was an involved in city politics. She served on the Beautification Commission for eight years. "It was wonderful. Peggy Snow was the chairperson forever and I learned a lot from her; except I'm not real good at naming the plants even after all this experience." Rowe said. She was also on the Property and Assessing Review board for about eight years on and off. Leaving the garden that took 20 years to create is a treasure Rowe said she has to painfully leave behind. "Every garden has got its own memories. It's really hard leaving this." Rowe said. Through the years she's collected various plants and decorative pieces; most are gifts from friends who feed her green-thumb passion.
Although Rowe has enjoyed good times at her home, she's had tough times too. The house behind hers caught on fire one night around 1:00 A.M. The fire spread to the garage and eventually crossed the fence to Rowe's property. "All I could see were flames and my garage." Thankfully, the wind blew the fire in the opposite direction so Rowe's garage didn't burn, but her garden wasn't so lucky. Half the trees and grass were burnt. "No one could understand what it was like. That's 12 years, but look how it came back! Isn't it amazing how plants do that!? It's just proof about life." Rowe said.
The hardest part about leaving is saying goodbye to her friends, Rowe confessed. "I've met so many people." Rowe said. She treasures the personal and professional relationships she's made over the years.
Rowe plans to visit Ferndale, and it will be sooner than later since she's selling her own home. "I'm still going to be back and forth. I can't imagine never coming back. I look at it like this: that's going to be our home base and who knows what will happen." Rowe said she might do real estate part-time in Florida, but she's really looking forward to enjoying her favorite pastimes: writing and painting.
Although Rowe is originally from Detroit, she said Ferndale has a special place in her heart. Moving to Florida is the beginning of a new chapter and Rowe said she's ready. "It's like a new adventure."
Saying goodbye is always hard. So, to the beautiful city of Ferndale, Rowe says, "Ferndale you've been good to me.