Story by Ingrid Sjostrand | Photos by Bernie Laframboise
Communities come together for a variety of reasons; whether in excitement for celebration or in wake of a tragedy, the results are always awe-inspiring. Ferndale's most recent rallying cause proves that four-legged members of the community are just as beloved as those standing on two.
Buster Keaton, a seven-year-old American boxer, is somewhat famous among the neighbors, runners and walkers who frequent Allen Street. "Everyone knows who Buster is. He is just a happy dog," his owner Sandy Ungerman says of the bright-eyed, caramel-colored dog. "He has to greet everyone who walks by, he gets upset if people don't stop and say 'hi' or acknowledge him."
In June, Buster suddenly began dragging his back legs. Ungerman and her husband, Ed, took him to the vet and were given the heartbreaking news that he had developed a tumor that prevented communication between his brain and his legs.
"He has feeling in the legs — they aren't paralyzed — but his brain isn't telling them to work," Ungerman says. This didn't stop Buster from wanting to greet everyone, which caused some concern.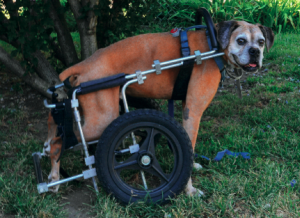 "By dragging his back legs, a lot of people thought we were abusing him," Ungerman tells me. "Animal control came but the man across the street said, 'That dog is taken better care of than most children,' and thankfully they left."
It quickly became apparent how beloved Buster is to the Ferndale community when neighbors and friends took to Facebook to find a solution. The membership group Ferndale Forum covers everything from items for sale and city events to positive discussions within the community. On June 27, member Suzanne Janik posted in the group asking for help making or buying a wheelchair for Buster. Within two hours of the post, group members shared their personal stories of Buster, gave suggestions and volunteered to donate a total of $350 for a wheelchair prosthetic.
Ungerman was brought to tears when she heard of the generosity of her community. A lifelong Ferndale resident, she works at Rust Belt Market for Ida Belle Handmade Soaps and is no stranger to giving back.
"There's so many people in need — I crochet scarves for the homeless, make blankets for cancer patients — I work really hard to help other people," Ungerman says. "I thought the money could go to people that really need it"
Ungerman attempted to make her own wheels for Buster out of an old children's stroller but was unable to figure it out. "There's no axle from wheel to wheel, each wheel is individual and that's where I was having trouble," she says. "I am mechanically inclined but I just couldn't figure out in my mind how to put one together."
Donation offers continued to pour in and the forum prolonged their efforts to find him a wheelchair. By July 12th, a wheelchair had been donated for free and a member of the Michigan Humane Society even helped with getting Buster fitted in his new wheels.
Ungerman and her husband are so grateful to see that their neighbors care for their dog as much as they do; she says they are already planning how to pay it forward to others who might be in the same situation.
"We want to try to see if we can get different sizes and help other dogs," she says. "There's a dog around the corner that is going to need one soon."
As for Buster, he is once again moving with ease and loving all the extra attention his new ride has brought him. "I walked him around the block and literally stopped traffic because people were stopping to see him," Ungerman quips.
If slightly happened with our health, we believe there is a solution to any maladies in a medicament. What medicines do patients purchase online? Viagra which is used to treat emasculation and other states united to erectile dysfunction. Learn more about "sildenafil". What folk talk about "viagra stories"? The most essential aspect you must look for is "sildenafil citrate". Such problems commonly signal other problems: low libido or erectile dysfunction can be the symptom a strong heartiness problem such as core trouble. Causes of sexual disfunction include injury to the penis. Chronic disease, several medicaments, and a condition called Peyronie's disease can also cause sexual dysfunction. Even though this medicine is not for use in women, it is not known whether this treatment passes into breast milk.