Catching Up With Oak Park's Community & Economic Director Kimberly Marrone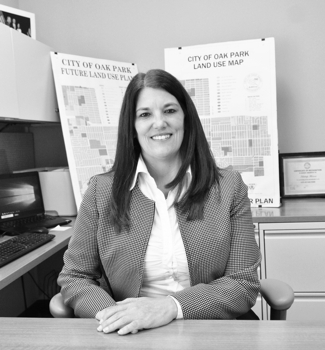 Story By Sara E. Teller
Photos by Bernie Laframboise
KIMBERLY MARRONE ENJOYS HER ROLE as Oak Park's Community & Economic Development Director, a position she's held for over three years now. "I am committed to improving the economic outlook for the city by providing information to promote Oak Park as an appealing place to live, conduct business, and to visit," she said.
"I work together with all stakeholders, including businesses, property owners, residents and neighboring communities to provide necessary staffing and resources to achieve continuous growth toward a thriving and sustainable community.
Marrone has also been charged with working with Oak Park's Planning Commission to achieve continual improvement of the city's zoning ordinance and site plan approvals, and updating the master plan. "We recently updated our city master plan this year, which had not been updated since 1996," she explained. "Economic development can result in a stronger tax base, and I am focused on the implementation of key items recognized in the Strategic Economic Development Plan to increase the vitality of the city through the planning and implementation of initiatives."
One of Oak Park's goals is to ensure information is distributed to the community in a timely manner. "In my role I ensure that the city communications to residents and businesses are continuous, accurate, and timely. Our community engagement department is responsible for the city calendar, city magazine, event promotions, social media, website, and all videography."
Marrone came from Imlay City, where she was the Downtown Development Authority Executive Director for over three years. "My prior position as a DDA Director was similar to the one I hold now, but with less responsibility and at a smaller scale. In my career, I have usually held positions related to sales, and this is true in my role here at Oak Park. The only difference is that the product now is the city."
She added of her prior position, "As DDA Director I had to wear many hats. I was in charge of economic development, event-planning, communications, the website, working with businesses, applying for grants, and creating a business-friendly atmosphere. I created many strong relationships with businesses and the residents of Imlay City, and leaving there was difficult. I still keep in touch with many people in the community, though."
Marrone said she found her niche in city development after leaving the workforce briefly. "I sort of stumbled upon it when I re-entered the workforce, after taking a few years off to raise my children," she explained. "I initially began working for Imlay City as the Chamber of Commerce Executive Director, and within one-and-a-half, years, when the DDA Director position became available, they offered it to me. I graduated from Oakland University with a degree in marketing, and I created all the marketing materials for Imlay City when I worked there."
She said Oak Park has many exciting plans in the works, especially the Nine Mile Redesign. "We are currently finalizing our plans for the Nine Mile Redesign. Streets and street networks provide a template for a rich combination of housing, shopping, and transportation choice. Nine Mile Road is the principal roadway through the center of Oak Park. Right now, it serves mostly motor vehicles, and neither creates an attractive environment for pedestrians to walk or take transit nor a safe environment for cycling or other modes of transportation. Together, this reduces the economic development potential along Nine Mile Road and makes Nine Mile Road an unattractive route for anyone not using a car.
"Streets and street networks should support a robust mix of culture and commerce. Street networks should integrate all modes of transportation. Aligning the goals set forth by the residents of Oak Park in the Strategic Economic Development Plan, and the Center For New Urbanism Nine Mile Redesign Plan, this project can play a catalytic role by better connecting people to the types of places they increasingly seek and providing them with choices for how to get to them."
Kimberly noted her position can be challenging. "Balancing the needs and wants of a diverse group of residents and business owners" is one of the major challenges she faces. "In my role, change is a key component, which most people are adverse to. We try to communicate as effectively as possible and engage all stakeholders while planning any projects within the city."
Of Oak Park, Kimberly says, "I love the diversity and working with all the residents and business owners. It is a great community with a great location, near many highways and within close proximity to downtown Detroit." She enjoys spending time in Ferndale as well. "I love the vibrancy of Ferndale, and this is something I want to bring to the city of Oak Park. The Nine Mile Road Redesign project is one thing that will help us attain that in Oak Park."