April McCrumb Sparks Artistic Joy In Berkley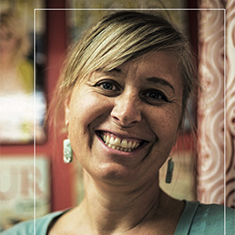 Story By Ingrid Sjostrand | Photos By David McNair
Sometimes a passion just follows a person and inspires them throughout life. For April McCrumb this passion is art, and for nearly two decades she has shared her creative craft with the City of Berkley.
Co-owner of Berkley stores Catching Fireflies, Yellow Door Art Market and co-founder of the Berkley Art Bash, McCrumb's interest in art developed in childhood. And although she pursued a degree in education, she found ways to incorporate creativity into teaching.
"I was always raised to be creative, but I followed my parents lead and took a conservative college route and just dabbled in art shows and craft fairs on the side," McCrumb says. "While working in education, a lot of paper was being recycled; I created stuff in class with the kids and it transitioned over time into the traditional papermaking hobby."
This hobby became A.I. Paper Design which McCrumb and her husband Steve made out of their home and sold at the Ann Arbor Artisan Market. As demand grew, they found the perfect 2200 sq. ft. storefront available in Berkley to grow the brand and McCrumb's career shifted back to art full-time. An old pharmacy at 3117 W 12 Mile Rd. was transformed into Catching Fireflies in October 2000 with some bright paint and help from friends looking to sell their own work on consignment.
"We thought the front half could be used for selling and the back half would be our studio; essentially the goal would be to make enough in the store to pay the rent," McCrumb says. "Over time Catching Fireflies gained popularity. We moved our studio and turned it into a full store."
MCCRUMB'S VISION FOR THE STORE GREW from an art studio space with a storefront to a gift shop with the purpose of bringing others joy.
"Our favorite adjective is 'whimsical' – we like to delight and inspire happy things," She says. "We want people to come in here – whether they buy or not – to be uplifted, this world can drag you down and we want this to be a little haven."
The popularity of Catching Fireflies propelled into the opening of multiple locations – one in Grand Rapids that was eventually moved to Rochester and another in Ann Arbor. They've stayed true to the whimsy theme and have been conscious of the locations of their shops.
"All are in unique historical buildings. Rochester is located in the old train depot downtown and Ann Arbor is a very old building in the middle of Kerrytown," McCrumb says. "I love that our buildings represent quirkiness and fit the flavor of our brand."
Another thing that sets Catching Fireflies apart from other local gift shops is their online presence. They created an e-store in 2008 before it was a common trend among smaller retailers.
"We have progressed with the times and 90 percent of our catalog is available to purchase online," McCrumb says. "I'm proud that we are keeping up with the big dogs and it helps us gain customers that are not local."
SOON AFTER THE CREATION OF CATCHING FIREFLIES, in 2001 McCrumb collaborated with the Berkley Chamber of Commerce to create Berkley Art Bash. The event occurs on the second Saturday in June and is the largest community event in Downtown Berkley, shutting down 12 Mile Rd. between Kipling and Buckingham Rds. It has attracted crowds as large as 10,000 people.
"We had 150 booths this year and over the years we've had such a great response," McCrumb says. "For the Chamber, it's a huge bump to make money and make the city a great place to do business. Now we have over five blocks of booths, kids activities and music."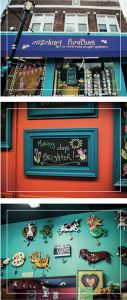 While Catching Fireflies carries multiple artist brands and Berkley Art Bash provides an event for art in the community, McCrumb noticed a lack of spaces where artists could control the sale of their own work. When a storefront became available doors down from Catching Fireflies at 3141 Twelve Mile Rd. she jumped at the chance to create the Yellow Door Art Market in 2010.
"It's tough being an artist. You have Etsy and art fairs but I thought we could be the in-between space for artists that don't want to do art shows and be a bridge for artists who want to open a store but might not be ready yet," McCrumb says. "People can shop there and truly shop local – everything in there is made by someone in Michigan."
MCCRUMB MAY HAVE BROUGHT ART TO BERKLEY in a variety of ways, but she recognizes that she couldn't have done it without the help of the city.
"The community has been so supportive of local art. Being here for 19 years, we've seen so many changes and I think it's only gotten better," she says. "The City is great, the population is supportive and I really feel blessed by this whole community in Berkley."
And she says if you're passionate about something, take the chance and pursue it.
"It sounds cheesy but I love the quote, 'Follow your heart but take your brain along with you.' Not to say this didn't come with a lot of hard work and sweat equity, but you can follow your dreams and make it work beyond what you ever imagined."
Catching Fireflies (248) 336-2030 3117 W 12 Mile, Berkley, MI 48072
Yellow Door Art Market (248) 336-2038 3141 12 Rd, Berkley, MI 48072
Mon/Tue/Wed/Fri/Sat 10-6 Thur 10-8 Sun 12-5