3-60 Project: Yes! By Melania Piana, Ferndale City Council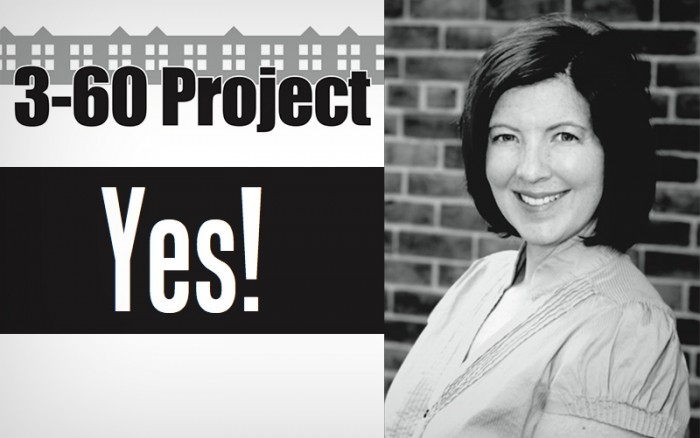 Questions by Derek Lindamood
Who or what prompted the idea for the 3-60 Project?
Our city's downtown strategic revitalization vision and long-term planning prompted the 3-60 Project. As early as 1998, the City's Master Land Use Plan already incorporated specific language about mixed-use residential and office space development on city-owned parking lots.
For the past six years, the real estate crash depressed property values, making new development financial unviable for most communities. Now that real estate is in recovery and Ferndale is a highly desirable community, multiple developers have interest building in Ferndale, including the 3-60 Project team.
What are the potential benefits for the residents and businesses of Ferndale that this project could bring?
I believe great downtowns make people a priority as a revitalization strategy instead of just car travel and parking spots. I often wonder how we can use the city's under-utilized parking lots to strengthen our connectedness and social interactions — or create a stronger sense of place. With Ferndale's intense focus making walking and biking more safe and enjoyable, our downtown provides people an engaging environment that leads to great experiences for those who live, work and visit our downtown. With that in mind, the development project can help solve current challenges and position us to further achieve downtown goals and aspirations.
First, a development project like 3-60 will create more parking for downtown businesses. We all know it can be a challenge to find parking at peak times in our downtown. Time and again, our DDA and businesses have made increasing parking supply a top priority.
A second major benefit from this project is more daytime foot traffic. Our downtown business owners and the DDA have been consistently vocal about the need to balance downtown Ferndale's thriving night-time economy with the slower daytime economy. More people living and working in the downtown will result in more people walking, dining and shopping during the day.
Adding more choice of housing options is another benefit. Increasingly, some people desire lofts, one-two bedroom apartments or condos located in a walkable urban downtown where they can complete most of their daily trips by walking or taking transit.
New office space means businesses bringing new jobs. The 3-60 Project seeks to fill the proposed new office space with second-stage tech companies that will most likely provide high- paying jobs.
Increased neighborhood retail space for entrepreneurial small businesses is an overall benefit to our community. Remember, the City can negotiate with any developer what types of business uses are allowed in the new storefronts (i.e., retail versus a bar or restaurant).
What is this project – i.e., how many loft units, how many stores, what are they intending to be used for – and what is the ultimate goal for this undertaking: What is it that the 3-60 Project hopes to achieve for the City of Ferndale?
The ultimate goal of any project on City-owned parking lots is to fulfill the City's strategic revitalization goals. Other developers proposals were considered, however the 3-60 Project provided more options worthy of further exploration.
Conceptually, the 3-60 Project team proposes one residential loft building with 75-100 living units and three office buildings approximately 60,000 square feet each. As part of the proposal, the city seeks to add a public parking deck to reduce the existing parking capacity issues in the downtown and support the residential and office space uses.
We are in control of what we want this development project to achieve for us as a community. City staff are working closely with the 3-60 Project team to ensure their proposal meets the city's stated goals, and follows the city's required development review process.
What is the current timeline of this project, start-to-finish? How will this undertaking affect downtown businesses, and for how long?
The 3-60 Project has three phases, and the project proposal is currently in Phase One. Activities in Phase One included several public outreach sessions, and a parking and financial feasibility study. Phase One is the most critical for the city—this period determines the cost and financing options to build the new public parking deck.
City Council accelerated the suggested 18-month timeline to complete the conceptual evaluation of the 3-60 Project after 12 months. At the end of the 12-month period, City Council will determine if there is enough potential to move forward to a formal planning review process (Phase Two). If City Council approves moving to Phase Two, then construction (Phase 3) could start in late 2015.
How will this project be funded, and what is the estimated cost for taxpayers?
This development project is designed as a public/private partnership, which means that the developer will fund the construction of the residential and office space, and the City funds the construction of the parking deck, leading to both parties gaining benefits.
The financial feasibility study is currently underway. As of this writing, City Council has yet to receive a detailed project proposal with all the cost and project financing information, which is the final step of Phase One. Council anticipates city staff and the 3-60 Project team to provide more details in early 2015.
What will City Council propose to do to mitigate some of the anticipated traffic congestion, etc. that could cause downtown businesses to see a decrease in activity at their stores?
With any project on city-owned parking lots, I expect the developer to conduct a traffic impact study based on the number of proposed parking spaces. This study, performed in Phase 2, will inform the city and DDA on any anticipated increase in traffic congestion and recommend avoidance solutions.
What are the potential issues e that the construction of the 3-60 Project could cause for the residents and businesses?
I know that any major downtown development project the City approves will have short-term impacts on businesses and residents during construction. Construction will result in street, sidewalk and alley closures, traffic detours and construction noise.
City Council made an earnest effort to include public feedback early in the development concept stage, and City staff are collaborating with the 3-60
Project team to incorporate suggestions into the development proposal. A major concern expressed by business owners during the 3-60 public input sessions is that construction or closure of both the Withington and Troy lots at the same time is untenable. City staff are working with 3-60 to determine how to construct one lot at a time, keeping essential parking available to downtown businesses.
I know City Council will ensure City staff, and the DDA, downtown businesses and other partner organizations develop a strong mitigation plan that reduces the impact of construction. Together we will need to identify alternative parking solutions, understand the individual needs and concerns of each business, and then determine business technical support services to assist them throughout the construction phase. I know Ferndale's DIY attitude and creative energy will guide us through.
Who is responsible for ensuring the project is completed within the time frame specified by the builder?
The City is responsible for holding any developer accountable on their approved development plan. For example, the Vity held the Lofts at 9 development team accountable for their approved plan and construction timeline, which was a successful project for the community.

If slightly happened with our health, we believe there is a solution to any maladies in a cure. What medicines do patients purchase online? Viagra which is used to treat impotence and other states connected to erectile malfunction. Learn more about "sildenafil". What people talk about "viagra stories"? The most vital aspect you should look for is "sildenafil citrate". Such problems commonly signal other problems: low libido or erectile malfunction can be the symptom a strong soundness problem such as soul trouble. Causes of sexual disfunction include injury to the penis. Chronic disease, several medicaments, and a condition called Peyronie's disease can also cause sexual dysfunction. Even though this medicine is not for use in women, it is not known whether this curing passes into breast milk.