By Colton Dale
THE OAK PARK CITY COUNCIL is the dynamic and energetic legislative body for the City of Oak Park. It is comprised of Mayor Marian McClellan, Mayor Pro Tem Solomon Radner and three City Council Members elected at-large; Carolyn Burns, Ken Rich and Regina Weiss.
The current City Council represents the diversity of Oak Park beautifully, with ranges in age, ethnicity, religion, and professional background.
City Council has the power and authority to adopt laws, ordinances, and resolutions. There's a wide array of issues discussed and solved at City Council meetings. This means that City Council members in some ways have to be generalists, not specialists. In other words, they need to have a sufficient understanding of a wide array of topics and disciplines so that they can adequately deal with them, rather than narrow, specialized knowledge. Some topics that could be discussed in any given City Council meeting are:
• Rules governing its own proceedings.
• The exercise of powers that aren't covered by state and federal law.
• The enforcement of City ordinances.
• Appointments of top administrative personnel.
• The City's financial operations.
• Appointments commissions of new members of boards and commissions
• The City's intergovernmental affairs.
• The general welfare of the city and its inhabitants.
• Community leadership initiatives.
AS MAYOR, MARIAN MCCLELLAN IS AUTHORIZED TO EXERCISE THE POWERS as outlined in the City's Charter. For example, the Mayor is considered the executive head of the City for ceremonial purposes and is considered the presiding officer of City Council although the Mayor has the same voice and vote as other City Council members in all proceedings.
Mayor McClellan was first elected in 2011 and has been reelected every two years since. She has been an Oak Park resident since 1990, and has long been a champion of the City's culture and diversity. She spent 32 years teaching in Metro Detroit, spending time in Detroit, Warren, Rochester Hills, and Ferndale. Today, she is a strong advocate for the City and always works to improve quality of life for Oak Park residents. She serves on the Board of Trustees for both the Employee Retirements System and Public Safety Retirement System, as well as the Corridor Improvement Authority and the Planning Commission.
Mayoral elections are every two years, whereas City Council terms are four years long. Municipal elections are always held on odd-number years; however, if a position becomes vacant during an elected official's term of office, a special election may be held to fill that vacancy. Other elected officials of the City include the Municipal Judge and an Associate Municipal Judge, each elected to serve four-year terms in the 45th District Court.
MAYOR PRO TEM SOLOMON RADNER WAS FIRST ELECTED as a City Council Member in 2015. He has been an Oak Park resident since 1984. A graduate of Wayne State University Law School, he is the founder of Radner Legal Services, and is married with three young children. Today, he serves on the City's Recycling and Environmental Conservation Commission as well as the Arts & Cultural Diversity Commission.
The Mayor Pro Tem is decided by the greatest number of votes by the voters in the previous election. The duty of the Mayor Pro Tem, on top of serving as a City Council Member, is to perform the actions of the Mayor in case of the Mayor's absence.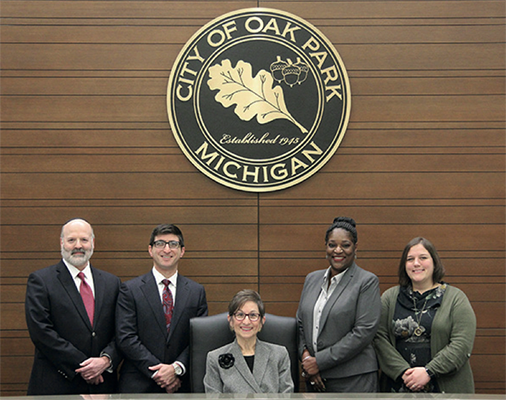 Council Member Carolyn Burns, who previously served a term as Mayor Pro Tem, was first elected to Council in 2013. A resident of Oak Park since 2000, she has spent over 25 years in public service and administrative roles. She serves on the Beautification and Planning Commissions.
Council Member Ken Rich was first elected in 2015. He is the firm manager and lead trial counsel at Rich, Campbell & Roeder, PC, focusing his practice in personal injury defense, municipal law, banking, and employment. Rich received his Juris Doctor in 1985 from the University of Michigan Law School in Ann Arbor, Michigan, and his Bachelor of Arts with High Distinction in 1982 from Wayne State University in Detroit, Michigan. Today, on top of spending time with his family, he serves on the City's Public Safety Retirement System Board and Economic Development Corporation/Brownfield Authority.
The City's newest Council Member, Regina Weiss, was elected in 2017. She previously served as the Program Director at Tri-Community Coalition, and now is a teacher at Benjamin Carson High School of Science and Medicine in Detroit. Regina was active in Oak Park long before she became a Council Member. Today, she serves on three boards and commissions; the Arts and Cultural Diversity Commission, Parks and Recreation Commission and Library Board of Directors.
One of the most important roles of City Council is to select a City Manager to run the City's day-to-day operations. Together, they vote to appoint this chief executive role because of the council-manager form of local government that the City of Oak Park has, as many others do. The council-manager form is the system of local government that combines the political leadership of elected officials with the managerial experience of an appointed executive.
Today, City Manager Erik Tungate is charged with supervising all City personnel, preparing and submitting the annual budget, enforcing municipal ordinances, and implementing the policies and direction set by City Council.
IN 2013, THE CITY COUNCIL ADOPTED A FIVE-YEAR STRATEGIC PLAN that con sists of six priority areas of focus, each with measurable objectives intended to guide the City through 2019. The priorities of the plan are summarized within three main tenets: Community, Culture, and Commerce. Each year the recommended budget reflects City Council's dedication to accomplishing these goals and objectives:
Community
STRENGTHEN COMMUNITY by providing the highest possible quality of life, and becoming a regional leader in rebuilding the urban environment and public realm.
Culture
ENHANCE CULTURE by providing the highest quality programs and services while encouraging collaboration among community members and maintaining the City's unique cultural diversity.
Commerce
STIMULATE COMMERCE by encouraging business growth and innovation, while establishing a vibrant city center and thriving activity nodes, and ultimately maximizing Oak Park's competitiveness in the region.
The City has accomplished so much to improve the quality of life for Oak Park residents in accordance with the principles laid out in the 2013 Strategic Plan. Five years have now passed since the adoption of that document and most goals have been accomplished. City Council is now working to create another Strategic Plan for the next five years.
City Council meets every first and third Monday of each month throughout the year, with rare exceptions, in the Council Chambers at City Hall, 14000 Oak Park Blvd. Regular Council meetings are open to the public, and all are welcome to attend. There is always time set aside for public comment at the end. To watch a meeting from home or view an archived meeting, visit the City's YouTube channel @CityOfOakPark.