Two Twenty Two: Become a Part of Community Art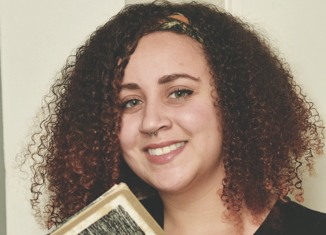 Story By: Jaz'min Weaver
Photos by Bernie Laframboise
Creativity runs rampant in Ferndale, a city of art fairs, galleries and specialty shops…and also at the Ferndale Library, where a special book is waiting, just waiting, for you to fill its pages. One of the goals of the Ferndale Public Library Art and Exhibition Committee is to encourage our already lively appreciation of art. In 2013, committee member Linden Godlove came up with an interactive way to do just that. The Two Twenty Two Community Art Project started as a blank book, and evolved into an outlet and archive for diversity of thought and a wide array of media. This collaborative project is a unique method of interaction between members of the community. Its pages include colored pencil drawings, collage, prints, photos, poems and more.
Larger than a usual sketchbook, it evokes the feeling of being small again, when your favorite storybook filled your entire lap. The cover, designed by Patrick Dengate, is a large black and white print, simple, but elegant. A welcoming page with an enumerated list serves as an introduction to the concept of a circulating art book. It takes its name from the address of the Ferndale Public Library, 222 East Nine Mile Road.
A medley of things acted as inspiration for Two Twenty Two. Godlove states, "One: the knowledge that practically anything can be catalogued, added to the library collection, and thus, be able to be checked out – even a blank book. Two: Janice Charach Gallery in West Bloomfield had a 100 Journal Project in 2012, where artists could get a blank sketchbook and have it in their exhibition. One of my friends invited me to fill a page. Three: The PostSecret books, curated by Frank Warren, inspired the idea, as well."
The last few pages are reserved for information about contributors, so the participating artists can leave a little information about themselves, the media they used, and how they can be contacted. It's a shared artistic experience for neighbors and strangers, whether you're contributing or just admiring.
When asked about the noticeable chunk of cropped pages near the center of the book, Linden replied, "The missing pages were blank. Very early on, enthusiastic artists pasted in thick collages and other dimensional art. This is wonderful, but it's so thick that it caused stress on the binding of the book, which was causing the pages to pull from the cover. In order to make room for some of the thicker pieces of art, reams of blank pages were cut out." This is followed up with the promise, "No existing art has been removed from the book and never will be."
Currently, although the remaining blank pages are not sequential, there are still a few waiting to be filled. What will happen when the book is entirely full? "It was intended to be an ongoing project. The challenging element is that we would need to find a book that can be filled expansively, yet hold up to the wear and tear of being checked out repeatedly. I don't know of what kind of sketchbook could, but I'm open to suggestions," says the creator.
Checking out Two Twenty Two is worthwhile even if you don't intend to write on the pages; it's still a visual adventure, each page holding something new and different. It is a book of juxtaposition that gathers a variety of styles and thoughts, just like the city and residents of Ferndale itself.
Godlove puts it best by saying, "It's a fantastic project because anyone who wants to can write in a library book, and their contribution becomes a part of that book that anyone can check out, as long as the book lasts. It's an interesting archive of a brief time in our local creative history, with artists from all levels, from budding artists like my little girl nieces to established ones who have had their art published elsewhere. I'm very proud of it and glad that it continues to be discovered and contributed to over the years."