Home
Art & Music
The Phoenix Cafe Filled a Void for Musicians & Artists in Hazel...
The Phoenix Cafe Filled a Void for Musicians & Artists in Hazel Park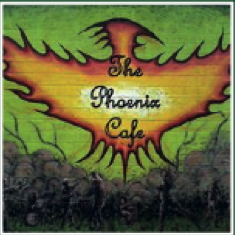 By Maggie Boleyn
THE PHOENIX CAFÉ, FORMERLY LOCATED AT 24198 JOHN R RD., CLOSED ITS DOORS ON DECEMBER 23, 2017. While founder and co-owner Steve Gamburd says it wasn't so well-known by Hazel Park
residents, it continues to hold a legacy among artists and musicians in the area.
"We created an art and music scene like no other, and it was never a bar! It was one of the few all-ages

venues at the time, and now there are none in the area," he says. "Unfortunately, I would guess that only five percent of the population of Hazel Park knew what we were."
First opening in 2009, Gamburd, along with partners Hans Barbe and Michael Wiggins, successfully hosted themed art shows, concerts, community fundraisers and other events. The original goal was to create a community that supported sustainable living and held workshops; my goal was to have an art gallery, concert venue and community space," Gamburd says. "Others that shared this vision made this place what it was."
When The Phoenix Café hit a lull in late 2012, they decided to spend some time and money renovating. "I wanted a space free of old carpet, with matching furniture, an open stage, a solid cafe counter and a nice gallery. I wanted people to come in and buy art or enjoy a show in a clean space," Gamburd says. "We completed renovation within six weeks and had our grand re-opening party on February 15th, 2013."
After re-opening, some roles shifted with Wiggins leaving for other projects and Been Frank, a community organizer and music producer, joining the team. Been acted as sound engineer and helped coordinate events at The Phoenix Café, like Maybash – a popular, four-night concert series over Memorial Day weekend.
"Soon enough, our art events were huge, as well as many of our concerts. We had Tuesday figure drawing, Wednesday Open Jam Club, and Friday and Saturday shows on a regular basis," Gamburd says. "Artist Steve

Czapiewski became a major Phoenix associate with the figure drawing classes and art exhibits." That success continued with local press attention for their festivals, involvement in the Hazel Park Arts Council and planning of the Hazel Park Art Fair, and a variety of themed art exhibits at The Phoenix – including Hallow Art, Steampunk Art Show, See What Stacey Started Art Show and a Nintendo Art Show. Musicians were thriving there too.
"Many bands got their start at The Phoenix, many musicians formed new bands out of the Phoenix, touring bands made The Phoenix an easy go-to for booking," Gamburd says. "We were known on a national and regional level for booking in Detroit as a primary D.I.Y. space and resource."
Despite success, in 2017 Gamburd made the decision to shift his career focus and close The Phoenix Café. "I wanted to be an artist again, create more and gig more with my bands. "We threw a huge, four-night closing party just before Christmas and invited all of the bands that frequented the place over the years."
While the space has closed, pieces of its legacy remain. Several Hazel Park bars have started picking up where the Café left off: Joebar hosts occasional concerts and Cellarmens books bands and hosts monthly figure-drawing classes. Even its mural (hand-painted by Gamburd) still remains – for now – on the north wall of the barber shop and men's clothing store that previously filled the space.
"My mural of the phoenix on the north wall of 24918 John R states the motto of Detroit, 'We hope for better things. It shall rise from the ashes'," Gamburd says. "As 2018 began, we already have spread our wings and are now both mobile and stationary at new venues!" Gamburd continues to hold figure-drawing classes around Metro Detroit at places like Scribblz in Utica and held a fundraiser in May for the Art Council with Hazel Park BDT. Frank still uses The Phoenix Cafe's social media for booking concerts at Hamtramck Korner Bar and New Dodge Bar.
Gamburd sees this continued success as an extension of The Phoenix Café, and doesn't expect it to change anytime soon.
"The Phoenix wasn't just a space. It was and still is a strong community that will be in our hearts forever!"