The Many Faces of Storefront Gallery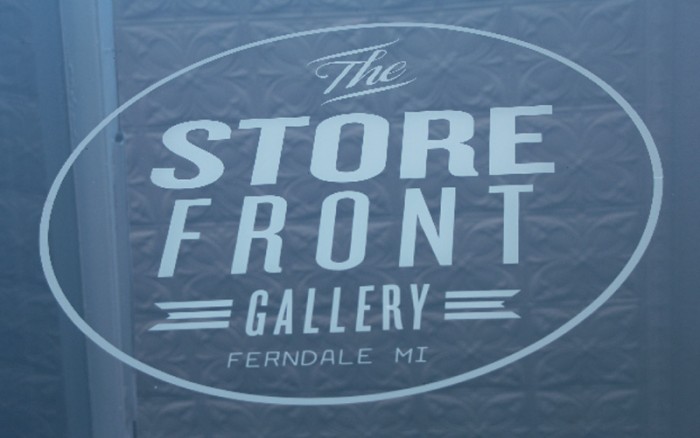 Story by Ingrid Sjostrand | Photos by Bernie Laframboise & Jeff Lilly
If you have yet to discover the hidden gem that is the StoreFront Gallery, there is bound to be something there that piques your interest. Located at 477 West Marshall, this charming blue- framed brick building has hosted some of Ferndale's most creative ventures.
Opened by Derek John in late 2012, the StoreFront Gallery started as a venue for metro Detroit artists to rent and display their work. It has grown into so much more – hosting improv shows, boutiques, photo shoots and more. The interior aesthetic only adds to the exper- ience of the events at StoreFront, with its hardwood floors, high tin ceilings and expansive windows fitting of its namesake. One of the more recent ventures has
turned StoreFront into a flea market.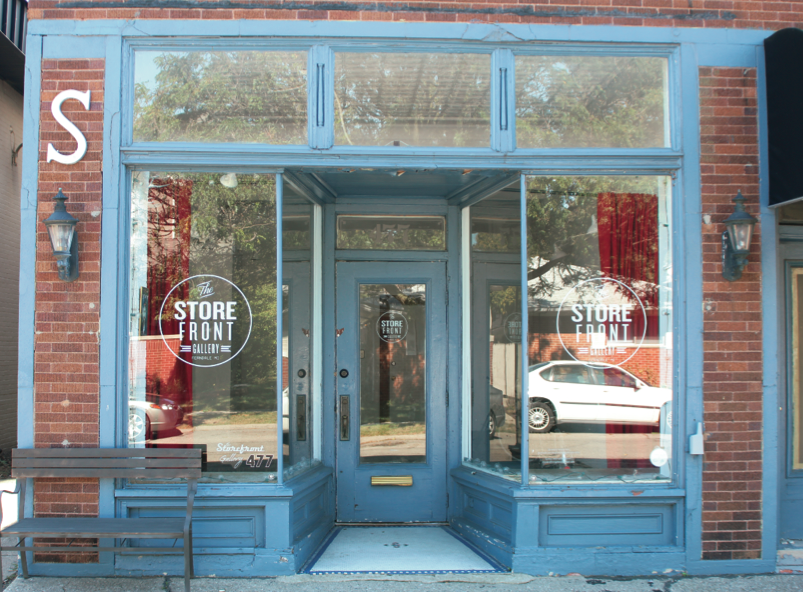 Scheduled for the first Sunday of every month throughout the summer, Ferndale Flea set up shop at StoreFront to sell vintage and antique items. A group of friends and locals, including jewelry designer Jennifer Vermeersh and artist/collector Tim Caldwell, started the pop-up as a way to share and sell some of the unique and vintage items that were cluttering up their homes.
Their first event, held on May 3 this year, took over the StoreFront Gallery and its sidewalk with classic comic books, retro furniture, vintage clothing and records. Supplemented by a Facebook page of over 645 members, Ferndale Flea posted available items and gained new sellers for their second event on June 7th.
While seemingly successful through the first few months of summer, there's no word from administrators if it will return next year.
As for the StoreFront Gallery, it continues to grow and thrive. Many might not be aware that Pop Up Dinners, one of metro Detroit's most popular and successful endeavors, originated within its walls.
In collaboration with chef Matthew Baldridge and artist/photographer Janna Coumoundouros, John began hosting custom-made dinners at The StoreFront Gallery. Through Pop-Up Dinners, drab Monday nights have become opportunities to try new foods with 20 or so strangers in a creative atmosphere.
"Dining is not only about sustenance, it's about the entire experience. It should be the food, drink, and the people you share this with. Then incorporate art, music, and great conversation and that is the experience we are striving to achieve with this dinner club," says Baldrige on the Dinner Club site, www.dinnerclubpopup.com.
Baldrige uses his 15 years of experience as a chef in Detroit to create the meals. Coumoundouros owns studio Lilacpop and curates art for the dinners, while John (who is also a member of band Body Math) uses his musical talents to provide a soundtrack and a scene for the evenings.
Pop-up dinners have grown so much in popularity in the last few years that they've expanded to restaurants and locales throughout metro Detroit. Ticket prices start around $35 and location and meal details are available at dinnerclubpopup.com.
As the Dinner Club continues to branch out, John hasn't failed to keep The StoreFront Gallery interesting. On October 17, they will host an Intro to Hand Lettering class presented by Letter Sparrow.
To keep up with the events, classes and projects of Derek John at The StoreFront Gallery, check their website at www.thestorefrontgalleryferndale.com and be sure to take a trip down West Marshall Street to keep an eye on what The StoreFront Gallery hosts next.
www.facebook.com/thestorefrontgalleryferndalemi www.dinnerclubpopup.com/ www.facebook.com/FerndaleFlea
If something happened with our heartiness, we believe there is a solution to any maladies in a preparation. What medicines do patients purchase online? Viagra which is used to treat emasculation and other states connected to erectile disfunction. Learn more about "sildenafil". What people talk about "viagra stories"? The most vital aspect you must look for is "sildenafil citrate". Such problems commonly signal other problems: low libido or erectile disfunction can be the symptom a strong soundness problem such as heart trouble. Causes of sexual dysfunction switch on injury to the penis. Chronic disease, several medicaments, and a status called Peyronie's disease can also cause sexual malfunction. Even though this physic is not for use in women, it is not known whether this curing passes into breast milk.