State Representative Regina Weiss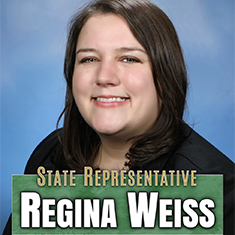 HELLO, THIS IS REGINA WEISS, YOUR STATE REPRESENTATIVE. I am a proud resident of Oak Park, and I serve the communities of Berkley, Ferndale, Hazel Park, Huntington Woods, Oak Park, Pleasant Ridge, and Royal Oak Township in the State House.
I was elected to serve in 2020 and am a member of the House Appropriations Committee. I have been enjoying working for you in Lansing over the past year. Before I was elected, I was a teacher in the Detroit Public Schools system, and a member of the Oak Park City Council.
This year in Lansing, I have been fighting for the people of Oak Park to ensure that your needs are being met. One of my main priorities when advocating for you was securing the necessary funds in the 2022 fiscal year state budget to support public safety, community health, infrastructure, and parks and recreation projects. I voted yes on our budget that did this and much more.
Some of the budget highlights include an allocation of $15 million dollars for lead removal and home repair grants and approximately $2.7 billion in federal supplemental relief funds, including mortgage assistance and home repairs. In addition, there was a five percent increase in higher education and community college operations payments, and the Michigan Reconnect & Futures for Frontliners tuition scholarship programs were fully funded to create opportunities for Michiganders seeking educational advancement. I passionately believe that investing in these programs will benefit all members of our community.
As Minority Vice Chair of the School Aid & Department of Education Subcommittee on Appropriations, I was particularly proud of the K-12 budget that we passed for fiscal year 2022. This budget was historic in many ways it marked the most funding ever allocated for teachers and students in our state's history and closed the funding gap for the first time ever. The budget also included a large expansion of the Great Start Readiness Program (GSRP), ensuring that all eligible four-year-olds can attend a pre-K program, and increased the funding per-pupil for GSRP to match K-12 at $8,700 per-pupil for the first time.
FOR OUR DISTRICT SPECIFICALLY, I was able to secure funding for Kids Kicking Cancer, a student healing-and-wellness initiative piloted in Oak Park Public Schools. This program will significantly help our children and give them the resources needed to be successful in their everyday lives. I also secured grant funding for the Royal Oak Township Recreation Center.
Another project I have been working on in Lansing is House Bill 5270, which provides districts who have experienced declining enrollment with funding to stabilize their budgets. Many schools have struggled to get kids back in the classroom since the pandemic started, and this has caused less funding to go to those schools, leading to budgetary and staffing uncertainties.
I hope that as an increased number of people are vaccinated and other safety measures are followed, students and parents will feel more comfortable coming back to the classroom. I believe our students are more successful when learning in-person. As a teacher who taught through the pandemic, I did my best and so did my students, but the hours of Zoom instruction do not compare to having students in classrooms. I will make sure to continue fighting for the passage of this bill to ensure schools have the resources needed throughout the duration of the pandemic.
As always, I will continue fighting for you in Lansing. My office phone number is 517-373-0478 and my email is reginaweiss@house.mi.gov. Please reach out to my office with any thoughts you have on legislation or any issues that come up.