Sierra Club's Green Cruise Rides Into Its 13th Year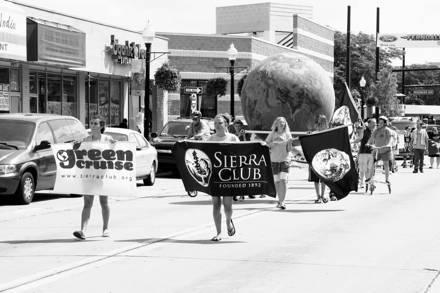 Story By: Ingrid Sjostrand
Photo By: Bernie LAFramboise
WHILE IT MAY HAVE STARTED 13 YEARS AGO AS AN EFFORT to denounce the Woodward Dream Cruise and call out the environmental impact caused by the famous auto affair, the Green Cruise has transformed into so much more, and boasted over 250 participants in 2016.
Organized by the Sierra Club's Southeast Michigan group, the annual bike ride offers an alternative look at transportation in the automotive capital of the world. Scheduled for September 9th, participants can choose to bike a 42-mile loop to Belle Isle or a less intensive 22-mile ride to Birmingham.
"Some have called it the anti-Dream Cruise but it's really about awareness," Jerry Hasspacher, event chair for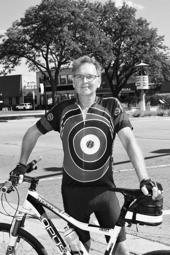 the Green Cruise, says. "It's an all-around environmental event, and it's going to benefit more than just one charity and one idea; we'll support a whole gamut of things such as energy conservation, using less fossil fuels, getting bad chemicals out of the air and native landscaping."
The event starts and ends in Ferndale, partly because of its location in Metro Detroit, but also due to the city's environmental efforts. From the recently upgraded bike lanes and greenery sprouting on the roofs of the library and bus stops to bike repair stations throughout the city, it's undeniable that Ferndale is working toward building a sustainable city.
"Ferndale is very centrally-located and it's a very environmental city, so we get a lot of cooperation," Hasspacher says. "It's nice to have that support from a green city, plus there are a lot of bike lanes in Ferndale so it's easy to not only get around in the city but to get to other bike lanes outside the city."
The Green Cruise will start at Ferndale City Hall, located at 300 E 9 Mile Rd, where bikers can gather under the overhang and restrooms will be available before and after the ride. In previous years the event began at the Ferndale Public Library.
Aside from the new location, riders should note that the date has been moved from August to September 9th in hopes of cooler weather and to kick off National Drive Electric Week.
"The National Drive Electric Association has a web site and invites people who have electric and hybrid cars to show up to their events, and then they explain how these vehicles work," Hasspacher says. "It's something a lot of people don't understand, so the more education we can provide the better."
The 2017 Green Cruise is sponsored by 25 companies including Ferndale businesses Greenspace Cafe, Modern Natural Baby and Western Market. The 42-mile ride will include three official stops and the 22-mile ride one official stop, both with snacks available. Ride leaders from local organizations will be available to help with any issues like flat tires or weather-related concerns.
"We also have great leadership on the ride, we have Metro Detroit Cycling Club again this year and Beat the Train who are all going to help us keep track of everyone on the 42-mile ride," Hasspacher says. The cost to participate in the ride is a modest $10.
"The Green Cruise is a green way of non-fossil fuel transportation. When you're riding your bike you're not using fossil fuel and personally, I hope that all the bicyclists spend the rest of their time being environmental," Hasspacher says.
"Hopefully we can get more people involved in environmental groups, this work is all grassroots now and effective change comes from the bottom, not the top."