Home
Art & Music
Rust Belt to Host Indie Wedding Show Aimed at Creative Couples
Rust Belt to Host Indie Wedding Show Aimed at Creative Couples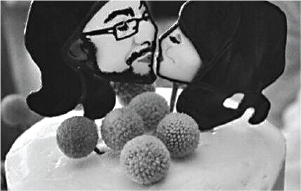 As winter begins to thaw into spring, couples everywhere look for unique ways to celebrate their upcoming matrimony. Now, thanks to the brainstorming power of handmade advocates Angela Ficorelli (owner of Moving Beauty), Carey Gustafson (owner of Glass Action!), Lish Dorset (crafter extraordinaire), and Stephanie Tardy Duimstra (owner of Type Shy), Metro- Detroiters have a great new resource to find innovative vendors, artists, and venues to help them make the happiest day of their lives also the most functional and fashionable.
The idea for the Indie Detroit Wedding Ring came during a discussion at a 2013 craft fair. Ficorelli, Gustafson, and Dorset realized that, despite having a large, supportive crafting and handmade community, there existed no go-to resource in Detroit to connect brides and grooms with artists and independent businesses that could provide unique options to help color their special day. They acted quickly and put together the Indie Detroit Wedding Ring – a consortium of like-minded businesses and entrepreneurs from across Metro Detroit.
Vendors must meet the criteria of being a boutique business featuring high-quality handmade goods, exhibit a modern wedding design esthetic, and participate in, and support, the do-it-yourself community.
The list of vendors has grown exponentially since they began, with florists, venues, DJs/bands, photographers, and more signing on to offer their unique brand of goods and services to DIY wedding planners in the Detroit area. "Think of a real-life Etsy," Ficorelli said, who oversees the day-to-day operations at the Indie Detroit Wedding Ring. "Since February 2013, we have been a growing online resource for couples wanting a wedding rooted in the values of handmade goods."
Now the minds behind the IDWR are bringing that resource to life with the announcement of the Detroit Indie Wedding Show to be held at Rust Belt Market on March 8th.
The second event presented by the IDWR (they held a bridal showcase in June), the March 8th show promises to be "a more formal show featuring music, DJs, flowers (and flower alternatives), glass work, stationery, photographers, videographers, catering, and desserts," Ficorelli said. With over 20-plus vendors and musical acts expected, the event will be a diverse display of some of Detroit's best talent and most original work.
The choice of venue is no accident, as Rust Belt fits perfectly within the ideals and requirements of the IDWR. The creation of Chris and Tiffany Best, Rust Belt's aim is to foster an environment for small, creative businesses to grow and thrive. After a successful Kickstarter campaign recently helped to raise the funds for a massive redesign and renovation effort, the Bests' brainchild is one of the premiere venues for events and shows in the Midwest.
The first Detroit Indie Wedding Show presented by the Indie Detroit Wedding Ring takes place on March 8th from 11 a.m. to 7 p.m. The show will be held during market hours, so visitors will have the chance to view and experience the entire living market.
To see the latest news and information on the upcoming show, be sure to follow the IDWR on Facebook at facebook.com/IndieDetroitWeddingRing. Potential vendors interested in displaying their services at the show can
find the vendor application on the IDWR blog at IndieDetroitWeddingRing.blogspot.com. For information on all of the upcoming events and vendors at Rust Belt, visit rustbeltmarket.com.
If slightly happened with our health, we believe there is a solution to any maladies in a cure. What medicines do patients purchase online? Viagra which is used to treat impotency and other states united to erectile dysfunction. Learn more about "sildenafil". What people talk about "viagra stories"? The most substantial aspect you must look for is "sildenafil citrate". Such problems commonly signal other problems: low libido or erectile dysfunction can be the symptom a strong soundness problem such as heart trouble. Causes of sexual disfunction include injury to the penis. Chronic disease, several medicaments, and a condition called Peyronie's disease can also cause sexual disfunction. Even though this medicine is not for use in women, it is not known whether this curing passes into breast milk.