Recreational Marijuana Is Coming To Ferndale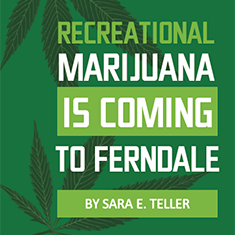 By Sara E. Teller
LEGAL RECREATIONAL MARIJUANA IS COMING TO FERNDALE'S progressive and welcoming community. One business emerging to serve the new market is LIV. The company was founded in 2017 with its headquarters positioned downtown. The Ferndale location's grand opening was held on September 16, 2019.
"We held a weeklong celebration to commemorate our arrival to the great city of Ferndale," said Sara Ramos, LIV's Human Resource Director. "Our mission here at LIV is to provide the city and its neighbors with state tested medicine in a clean, friendly, and safe environment, while delivering a very high-level of customer service."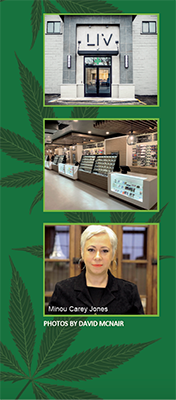 Ramos said the company chose Ferndale because "the founders of LIV have deep roots in Ferndale, that stretch over the last 20 years." She added, "We love the city of Ferndale for many reasons, but one thing that sticks out is its culture. This city has a unique, open-minded, and progressive personality which makes you feel welcome no matter what walk of life you come from. I think we fit well into the culture of wellness and bettering yourself. We love talking to people and being able to help them in ways that increase their quality of life."
MINOU CAREY JONES, THE EXECUTIVE DIRECTOR OF THE BLACK CAUCUS FOUNDATION OF MICHIGAN, who is also involved with the Southeast Oakland Coalition, part of the Michigan Alliance of Coalitions for Healthy Communities, said that Ferndale has to be careful to invite in the right businesses. Jones said, "Ferndale, specifically, has thrived off of good businesses and good business practices. It has been known for being a very liberal community and [the City] needs to be careful, in choosing to allow recreational marijuana, that business owners understand Ferndale's expectations, and follow regulations and laws."
She added that a potential concern could be increased traffic for the sole purpose of buying product. Jones said, "Any time you are increasing access to a product, then you are going to undoubtedly have more people coming to the community. Do you want people from bordering communities coming into your community to purchase marijuana? Does current law enforcement have the capacity to enforce the additional people that come into the community?"
Justin Lyons, Ferndale's Planning Manager, said the City responded to voters and established guidelines for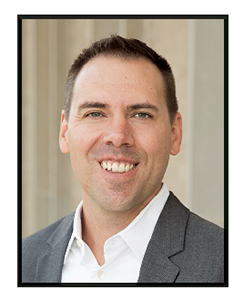 allowing these companies into the area. "In response to the Michigan Regulation and Taxation of Marijuana Act (MRTMA), approved by Michigan voters with Proposal 1 on November 6, 2018, the City of Ferndale amended ordinances related to marijuana establishments," he said. "The community voted to approve Proposal 1 by a large margin and the City Council directed staff to amend the ordinances to allow access to recreational marijuana. The ordinance permits three marijuana retailer licenses. A marijuana retailer shall not be allowed within 500 feet of an educational institution, nursery school, or childcare center, or another marijuana retailer facility, provisioning center or medical marijuana facility."
Ramos said, "Ferndale has welcomed us with open arms. We're so grateful for all the love everyone has shown us during our grand opening and every day since. We really feel appreciated and proud to be providing the city with something that has the potential to change so many people's lives for the better."
LIV is committed to benefiting the community in positive ways, too. "We make sure to take the time to answer questions for residents that have concerns about the industry and need clarification," Ramos said, adding, "LIV takes pride in being involved with the local community. We have only been open about nine weeks and are proud to say we have already made an impact. We donated 40 skateboards to underprivileged skaters during the skatepark grand opening. LIV is supplying 200 local families in need of a Thanksgiving meal and have an ongoing coat drive for a local foundation."
JONES' BIGGEST CONCERN IS ENSURING THAT RECREATIONAL MARIJUANA stays out of the hands of minors, and emphasizes that retailers are not the suppliers. She said, "The Coalition works very hard to educate voters on the potential impact [of legal recreational marijuana] through lessons learned in Colorado. It's here now. The Coalition and people who work to protect the health of youths in general are tasked with ensuring it stays out of the hands of minors. Parents and those who use marijuana should be locking it up. For the most part, underaged use of alcohol, marijuana, tobacco, and prescription drugs – the primary source does not come from retailers."
Jones added, "Generally, retailers and businesses in Ferndale are very much in compliance with laws. Primary access points are older adults, siblings, and strangers. We can't solely pin blame or look to target efforts to reduce substance abuse to dispensaries and retailers. Look at all access points and determine the community's role in educating retailers, parents, schools and other stakeholders."
Some products are potentially more attractive to kids than others, Jones said, explaining, "I'm particularly worried about the packaging and labeling of edibles. They're not as harmful as alcohol, but there are regulations for alcohol labeling," and she believes recreational marijuana should follow the same guidelines. "Edibles look like gummy bears, brownies, cookies, and fruit loops," Jones warned. "Similar to alcohol, prescription drugs and other legal substances, lawmakers, parents, and teachers all need to make sure we're protecting our youth."
VAPING IS ALREADY "A HUGE ISSUE," she added. "One-in-three youth vape marijuana concentrate, which burns at a different heating point than nicotine. A vaping device is not made for marijuana, and we have devices blowing up and causing personal injury. Increased awareness around the dangers and potential consequences is needed."
When asked if more dispensaries and retailers were on the way in, Lyons responded, "The City permitted three medical marijuana provisioning centers licenses in Summer 2019 and those three facilities are now open. The City opened the applications for marijuana retailer establishments on November 2, 2019, and applications will be reviewed by City Council after March 1, 2020."
For more information, visit the City of Ferndale's website, www.ferndalemi.gov.