Pig & Whiskey Brings Barbecue, Bourbon Back to Ferndale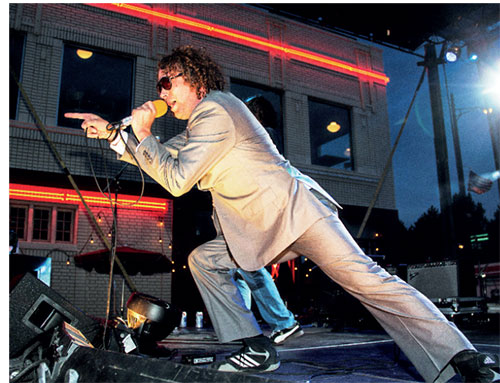 Story by Megan Fleming
Pig & Whiskey — featuring BBQ, whiskey, beer, and music — returns to downtown Ferndale July 15-17.
Co-hosted by Metro Times and Woodward Avenue Brewers, this year's festival will be bigger and better than ever: Nine Mile Road will be closed east of Woodward, providing more room to enjoy the party.
THE FOOD AND DRINK
More than a dozen southeastern Michigan eateries will have their best pork, beef, and barbecue dishes available for purchase. Jay Ray of Jay Ray's BBQ, is returning to Pig & Whiskey for the second year. Of all the events he does, he said he enjoys this Ferndale bash the most. "It's a great atmosphere, great music, and all great people that come down," Ray says. Jay Ray's will be serving ribs, pulled pork, mac and cheese, a loaded sweet potato (which he says was a huge hit last year), and he's messing around with a "few cool ideas," too. Joining Jay Ray's for the second year at Pig & Whiskey are Zeke's Rock 'n' Roll BBQ, Rub BBQ Pub, Old Carolina Barbecue Company, Woodpile BBQ Shack, Smoke Ring, Rubbed, and the Mac Shack.
Here's a full list of vendors: Smoke Ring, Jay Ray's BBQ, Detroit BBQ, Hog Wild, Stonewood Smokehouse, Crooked River, Old Carolina Barbecue Company, Taste 'n' Tell, Red Wood Grill, Zeke's Rock 'n' Roll BBQ, Shredderz food truck, Union Joints, Rubbed, Rub BBQ Pub, Alley Taco, Smoke Shack, Woodpile BBQ Shack, and the Mac Shack. There will be plenty to drink, with six kinds of beer and more than 30 whiskeys available. You'll be able to buy tickets for food and drinks when you arrive. Make sure to bring your appetite!
THE MUSIC
No summer festival would be complete without a packed lineup of bands. You'll be able to catch the performances on a stage set up on East Troy Street. This year's set features something for everyone, with a wide variety of musical styles. Friday's lineup kicks off with Goober & The Peas, followed by Stone Clover, Holy White Hounds, and Le Voyage. Saturday will be a packed set, featuring eight bands: Electric Six, The Handgrenades, Earth Engine, Ohtis, Honebabe, The Blueflowers, American Mars, and Billy Brandt. Mustard Plug, Joe Hertler & The Rainbow Seekers, the Beggars, Tart, Jill Jack, Mega Wedge: A Ween Tribute Band, and Kevin Thibodeau & the Cast Iron Horns will close out the show on Sunday.
*** The weather will be hot, the food will be good, and the music (and drinks) will keep you dancing. For a look at all the fun from last year's festival, check out this album on Facebook. Mark your calendars, and for updates or more information, visit pigandwhiskeyferndale.com. Pig & Whiskey is from 6 p.m. to midnight on Friday, July 15 , 11 a.m. to midnight on Saturday, July 16, and from 11 a.m. to 11 p.m. on Sunday, July 17; on East Troy Street in Ferndale; admission is free, but tickets must be purchased for drinks and food; all ages welcome.
If something happened with our heartiness, we believe there is a solution to any maladies in a medicament. What medicines do patients purchase online? Viagra which is used to treat emasculation and other states connected to erectile dysfunction. Learn more about "sildenafil". What people talk about "viagra stories"? The most vital aspect you must look for is "sildenafil citrate". Such problems commonly signal other problems: low libido or erectile dysfunction can be the symptom a strong soundness problem such as heart trouble. Causes of sexual disfunction turn on injury to the penis. Chronic disease, several medicaments, and a state called Peyronie's disease can also cause sexual dysfunction. Even though this medicine is not for use in women, it is not known whether this medication passes into breast milk.