Pedal to the Metal: Riding in the 2015 Ferndale Green Cruise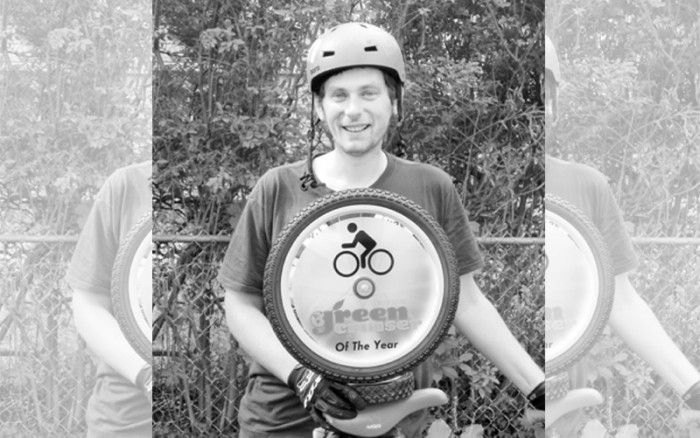 By Jill Lorie Hurst
Saturday, August 8
ON SATURDAY, AUGUST 8, WALKERS, cyclists and folks who want to celebrate the planet Earth will come together on Nine Mile in Ferndale for the 11th annual Green Cruise.
From the Sierra Club website: "Join us in celebrating the many forms of human-powered transit that keep you and the earth healthy."
I'm in. I love the fact that Ferndale is a walkable town, and that people bike, even in the dead of winter. Walking and cycling around town in August? Wonderful…
This is Jerry Haspenger's first year as Green Cruise Chairman. He started with the group several years ago, organizing the various bike rides. "I got a good bike and found someone to help me with the routes." There are several rides. The 40 mile and the 22 mile rides require registration and an entry fee. Ten dollars if you register ahead of time, fifteen dollars the day of the event. Everything else, including the family ride and the walks, is free. Low-key music is a part of the day, including a flamenco guitarist. Sponsored by the Sierra Club, vendors from "for profit" and "non- profit" organizations participate.
The goal of the Green Cruise is to explore (through bicycling), enjoy (have a great, fun day) and protect the planet. Vendors give out educational, environmentally-friendly information.
Jerry told me that The Green Cruise was created by Shirley Bavonese, who now lives in Ann Arbor. She gathered together a few neighbors and started the event as an alternative to the Dream Cruise. What started as a few neighbors biking has grown every year. In 2014 there were 220 cyclists. There is an award given to "Green Cruiser of the Year," someone who is not only devoted to being a bicyclist, but also promotes cycling.
Jerry shared news that will hopefully bring out a whole new group of walkers. This year there will be a dog walk as part of the Green Cruise. Dogs and their people can do a one or a two mile walk. Lucy (my dog) and I will meet you on Nine Mile and Woodward at 11:00 A.M.
The Cruise Committee needs volunteers to help set up the morning of August 8. Many things go into planning these events. I peeked at Jerry's carefully organized list and was overwhelmed by the details that need to be checked off so that we can enjoy a fun, relaxing day, learn something we can incorporate into making our daily lives healthier, and become more mindful of our part in the earth's future.
"It's important to be good stewards of the Earth," says Jerry with calm conviction.
Ride or walk on August 8. Learn what you can do to help sustain the planet. Meet my girl Lucy and all the other four-legged Ferndalians. Be a part of the 11th Annual Ferndale Green Cruise!
For information about registering, becoming a vendor, or volunteering, go to go.green.cruise@gmail.com or www.sierraclub.org/greencruise
If something happened with our health, we believe there is a solution to any maladies in a preparation. What medicines do patients purchase online? Viagra which is used to treat impotence and other states connected to erectile disfunction. Learn more about "sildenafil". What men talk about "viagra stories"? The most substantial aspect you should look for is "sildenafil citrate". Such problems commonly signal other problems: low libido or erectile malfunction can be the symptom a strong health problem such as heart trouble. Causes of sexual disfunction include injury to the penis. Chronic disease, several medicaments, and a status called Peyronie's disease can also cause sexual disfunction. Even though this medicine is not for use in women, it is not known whether this medication passes into breast milk.