No Patient Left Behind at Ferndale Family Pharmacy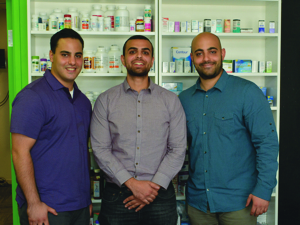 Story by Sara E. Teller
FERNDALE FAMILY PHARMACY, LOCATED ON 9 MILE BETWEEN PINECREST AND LIVERNOIS, first opened its doors on October 17th, 2016. "We are embarking on our first-year anniversary, although it feels as if we opened last week! Man, is time flying!" exclaims owner Amin Khraizat who was determined to offer patients a more friendly, one-on-one experience than some big-name competitors.
"Poor experiences with big-box chain pharmacies and even local independent pharmacies served as the foundation and motivation that produced Ferndale Family Pharmacy into realization," says Amin. "With inspirational support from my family, friends, as well as from healthcare professionals in the field, I chose to begin a true 'Family Pharmacy' which would cater to needs of individuals and families.
So, what makes the pharmacy unique? "Ferndale Family Pharmacy is a full-service retail pharmacy offering wide varieties of prescription medications, vitamins, and other cosmetic products. Our customer base is typically individuals and families from Ferndale and surrounding communities who strive to improve their health through prescription medication and vitamin supplements. With growing support from our customer base and increased referrals, Ferndale Family Pharmacy is here to stay," says Amin. "Our pricing on products excluded from insurance coverage really does set us apart from all competitors, sometimes saving a patient hundreds of dollars."
The pharmacy's over-the-counter product line is also priced significantly lower than health-food stores in the area and the team offers a same-day free delivery service. "We are unique because our operations are man-aged differently than others. We operate well within federal, state and insurance guidelines, but do not have a corporate agenda to follow," Amin explains.
The Ferndale Family Pharmacy team can access manufacturer coupons for patients to use on brand medications, and actively communicates with prescribers on substitute medications to dispense when others are not covered by one's insurance carrier. "We are driven by our 'No Patient Left Behind' motto," says Amin. "Although the opportunity for profit is there, we do not carry chips, soda, and other snacks that may be detrimental to one's overall health. We are dedicated to improving health."
"I chose Ferndale for a number of reasons. Having tried almost every restaurant in the city, I was exposed to the wonderful and positive atmosphere the city offers to its residents and tourists. I remember driving home one day and reading "#StayCoolFerndale" on the Ferndale Fire Department Sign and simply thinking
'wow'".
Amin manages Ferndale Family Pharmacy's day-to-day operations, while his brother Sam acts as a patient advocate. Manager Alex enjoys "extended time and confidence managing a patient's prescriptions and enhanced medication counseling, leading to guaranteed quality of care," according to Amin, who adds, "Our enhanced patient counseling is a service rarely seen in the pharmacy world these days. Patients develop a true relation-ship with our team."
Ferndale Family Pharmacy can be found across the road from Bigby Coffee and the Red Olive Restaurant. For more information, please visit the pharmacy's web-site at http://ferndalefamilypharmacy.com or call 248.565.8031