Marius Padieu Teaches a Dedicated Approach to Fitness: Training for Life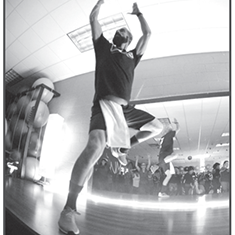 IT WAS MY RECENT PRIVILEGE TO MEET UP with local fitness instructor Marius Padieu at Dino's in Ferndale. I was impressed with Padieu's youthful appearance, obvious high energy/fitness level and lively personality. As our conversation progressed, it became clear he is committed to sharing a message of lifelong fitness and good nutrition practices to all his clients, who range from ages 18-100.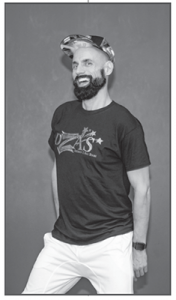 Padieu's expertise is a combination of personal training, nutritional counseling and teaching group classes. Currently, his signature class is Zumba and, due to his widespread popularity as an instructor of this class, he acquired the playful nickname of "Zumba King." For those unfamiliar with this cardio workout class, it is a blend of various dance styles, including: hip-hop, soca, samba, salsa, merengue, and mambo. As Padieu explains on his website (MKPFitness.com), this is a full-body workout, which burns huge amounts of calories per hour.
He has mostly female participants in his group classes, and added, "I think guys are a bit intimidated!" Padieu hopes that gradually there will be less of a gender division with Zumba.
Classes are tailored around who attends and their experience/fitness levels, and beginners are always welcome. The classes are held at the Gerry Kulick Community Center on Mondays and Thursday evenings. There are also extended, 90-minute long classes, which are the 'dance party' nights. These are hosted at different locations with varying fun.
I asked how he decided to focus on fitness as a career choice. Padieu explained that he worked out from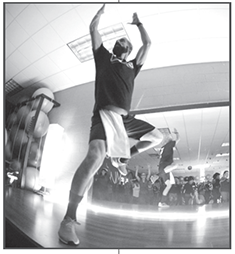 early in life, often running around Belle Isle. Then a few years ago, he began working on a regular/structured fitness training routine with Terry Ulch from the 359 Fit Studio on Livernois. Padieu found Ulch's approach highly-effective and rewarding. And he trains his own clients at that same location. He estimates that 70-80 percent of his personal training clients also take his Zumba classes.
Padieu sees his role as not just a personal trainer but also a friend. He always hopes that his clients will make a lifetime commitment to their health and fitness, instead of setting short-term goals.
Additionally, he advises his clients to set realistic goals, and to avoid getting discouraged. "You will always get to a better level than where you were!" Overall, Padieu is a big advocate of consistency: "It's all about building good habits, plus the camaraderie and friendly competition in my classes definitely helps my clients to stay motivated."
Certainly a very inspiring approach, and one which he truly believes in!
Marius Padieu hosts Zumba Cardio and Tone classes at the Gerry Kulick Community Center: Mondays, 7:00-8:00 P.M. & Thursdays, 6:00-7:00 P.M. (1201 Livernois, Ferndale). Reserve your place online; drop-ins available also. The cost is $10 per class. Friday Night Dance Party Zumba is also offered at varying locales. Padieu can be reached via email, for further information regarding classes and personal training: marius@mkpfitness.com or MKPFitness.MI@gmail.com. He can be reached via phone at: 313.971.8399. Detailed information is available on his website: MKPFitness. com, and on: facebook.com/mkpfitness.