How Ferndale's Bars & Restaurants are Responding to the Pandemic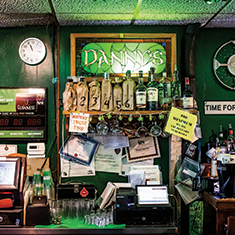 By Ingrid Sjostrand
Photos ©2021 David McNair
FERNDALE IS A GREAT PLACE TO GRAB SOME GRUB. This past year, however, has been a challenge for many bar and restaurant owners, who have had to withstand a whirlwind of closing, reopening, and putting new restrictions into place. Here's how a few of your favorites are enduring the ups-and-downs.
Danny's Irish Pub: A Retro Flare & Affordable Fare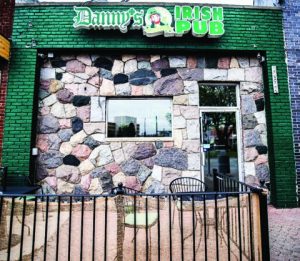 DANNY'S IRISH PUB, 22824 WOODWARD AVE., has been a staple of Ferndale for years. It features an old-school atmosphere with a jukebox, pinball machines, and darts. Danny's is the perfect place to grab a drink and enjoy inexpensive bar must-haves like burgers and chips.
Owner Dan Reedy has been forced to roll with the punches during the pandemic.
"We have been very lucky," he said. "Like everyone else, we were closed for the first three months. We received the first PPP money during that time to keep our payroll, rent, and utilities paid. After the first month we did a little carryout."
As the landscape changed, so, too, did his plan. Reedy explains, "When the Governor allowed us,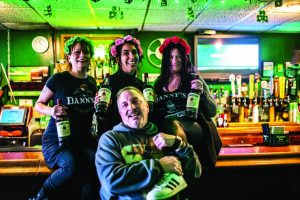 we reopened on a limited basis with all of the proper restrictions. When the Governor shut us down again, we did outside service. With the weather getting very cold, it was a relief when we could open up inside at 25 percent. Now we're up to 50 percent and it's great."
Reedy credits the community's support, saying, "We are very thankful to all of the people who supported us through the worst times."
For more information on capacity requirements or to place an order, call 248.546.8331.
Detroit Fleat: The Delicious Place to Eat from the Street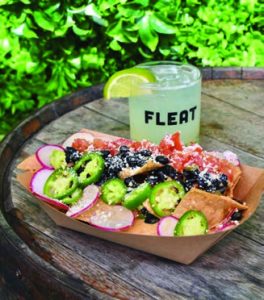 AFTER SUCCESSFULLY LAUNCHING AND RUNNING THEIR OWN FOOD TRUCK, Detroit Fleat owners Katie Picard and Aaron Tye wanted to create a place for the food truck community to gather. In 2017, that vision came to life. Detroit Fleat opened its doors at 1820 E. Nine Mile Rd. with ample space for trucks to visit and guests to enjoy a unique, open venue.
"Detroit Fleat is proud to be the first-and-only food truck park in Metro Detroit," said Brooke Zadorsky, Marketing Manager, adding that Ferndale has proven to be the perfect spot. "Being a part of such a vibrant city inspires us to be creative, to be good neighbors, and to continually strive to improve."
During the summer months, the Fleat offers a space to feature the best food trucks in the area on its huge patio, alongside a year-round delicious, street food-inspired menu. And a bonus to dining outside? The space is dog-friendly. "We love seeing all of our furry friends and their humans," Zadorsky said.
Guests can also grab cocktails, choose from a lineup of 16 craft beers, or order the Fleat's famous frozen, boozy Slooshies at its full bar.
"FOOD TRUCK SEASON OFFICIALLY KICKED OFF MAY 1, 2021," Zadorsky said, adding, "From the beginning of the pandemic, we've taken our responsibility to keep our staff and guests as safe as possible seriously. Almost every aspect of the way we do business has adapted to ensure we are at the forefront of safe COVID practices."
Some of the changes include implementing a walk-up counter to maintain social distancing, installing an advanced surface and air purification system directly through the Fleat's HVAC, and placing air purifiers with HEPA filters throughout the dining room. All staff members are completing temperature checks, wearing masks, and sanitizing frequently.
"We will continue to provide the safest atmosphere we can for our guests and staff," Zadorsky explained,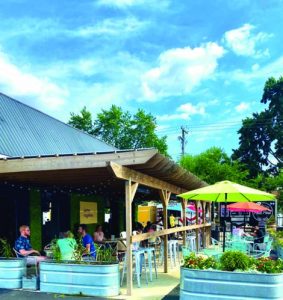 and she thanks the patrons for their help. "Our community is amazing! We have been so humbled by the support through the year. Whether it's ordering curbside pickup, engaging with us on social media or visiting us for a safe spot to enjoy food and drinks, we are so grateful for all the ways our friends, family, and neighbors have shown us love."
Those dining in-person will soon be able to enjoy a new feature. Zadorsky announced, "Fleat is excited to roll into our fourth season with a new addition to the patio. Look for our own house trailer that guests can visit for boozy popsicles, ice cream treats, and canned cocktails. We are always striving to improve upon our business year after year and this new facet is sure to be a hit with our guests."
For more information, visit detroitfleat.com or call 248.607.7611
Get Great Food at Got Pho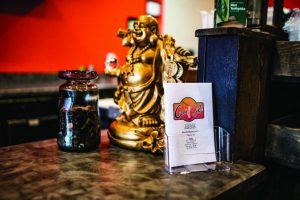 GOT PHO, 172 W. NINE MILE RD., is an Asian Fusion restaurant with an array of Tai, Vietnamese, and Chinese dishes launched by Thomas and Nancy Singh. The restaurant also offers many vegan and gluten-free options.
"We understand the different dietary needs our customers may have, so we try to accommodate as much as we can," said Nancy Singh. "Ferndale already had a great array of dining options, but pho was the only thing missing. We are passionate about food and wanted to expand the food scene in Ferndale – therefore, Got Pho was born."
Their vision was brought to life in the middle of the pandemic.
"We had many challenges trying to get open on time, but we finally opened our doors June 1, 2020," she explained. "We quickly adjusted by providing delivery services, so Got Pho partnered up with Grub Hub and Door Dash as a contact-free convenience to our customers."
And, thankfully, Ferndale came through to help. "The community has been very supportive since we've
opened," Singh said. "Our customers are the reason why we have made it through the toughest times of this pandemic. We still have to remain vigilant and follow health guidelines to ensure safety for every citizen."
Now, Got Pho is just waiting for when it's safe enough to resume business normally. "We can't wait to participate in upcoming community events!" she exclaimed. "Ferndale has the best customers around by far. The diverse community is what makes it so unique and so special. So Got Pho is proud to call Ferndale home."
For more information or to place an order, visit gotphoferndale.com or call 248.780.1164.
New Way Bar: A New Spin on an Old Tradition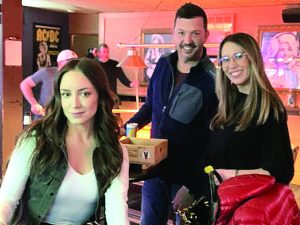 NEW WAY BAR, 23130 WOODWARD AVE., originally opened in 1935, and current owner Jamie D'Angelo bought the well-known hot-spot in 2013. The bar offers live music, comedy shows, and games such as skee-ball, ping pong, pool, and darts. It also offers open-mike nights and themed events and is home to the Ferndale-famous game 'Down the Clown.'
A community center of sorts, many local musicians and artists call New Way their 'second home,' and all featured talent keep 100 percent of their earnings. The laid-back, old-fashioned vibe also means all guests are treated like family.
"The past year has presented a lot of challenges and opportunities," D'Angelo explained. "We do not have any events scheduled at this time due to the uncertainty of occupancy restrictions."
However, the pandemic has offered an opportunity to update the interior and get to know those who helped along the way.
"We have taken the reduced occupancy requirements as an opportunity to get to know our customers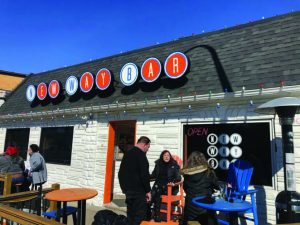 better," he said. "We also had the chance to replace some equipment, carpet, and refresh the paint. We have been so lucky because the community has been very encouraging and supportive. Our re-openings have been well received and business remains as solid as it can be, all things considered. We also have a great group of regulars that really make the place special. The staff are invested and truly enjoy serving our neighbors and the community at large."
For more information or to place an order, visit newwaybar.com or call 248.541.9870.