Hazel Park's New Animal Control Officer, Jennifer Thomas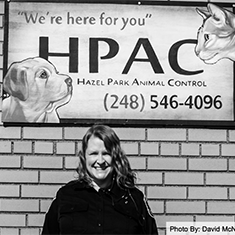 By Nicholas Kelsa
RECENTLY, I HAD THE OPPORTUNITY TO MEET with Hazel Park's new Animal Control Officer, Jennifer Thomas, at the Hazel Park Animal Shelter at 24211 Couzens. The facility is well-maintained, and the residents are cats and dogs who are either surrendered by their owners or brought in by the Hazel Park police. Many of the animals turn out to be missing or lost. The facility is located inside the DPW yard, on the north side of the garage. The Hazel Park dog park is located directly next door (residents can purchase an annual pass for $25 from the City Clerk's office at City Hall). "We encourage residents to use the dog park. It's a great way for people to exercise with their pets."
The pets which prove to be missing or lost stay at the shelter temporarily while the owner is located. The facility also coordinates veterinary services for injured animals who are then adopted out following recovery. Additionally, Hazel Park residents can report injured or lost animals by calling 248-5464096 and asking for Officer Thomas. After hours and for emergencies, residents can call 248-542-6161. The shelter also maintains an active Facebook presence, where photos of available adoptions can be viewed. The Hazel Park Police Department is another resource for residents to report problems to animal control, such as aggressive or neglected animals.
Officer Thomas holds a masters degree in zoology from MSU and worked at the Detroit Zoo for 15 years. She has also adopted two cats and is a lifelong animal lover. I asked her how she got into this line of work. "It's the story that you hear from most people. I've always loved animals!" Thomas is also a mother of two daughters, Eve and Amber.
I also asked Officer Thomas what kinds of precautions pet owners can take to avoid losing their pets. "We definitely encourage microchips," she said, and she mentioned that a lost cat had recently been returned from Hamtramck specifically because of a microchip implant. Officer Thomas also mentioned the importance of keeping pets on a leash when in public due to the various unexpected distractions. Dogs can very often run off when they see something interesting, particularly a squirrel or another dog.
WE DISCUSSED THE SHELTER'S VOLUNTEER PROGRAM, which is critical to the facility's operations. "Our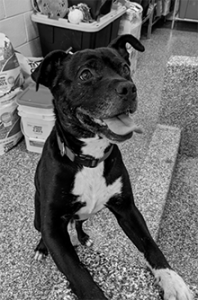 volunteers are how we get things done." Volunteer shifts are typically one-two hours long, usually on nights and weekends. Volunteers must also be at least 18 years of age and pass a background check.
Most importantly, Officer Thomas wants residents to know that the shelter's animals are well-cared-for and need to find loving homes. She makes sure the animal is a good fit for the interested family and the fee ranges from $40-$120 for adoption. The best way to begin the process of pet adoption is to visit the Shelter and fill out an adoption application (and visit with the pets of course).
Officer Thomas is a welcome addition to the Hazel Park community, and is providing valuable services to Hazel Park residents, and our most vulnerable pets.