Finding McKenzie : #BringMacBack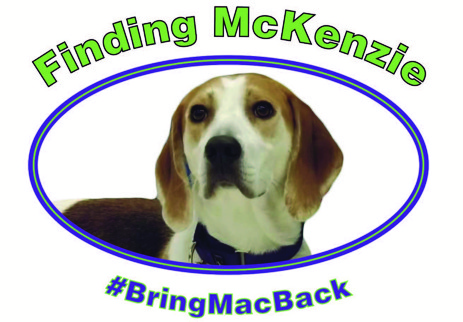 An open door or window, a startling sound, or sometimes a traumatic event like a car accident, can separate a pet from its human and leave it wandering the streets.
"It is estimated that one in three companion animals will become displaced in a lifetime," Leah Doslea says. "Mobility is the top cause for displacement, if your animal can move or if your animal travels with you, it faces potential displacement risk."
Doslea, who grew up in Ferndale, is the founder of "For the Love of Louie," a Michigan-based community Facebook group aimed at using social media to reunite pets with their owners and offer a platform for posting found animals. Currently, the group boasts over 1000 reunions per month and has found K9 dogs, senior animals and even a partially-paralyzed tortoise.
Doslea started the group in 2011, after sharing a coworker's missing family pet on social media and receiving an overwhelming response.
"I was in complete awe of the compassion that quickly surrounded me; strangers shared information with their networks, performed searches, distributed flyers, contacted local veterinary clinics, generated ads and offered encouragement," Doslea says.
Soon after her coworker's pet was found, another dog named Louie went missing. This Louie had been recently adopted out of a hoarding situation, and was only visiting the area from Baltimore. His great escape, which included climbing a dresser, lifting a window and pushing out the screen, had him on the run for three weeks. Doslea thought she would try using social media again and, after the sharing and support of thousands, Louie re-found his family.
"His reunion, once again, demonstrated the importance of awareness, the power of social networking, and the compassion embedded in our community. Recognizing the need for broad displaced animal advocacy, 'For the Love of Louie' was launched." she says.
The Facebook page is run by a small group of administrators, and is online 18-plus hours a day. They welcome volunteers and offer training. Anyone interested in volunteering should contact loveoflouie13@yahoo.com — all you need is a computer, Internet access and knowledge of Microsoft Excel.
What are some ways to ensure your pet returns home safely? Identification such as tags and microchips are the best start, says Doslea.
"A collar with an identification tag is important, as it's visible to a potential finder and contact can be quickly established," she says. "Microchips are wonderful invisible identification tools; Collars and tags can fall off and microchips provide alternative identification."
And if you come across a lost animal, Doslea says the worst thing you can do is make assumptions. Even though an animal might look disheveled, underfed or skittish, these are all potential side effects of being displaced.
"We have networked and reunited animals witnessed being thrown from vehicles, tied to posts, and placed in random fenced areas — these actions were not done by their families," Doslea says. "While it's important to use our voices to speak for animals, we must be mindful of our words and actions. We best serve displaced animals by avoiding assumptions, following laws, and embracing advocacy."
While For the Love of Louie is not an official organization with a logo yet, Doslea says that the community is what makes it successful and her favorite part of running this group is seeing strangers' eagerness to help reunite animals with their loved ones.
"For the Love of Louie would not be successful without the community; every share, suggestion, tip, or positive comment has value and may lead directly to a reunion or provide knowledge or encouragement to families and finders. Those seemingly simple 'shares' have the ability to cover distance far more rapidly than a displaced animal and can yield great joy," Doslea says. "We are truly grateful to each and every person who engages in displaced animal advocacy."