Ferndale's Legal & Professional Services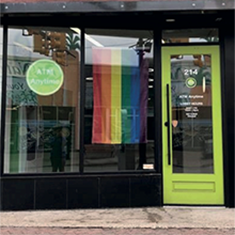 By Sara E. Teller
Photos by Bernie Laframboise
FERNDALE IS A HUB FOR MANY OF THE AREA'S LEADING PROFESSIONAL BUSINESSES, from law firms and credit unions to printing services, custom event and marketing products, and everything in between. The area offers many cutting-edge, innovative solutions within walking distance, and this makes it a prime location for both start-ups and companies that have been in business for many years.
SMASHBOX DESIGNS
CLIENT-FOCUSED SMASHBOX DESIGNS, BASED IN PLEASANT RIDGE and wellknown in the Ferndale area for their talented team and personalized customer service, helps companies powerfully reach their target audiences. Creative and innovative, Smashbox employees specialize in logo design, copywriting and branding, large-format and standard printing, business cards, product photography and many other marketing mediums. For more information, visit smashbox-designs.com or call 248-2751877.
ARTECH PRINTING/ROCKET PRINTING
ARTECH PRINTING, INC., based in nearby Madison Heights, is a mid-sized, fullservice printer also offering a wide array of digital printing services. artechprinting.com. 248-545-0088. And ROCKET PRINTING, in Royal Oak, provides many business-to-business services under one roof. They can produce just about any business form imaginable, while also providing collateral sales and marketing services. www.rocketonestop.com, 248-336-3636.
EVENT SOURCE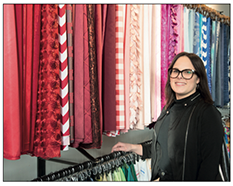 FOR THOSE LOOKING TO STAGE AN IMPORTANT, MEMORABLE EVENT, EVENT SOURCE provides the very best selection of linen, furniture, and accessory rentals. Family-owned since 1979 and serving not only the Detroit area but also Cleveland, Columbus and Pittsburg, the company has an always in-stock product line that will suit any taste or style. The team can provide quantities to customize any size event – from backyard picnic to a convention from an intimate wedding to a gala. For more information, visit eventsource.net or call 313-309-9000.
PLANFREEDOM GROUP
MAINTAINING UNIQUE PARTNERSHIPS WITH PROGRESSIVE service- and product-based companies, PLANFREEDOM GROUP acts as an independent marketer providing guidance and value to both residential and small-business clients. The company utilizes online, local, and progressive marketing techniques coupled with distinctive sales strategies to distribute products and services for channel partners through direct sales organizations. Visit planfreedomgroup.com or call 248-797-1169 or 248-701-9393.
CREDIT UNION ONE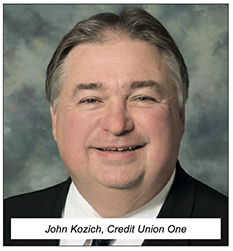 CREDIT UNION ONE, HEADQUARTERED IN FERNDALE, HAS BEEN IN BUSINESS SINCE 1938. With 25 branch offices, 130,000 members, and 1.5 billion in assets, anyone who lives, works, or goes to school in the state of Michigan can be a member. The credit union offers full-service financial solutions, including checking and saving accounts, security deposits, loans, mortgages, credit cards, and commercial lending and depositing. It also helps members with financial planning and insurance programs.
John Kozich has been at Credit Union ONE for 46 years. "I started in a high school co-op program, went to college at Lawrence Tech, working part-time, then eventually transitioned to full-time after graduation." He loves the Ferndale area, saying, "I grew up in Ferndale, so I have roots here that go way back. It's a very diverse, proactive community. Everyone is understanding, open, and dedicated, willing to take risks and step out of the box."
He believes in Credit Union ONE's commitment to providing exceptional value to its members by delivering outstanding products and services anytime, anywhere. "We're here to serve our members. Credit Union ONE has been around for 82 years, providing good service, and rooted right here in Ferndale."
For more information on becoming a member, visit cuone.org or call 800-451-4292.
VIBE CREDIT UNION
VIBE CREDIT UNION HAS BEEN A MICHIGAN-BASED, NOT-FOR-PROFIT CREDIT UNION SINCE 1936, started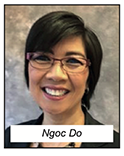 by a handful of employees from the telephone industry. The Ferndale eCenter is located at 214 W. Nine Mile Rd, a location selected for "its downtown proximity, active community involvement, and pedestrian-friendly access," according to Community Engagement Specialist, Ngoc Do, who added, "We love the diversity and positive energy that the Ferndale community exudes."
Vibe's checking account includes a mobile banking app, online banking with bill pay and mobile deposit, and monthly accumulated interest. Members also enjoy unlimited free transactions at vibe ATMs and no low-balance fee when deposit and/or loan accounts combined have balances of only $500 or more.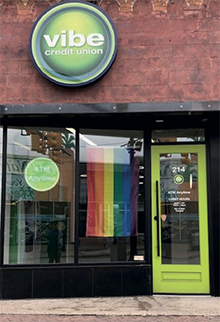 "We also offer low auto loan rates with flexible terms and fast funding, easy online application, ability to eSign, and the convenience of picking your payment date," Do explained.
Finding a branch to bank with is simple, too. "We have 16 branches in Metro Detroit, many with Saturday lobby hours," Do said. "We welcome anyone who lives, works, or worships in Michigan's lower peninsula."
Vibe is set to sponsor many events in Ferndale this year, including the Ferndale Area Chamber of Commerce/Kiwanis Unicorn Derby Fundraiser, Ferndale Community Foundation Pride Festival, the Fall Festival and the Downtown Development Authority's (DDA) Fido Does Ferndale in October and the DDA Ice Festival in December.
For more information, visit vibecreditunion.com or call 248-735-9500/248 829 1894.
FOLEY & MANSFIELD
FOLEY & MANSFIELD IS A LAW FIRM RECOGNIZED ACROSS THE U.S. for providing a wide range of legal solutions for individuals and local businesses, as well as regional and national companies. Gary Sharp, William Osantowski, and J. Mark Mooney opened the Michigan office in 1995 in Bingham Farms.
A decade later, in December 2006, renovations began on a Ferndale-based historic building originally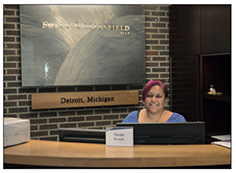 constructed in 1915. The structure previously served as the original Ferndale School and Central School through the 1920s, and from November 1930 through April 1953 it was the home of the Ferndale Public Library.
"Foley & Mansfield extensively renovated the building, exposing beautiful brickwork, wood, and other original design, character and workmanship aspects of the building," said Office Administrator, Dana Hagemann Burleigh. "The firm also expanded the building so the historic and modern aspects now stand side by side, reflecting the past and present."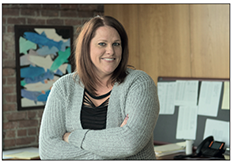 Ferndale was an ideal location for Foley & Mansfield, Hagemann Burleigh explained, saying, "We chose Ferndale in part because of the town's walk-ability and conveniences." She added, "We frequently collaborate with attorneys from our fifteen other offices, handling mass toxic torts, employment discrimination, family law, and just about everything in between. We have a network of connections and resources that enable us to obtain the services our clients need around the country."
Foley & Mansfield is a proud supporter of Ferndale Public Schools and participates in many of Ferndale's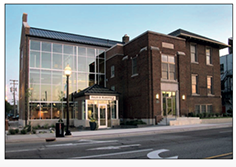 festivals and events. "People have been warm and welcoming since day one, and it is fun to take a break and walk around in a downtown area," Hagemann Burleigh said. "The shop owners and employees are friendly and helpful, whether you need to host an event or find an outfit for the event."
For top quality legal services, call 248-721-8172 or visit foleymansfield.com.