Ferndale Schools : High School Alumni Spotlight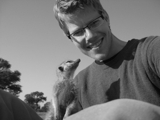 By Sarah Liekweg
Dr. BEN DANTZER: Class of 1999
DR. BEN DANTZER HAS BEEN all around the world researching animals and ecology, but his journey began right here in Ferndale at Washington Elementary, now the Kulick Center.
"I was lucky to experience many excellent and passionate teachers throughout Ferndale
Schools that definitely shaped my career development," said Dantzer.
A 1999 Ferndale High School alumnus, Ben graduated from Michigan State University in 2012 with a dual-degree Ph.D. in Zoology as well as Ecology, Evolutionary Biology, and Behavior. He then went on to serve as Director of Studies in Natural Sciences at Churchill College in Cambridge, England while completing his Postdoctoral fellowship at the University of Cambridge.
Ben is currently an Assistant Professor at the University of Michigan where he conducts research and teaches classes. His research addresses understanding the causes and consequences of variation in the characteristics of wild animals with a specific focus on understanding how early life experiences shape individuals and how wild animals can cope with changing environments.
"I always enjoyed my biology classes with Mr. Bancroft and Mr. Bassier at Ferndale High School. They were great teachers that were very dedicated and seemed to know some-thing about everything. It definitely fostered a strong sense of curiosity I had about the natural sciences, especially biology."
This curiosity has taken Ben all over the world as an evolutionary biologist, studying animals in the Yukon, Canada, and South Africa. When he looks back at his experiences with Ferndale Public Schools he sees them as being incredibly important in shaping who he is and what he cares about. Ben recognizes that the diversity Ferndale Schools fosters has greatly impacted his career, and he thinks it would impact anyone positively in any chosen field.