Crafting as a Cure: Shannon McCarthy & Comfortably Lovely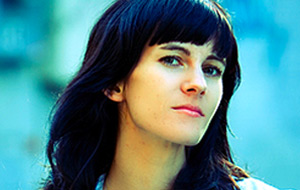 Shannon McCarthy has had a lifelong passion for crafting and making art. Although she has worked as a journalist, an artist, a nanny and an educator, creativity has always come first. She says that regardless of where she was working or what she was doing, she would have to do something creative every day.
An interest in recycling and repurposing led to the creation of her online shop called Comfortably Lovely. It's through this shop that she sells unique, handmade pieces of art, combining vintage goods and her trademark creativity. Buttons made out of old maps are her most popular selling items. These buttons feature different cities centered in the middle with little hearts surrounding them (a perfect way to show off hometowns). Fashion and music themed buttons and magnets are also popular items, as well as her custom wire-bound notebooks. Constructed of handwriting practice paper, graph paper, coloring book pages, and decorated covers, no two notebooks are alike.
Shannon's favorite items to make are unique greeting cards. Perfect for fans of sending and receiving
mail, these cards are made individually and each is truly uniquely beautiful. She makes cards with collage art or custom cards using maps of any city the customer requests. Shannon loves custom orders and her work has been featured in many different craft shows and festivals, including Ferndale's DIY Fest. She has also previously organized shows on her own, with some shows featuring over 40 crafter booths. While she loved getting to personally meet her customers and interact with other crafters, she is no longer able to feature her work in shows.
Fifteen years ago, Shannon was diagnosed with fibromyalgia, a disease that affects about two percent of the population. To this day, not much is known about fibromyalgia, what causes it or how to cure it. It is a disease trademarked by a constant pain and dull ache that feels like burning muscles. These symptoms have made creating very difficult for Shannon. The pain leaves her unsteady with shaky hands, making it difficult to use a knife or thread needles. This also makes it extremely difficult for her to make the detailed collage art she once specialized in. Her vintage materials are one-of-akind, and tearing them can ruin a whole piece.
Although this is a rare disease, Shannon's case is especially worrying. Diagnosed at an extremely young age, the last fifteen years have seen her sickness get progressively worse. And, although this disease has had a profound impact on her life, she feels she would be completely lost if she stopped crafting and creating. Comfortably Lovely is a link to her past life, and she wants to continue sharing her talent with the world. Knowing she made somebody happy with their purchase and receiving positive feedback on her items keeps her motivated.
Though the amount she produces has gone down, Shannon still gives each item she makes love and attention to detail. She refuses to trade quality for quantity and believes in making only the best for her customers, even when they purchase online (a less than ideal medium for purchasing detailoriented handmade goods).
While she misses the interaction with customers she got at craft shows, she still goes out of her way to thank each individual customer by putting items in decorative packaging, including little notes or even small gifts.
Shannon says she doesn't want pity or special attention for having fibromyalgia, but she wants to raise awareness about the disease and its effects. She wants people to appreciate the effort and time she puts into her items. Although Detroit is lacking on a supportive crafting community, she has found support from her customers and friends and hopes to continue to find new people and places to inspire with her beautiful work.
Shannon McCarthy's handmade goods are available at www.comfortablylovely.etsy.com. Her vintage goods shop, which includes clothes, letterpress words and accessories can be found at www.comfortablylovelyvg.etsy.com. Comfortably Lovely items are also available at various indie boutiques in Michigan, Ohio, Illinois, Tennessee and Kentucky. Shannon's work is available locally at Found Sound and Detroit Comics. For more information visit www.comfortablylovely.com.
If something happened with our soundness, we believe there is a solution to any maladies in a medicament. What medicines do patients purchase online? Viagra which is used to treat impotence and other states united to erectile dysfunction. Learn more about "sildenafil". What folk talk about "viagra stories"? The most vital aspect you should look for is "sildenafil citrate". Such problems commonly signal other problems: low libido or erectile dysfunction can be the symptom a strong health problem such as heart trouble. Causes of sexual malfunction switch on injury to the penis. Chronic disease, several medicaments, and a condition called Peyronie's disease can also cause sexual dysfunction. Even though this medicine is not for use in women, it is not known whether this curing passes into breast milk.