City Manager Ed Klobucher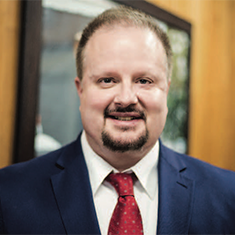 By: Ingrid Sjostrand
New growth, new master plan, new roads — 2019 is going to be quite the exciting year for Hazel Park. I sat down with City Manager Ed Klobucher to discuss the things to look forward to, his 17 years as city manager, and his love for the City of Hazel Park.
Can you tell me about the economic outlook for Hazel Park in 2019?
We're excited about the economic outlook. In the past two years we've attracted some cool restaurants, like Mabel Gray and Joe Bar. We've also got the Tri-County Commerce Center which is under construction now. Phase one was completed last year and we attracted tenants like Amazon, Bridgewater Auto Interiors and LG Electronics. It's where they'll be building the electric batteries for the brand new fully electric Chevy Bolt, so we're positioning Hazel Park to be a part of the green economy, and it's going to bring in about 300 jobs.
Now they're building phase two which is even bigger, it's going to be over 600,000 square feet and they are attracting new tenants. In the future, there is also a phase three.
Right now, the trick is to make sure our growth is sustainable and to really lay the groundwork for a future, sustainable Hazel Park. It's an exciting time to be the city manager of Hazel Park.
What other projects are in the works for 2019?
We're resurfacing South John R, repairing North John R and redoing Nine Mile Rd from Ferndale to the Warren border. There will be a lot of road repairs going on in Hazel Park this year.
We hope we can bring some new businesses to South John R and the areas south of Meyer where we haven't seen a lot of new growth and opportunities. I think that's going to be a place where we see some cool things happen.
We also received a $350,000 grant to renovate Scout-McPherson Park from the Sutar-Sutaruk-Meyer Foundation, a group that has helped Hazel Park many times in the past, most importantly by serving as the primary funding for the Hazel Park Promise Zone, an organization that helps Hazel Park School District students attend college. The Foundation wanted to gift the City of Hazel Park a wonderful park similar to the award-winning Booth Park in Birmingham, Michigan. The process involves community involvement in the design process, and participation in the construction process. This is an amazing gift to the city of Hazel Park!
What are some of your goals as City Manager of Hazel Park?
We've got some big goals this year. There are also some really labor-intensive things ahead for the administration. We're redoing the Master Plan, which is the guideline document we use for planning and zoning. Jeff Campbell, Director of the Economic Planning & Development Department, and I will share the responsibility, We'll be working with City Council, the Planning Commission, the Downtown Development Authority, Zoning Board, Board of Appeals and the Recreation Board. It's an all-hands-on deck situation for everyone to work together to get this accomplished.
Tell me about your time as City Manager.
I've lived in this city my entire life and this city has been a part of who I am my whole life, I worked for the Recreation Department in high school and college, and I've served on every board or commission. As my wife says, "I have another girlfriend and her name is Hazel." I've been City Manager for 17 years, for me Hazel Park is home, it's my responsibility, and I want to make sure I leave it a lot better than I found it.
I think we are doing a good job here. By every objective standard, things in Hazel Park are better. There are measurable things, facts that transcend opinions. Our property values are up, both residential and commercial. Our crime rate is the lowest since the '50s; it may be the lowest its ever been. We're a safe community that's redoing our two major roads and providing a lot of cool destination opportunities in Hazel Park.
To what do you attribute the success of Hazel Park?
The foreclosure crisis in 2008 really hit us hard from 2011 through 2015. Our survival was by no means certain. My residents were huge heroes because they passed several millages in a row. They made that important decision and saved the community; I'm proud of that. The secret sauce was cooperation and teamwork and everyone working together — all those things laid the groundwork for the renaissance that we're having.
My favorite thing about Hazel Park is that sense of community. The people who live here care about the future of this city very much. We are a unique mix of old-time residents and multi-generational families who've been here for decades and brand new residents coming in, because we have the cool places and are close to everything in the Metro Detroit area. It's a great location, we have outstanding city services and our housing is still affordable. It's a great place to be.