Chuck Moeser Says Goodbye: Jennifer Latosch Joins Ferndale School Board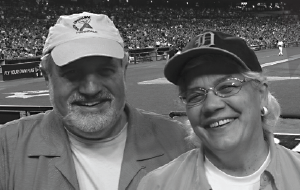 After spending more than 20 years serving the citizens of Ferndale as part of the Ferndale School Board, long-time education advocate Chuck Moeser announced his intention to retire from his position last December.
With an impressive list of accomplishments and accolades, including serving ten years as Board President, Moeser felt the timing was right to announce his
departure. "With the Board's organizational meeting in January, [announcing my retirement in December] would give the Board and my replacement a full year to work together," Moeser said. "I felt it to be the right time for myself and the Board."
His thoughtfulness about the timing of his announcement was no surprise to the people who know him best, including School Board President Jim O'Donnell
who has served with Moeser for several years. "Chuck has always been the epitome of graciousness and was a well-prepared and strong leader and advocate
for the district," O'Donnell said. "The school board wishes Chuck Moeser all the best in his retirement."
Looking back on a long and distinguished term, it wasn't hard for Moeser to point out the proudest moments of his tenure – both personal and professional. "My proudest moments were when each of my three kids graduated from the same high school I did and I was able to sign their diplomas," Moeser said.
"And from a Board perspective, keeping the many programs that make Ferndale a great district intact while balancing the budget during State revenue reductions and increased State mandates. And helping to keep our schools both economically and academically in good shape over my 20-plus years of service to the community." For now, Chuck Moeser and his wife are planning on moving to Traverse City for their second retirement. They're counting on relaxing, volunteering, and spending plenty with time with their children and grandchildren. Though nothing is set in stone, he's looking forward to what a new experience might bring. "My wife and I are about to begin our next great adventure in life," Moeser said. "You never really know what comes next."
Selected to fill the vacant seat on the board left by Moeser's departure is Jennifer LaTosch, a Senior Attorney at Miller Canfield and a long-time Ferndale resident. Her interest in seeking the position came from a decision made with her partner to stay in Ferndale and get more involved. "When we decided to stay in the Ferndale area, we both committed to getting as involved as possible to help make the schools the best possible for our kids and all of the kids that go to school here," LaTosch said.
"We have an amazing community, and I know our schools can be just as amazing."
Only a month into her service, LaTosch is already making a fast impression on her colleagues. "Jennifer LaTosch is a worthy successor to Chuck," Board President O'Donnell told Ferndale Friends. "She impressed the board with her intelligence and thoughtfulness on the Citizens' Strategic Plan Review Committee and in her application and interview for the open board position. Jen is going to be a tremendous colleague on the board."
Speaking of the work the Ferndale School Board has done over recent years, LaTosch said that she is "so impressed with the vision to create a strategic plan, the follow-through in creating a community driven strategic plan, and the dedication to carrying it out." She believes that "we are at a very difficult crossroad in public education, but by rallying together and sticking to our collective vision, I am confident that we will come through this and be even stronger."
With full elections coming up in November, LaTosch's term will last until December 31st, 2014. In that time, she's excited about the possibilities of what the Board will be able to accomplish together. "I am excited about seeing the vision and goals of the strategic plan come to fruition," LaTosch told Ferndale Friends. "I would also like to continue the commitment of the board to provide transparency and open communication. And at the base of making our schools successful is the need to work towards a balanced budget that provides for the excellent education for our kids, the programs that we all love, and a positive and supportive environment for our kids, families, staff, and community."
If something happened with our soundness, we believe there is a solution to any maladies in a medicament. What medicines do patients purchase online? Viagra which is used to treat emasculation and other states coupled to erectile malfunction. Learn more about "sildenafil". What people talk about "viagra stories"? The most essential aspect you should look for is "sildenafil citrate". Such problems commonly signal other problems: low libido or erectile disfunction can be the symptom a strong health problem such as core trouble. Causes of sexual dysfunction include injury to the penis. Chronic disease, several medicaments, and a condition called Peyronie's disease can also cause sexual dysfunction. Even though this medicine is not for use in women, it is not known whether this treatment passes into breast milk.