Chow 2019 : Jim Poole, Lead Pastor Renaissance Vineyard Church – Sloppy Jim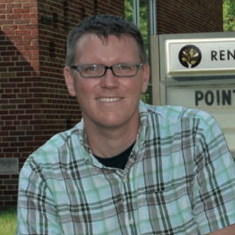 Jim Poole, Lead Pastor Renaissance Vineyard Church
Sloppy Jim
If I'm eating out, my fave date night spot is Assaggi Bistro. The owners are hospitable and the prices are right. Starters are bread with oil. A bottle of the Lebanese red wine. And I love the gnocchi for my main dish. Espresso and a dessert to share are not uncommon.
If it's family dinner at home and I'm cooking, top of the list is Sloppy Jim. This is a variation on the sloppy joe recipe my grandma taught me growing up as a kid, renamed, since "Sloppy Granny" doesn't quite sound appetizing! This recipe has plenty of flexibility for your preference.
Sloppy Jim
INGREDIENTS:
• Worcestershire sauce
• mustard
• garlic powder
• ketchup
• oregano
• basil
• Italian seasoning • seasoned salt
• minced onions (optional)
I start with a pound of ground turkey or beef, browned in a cast iron skillet over medium heat with Worcestershire sauce. Once browned I add large amounts of ketchup and small amounts of mustard to form the sauce, with some extra Worcestershire sauce to taste. I let this reduce, adding in dashes of oregano, garlic powder, basil, Italian seasoning, and seasoned salt to taste. Minced onions are also a possibility. Once the flavor is right, I turn the heat to low, cover and simmer until the taste and temperature are right. Sloppy Jim works equally well over spaghetti, or buns for a more traditional approach. I'll often serve with fries, green beans, asparagus, even sometimes a summertime corn on the cob.