Center of Enlightenment: Welcoming All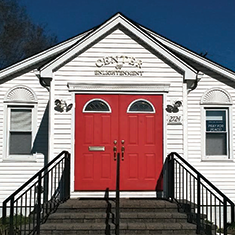 By Rose Carver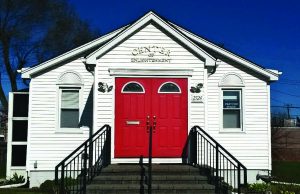 AMIDST THE RESIDENTIAL AREA AT 2724 GOODRICH STREET STANDS A SMALL WHITE BUILDING WITH BOLD RED DOUBLE DOORS THAT WOULD MAKE ANY PASSERBY TAKE A SECOND LOOK.
This is the Center of Enlightenment (CoE), a haven for those seeking an alternative place of worship. While its congregation is made up of people from various religious backgrounds, they are unified by their Spiritualist beliefs, including the ability to communicate with the dead.
Lisa Argo, the newly appointed associate Minister at the CoE, welcomes with open arms all who are interested. She notes that the number of attendees tends to vary week-to-week and season-to-season. "We have such a variety of people who belong here. Some have Catholic backgrounds, others have Buddhist or Taoist backgrounds," she explained.
THE COE REFERS TO DEATH AS "TRANSITIONING" and believes that select individuals, known as mediums, can receive messages from those who have passed on. Argo claims to be one of these select few and she has two "angel guides" named Joan; one of whom walked with Jesus while the other is the famous Joan of Arc. It's no surprise that Joan of Arc is celebrated at the CoE since she was persecuted for claiming to have direct communication with the voice of God.
According to Argo, she has always had medium abilities and was communicating with angels and spirits from beyond for as long as she can remember. However, this was not always readily believed, similar to how Spiritualism faced accusations of being a fraudulent practice.
The origins of Spiritualism can be traced back to the 19th century, a time of great social and technological change, when people were eager to explore new ways of understanding the world around them. The movement gained momentum in the United States and Europe, with the advent of spiritualist séances and the popularity of mediums who claimed to communicate with the dead.
ARGO FOUND THE COE LATER IN LIFE, AFTER A CANCER SCARE. A friend recommended it, and she has been a devotee ever since. "We don't just talk about Spiritualism, we also talk about the spirituality of life," Argo explained, emphasizing that their services are not always about death. "Part of our services include jokes and laughter as it raises our vibrations."
Argo wears many hats at the CoE. She serves on the board of directors as their Public Relations Director, works on several committees, and is also the facilitator of the Center of Enlightenments' women's group, Women of Enlightenment, which meets on the second Friday of each month. The CoE may be small in size, but its impact on the lives of its congregation members is immeasurable.
2724 Goodrich St, Ferndale, MI 48220
Phone: (248) 582-0380