Story & Photos by Malissa Martin
Gumbo, corned beef and cabbage, pork chops, ribs, fried pickles, hush puppies – that's just a few items from the menu at Southern Belles' Bistro on Woodward Avenue in Ferndale.
Owner Tony Murry opened Southern Belles' in May 2016. "The idea was to take a traditional soul food restaurant, and take Cracker Barrel, and kind of jam them into one. Hence, the name Southern Belles' Bistro. The idea was to bring the best of country, Southern cooking, and soul food together in one," Murry says.
Despite being open for less than a year, Southern Belles' has already identified customers' favorite dishes. Chicken and dumplings, catfish dinner, and chicken and waffles are the most popular dishes.
"People are very particular about their waffles. We searched around and use a different waffle mix now; and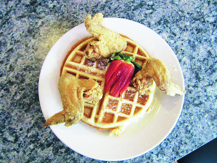 also wings, we use a different type flour to put them in. They look lighter because they don't come out as brown. It tastes a lot better and gives it a lot more of a crunchy flavor." Murry says.
Macaroni and cheese, greens, and dressing are very popular sides at the bistro. "Those are homemade from scratch and are really good." Murry says. Southern Belles' also offers acquired tastes food selections including chitterlings, ox tails, and a home-style turkey dinner with cornbread stuffing.
Southern Belles' is steadily growing and business is starting to really pick up. However, Murry confesses that breakfast is a tough market to break into in Ferndale, with all the established breakfast eateries. The breakfast menu for Southern Belles' offers a variety of options including: chicken and waffles, corned beef hash, savory chicken crepes, steak and eggs, French toast, omelettes, biscuits and gravy, fish and grits, salmon croquettes, pancakes, waffles, and much more.
When it comes to making great soul food, it all begins with the cooks. Murry says he worked closely with his cooks to create an appetizing menu. "As far as my prep cooks, I have a lot of older women who've cooked for years. One of them is a professional chef. They brought a lot of their recipes to the table," Murry says. "Home-cooked dishes from scratch are Ferndale residents' weakness when it comes to food," Murry mused. "We get the same kinds of stories, 'I haven't had cooking like this since my grandmother passed away'," he says.
What sets Southern Belles' apart from other restaurants in the area is their commitment to making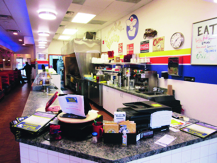 home-cooked meals. Ninety percent of the food cooked at Southern Belles' is made from scratch. Another distinction is that they don't use pork in their dishes. "We don't put pork products in any of our food. We sell bacon and ribs, but not as far as in our sides. Traditionally, a lot of people put pork in the greens, pork in the black-eyed peas or even in the gravy. Instead, the cooks use smoked turkey to add flavor to their dishes."
So far, Murry says business has been good and he's learning more and more about Ferndale residents. "The Ferndale consumer, they're very loyal to their restaurant establishments. So we're starting to pick up more business in Ferndale. A lot of the business we're getting is transport business; like followers that go to the soul food establishments in the area like Beans and Cornbread or Motor City. Those kinds of customers came to us quickly. The Ferndale customers are starting to come in now. I've been noticing it for the last two, three months."
Murry says that other Ferndale restaurant owners have been very friendly to him and even more since he's opened. "It's been a very friendly business atmosphere." Murry plans to participate in Ferndale's summer events and is looking forward to building with the Ferndale community.
Visit Southern Belles' Bistro at 22939 Woodward Ave. in Ferndale.
For more information visit
www.southernbellesbistro.com
or call (248) 607-3788.