Story By Rose Carver Photo by Bernie LaFramboise
It's do or die time for the future of Ferndale's community radio station.
Michelle Mirowski is the President/General Manager of Ferndale Community Radio, soon to be (hopefully) 100.7 FM, and she says that they have until February to raise the necessary funds but the equipment has to be up and functional before their permit expires in the summer. The equipment takes about six months to arrive, so right now is the time to sink-or-swim in terms of fundraising.
"If we don't get enough money in the next two months the project is dead in the water," Mirowski said.
The station needs a few thousand dollars before they can even begin to set up and go on the air at the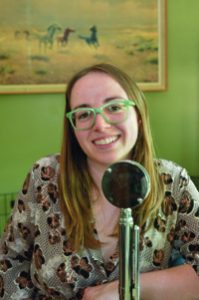 station's location in the Rust Belt Market. Underwriters from small businesses and large donors have become the focus of the stations fundraising efforts, after a disappointing flop at an attempt at crowdfunding via indiegogo.
"We feel positive about the project overall," Mirowski said. "We had a large donation a few months ago from a resident of Ferndale who felt very strongly about the project. This gave us a huge boost of confidence and was yet another example that Ferndale was the perfect place for this station."
In what started as a simple conversation between friends over six years ago, about how cool it would be to have a freeform radio station in Ferndale, the dream has been struggling for a chance to be a reality. The radio station will serve as a platform to bring the community together by opening up a more public dialogue for thoughts and feelings to be expressed via the airwaves.
"In these politically tense times a community radio station will be perfect for sharing ideas and music. It will be a voice for Ferndale residents run by locals," Mirowski said.
Mirowski also said that due to some new rules in the FCC, if the station loses this permit for a local radio station, the frequency on the FM dial will most likely be closed forever. These are truly the final days of the project. The station could be up and running by the summer with the help of the community, but time is quickly running out.
"Saving our permit is the only way we can lock up 100.7 fm for Ferndale," Mirowski said. "I can't stress this enough. With enough funding we will also be streaming online, but this might be a second year initiative."
To get in touch about donations or becoming an underwriter for Ferndale's LPFM station, check out their Facebook page or e-mail them at Ferndaleradio@gmail.com.