A Life in Progress : Coach Garnett Mims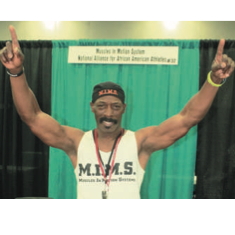 Story by Jill Lorie Hurst
COACH. TRAINER. SPEAKER. MENTOR. SINGER. ATHLETE. RENOVATOR. DETROITER. TRAVELER. FATHER. BROTHER. SON.
GARNETT MIMS WANTS TO TALK ABOUT THE PEOPLE WHO HELPED HIM. Like his parents, John L. Mims, "a genius with no education" who died 12 years ago, and Sallie Parker Mims, "the greatest woman in the world."
Eleventh of 17 children, Garnett listened but "wanted to do what I wanted. To see what's on the streets." He started getting kicked out of school at a young age. "One way to get alone time at home with mom." He made it into Mumford High School, playing sports, everything from boxing to baseball, but he was "mad at the world."
"My mom came to school, asked for help with her 'worst child'." The principal was about to send Garnett to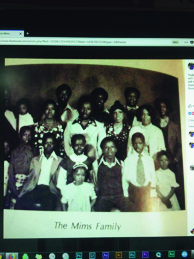 the 'school of no return.' But Mother Mims' decency affected him, and he called Cooley High School instead. "When the Mumford principal made that call, everything changed. All I wanted was to graduate high school and please my mama. Had a year-and-a-half to get it together." He kept going, thanks to Cooley Coach Ernest Thomas, who told him "Take everything you've got and put it on the field."
Mims graduated.
After some college at Ferris State he traveled, discovering Los Angeles, a town he loves. It was a tough time for Detroit, he was doing well in Los Angeles, and friends advised him to stay there. But he wasn't finished
with Detroit.
When he came back, he needed to find the right life. "I wasn't giving back, not even to my parents." He met Valencia Marie Harding, and they married and had four children: Tim, Akilah, Harley and Krystal.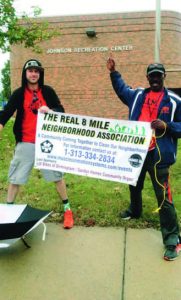 Valencia was supportive when Mims decided to start physical training. He liked working with kids in school. His marriage ended in 2012, and he returned to Los Angeles. California felt "so free, so good," but his mom was worried. "What about the earthquakes?" And there was no one at home to cut the grass.
In 2014, Garenett Mims came home to cut the grass. He and associate Aaron Hale started the Real 8 Mile Neighborhood Association, first cleaning up the neighborhood he grew up in. "I got a bunch of kids to help and it felt so good."
He and Hale started a Detroit chapter of the "National Alliance of African American Athletes", an organization he joined in LA. "You gotta' give back to get back."
On November 11, 2016, brother Maurice Mims, a well-known artist in the Greektown area, was killed by a hit-and-run driver. Garnett wears Maurice's Red Cross ID. "When Maurice died, I laid down across my mama's legs and sobbed. The pastor came over and said "Get up off the floor. Your mother lost a son."
He got up, and in January 2017 he walked into 359 Fit, a gym on Livernois in Ferndale. Owner Terry Ulch (author of America More Than Average Income) gave him a job, a home base, as a physical trainer.
Mims says: "At the end of day you gotta' find love in different places. I got blessed with a lot of good people helping me." He's going to "stay and do what he needs to do for Detroit."
For Mama?
Coach Garnett Mims smiles. "She loves Detroit.