Waging Peace : Dr. Frank Miskena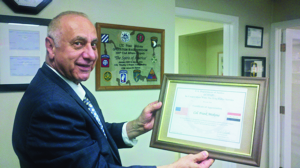 By Mary Meldrum
MANY FERNDALE RESIDENTS KNOW DR. FRANK MISKENA as the veterinarian/owner of the West Woodward Animal Hospital on Nine Mile Road. Many are unaware of his amazing history and experience as soldier and diplomat.
Born in Baghdad in 1949 to a Royal Iraqi Air Force officer, Dr. Miskena graduated from Baghdad University at age 22 with a doctorate in veterinary medicine and surgery. He served as an officer in the Iraqi army, including a two-year tour in the country's northern section as a company commander, veterinarian and translator. After that, he returned to the university as an instructor of veterinary parasitology.
Fleeing Iraq after Saddam Hussein rose to power, Dr. Miskena immigrated to the United States in 1977 and soon earned a master's degree in pathology from Michigan State University's School of Veterinary Medicine. He became an American citizen in 1983. The next year, he joined the U.S. Army as a captain and served on active duty for 12 years.
In 1996, he moved to the Detroit area and bought a small animal hospital. That same year, he transferred to the Army Reserves and served his adopted country as a civil affairs officer for more than a decade. He was the senior cultural advisor on numerous deployments to several nations with many different units, including Kosovo and Iraq. In this position he acted as an ambassador, and provided a friendly outreach to troops of all nations.
In 2003, he became the cultural advisor to the U.S. commanding general in Iraq and served as the political/military foreign advisor for the Multinational Force-Iraq (MNF-I) Command. Dr. Miskena achieved the rank of colonel and is a recipient of the Army Commendation Medal, the Bronze Star for meritorious service, as well as many other awards both from the United States and Iraq. Until his retirement on March 9, 2009, he had the distinction of being the highest ranking Iraqi-American in the U.S. Army.
Besides his veterinary degree, Dr. Miskena likes to point out with a wink that he has earned numerous degrees from the Universities of Experience and Lifelong Learning. Recently, Dr. Miskena wrote a book to share his knowledge and experience in forging friendships among disparate cultures. In the copy-editing process of publication at the time this article was written, it is expected to be available in the next few months. Warrior Diplomat, by Dr. Frank Miskena is a compilation of his mostly military stories throughout his life, and the great lessons he learned from them.
Although in the course of his travels and international military work he has become a friend and ally of people from many countries, the majority of the experiences he describes are between the people of the United States and the nations of the Middle East. Many of the topics, examples and recommendations are common to all people trying to understand or integrate into another culture. Readers can learn from someone who is completely comfortable in both cultures how U.S. soldiers and Iraqis in particular interact, as well as some of the different ways they see themselves and each other. The book is full of human interest stories from Dr. Miskena's own experience. Many of the stories are the same used when teaching cultural awareness training to members of the militaries of the United States, Iraq, and other countries.
He has been proud to serve his adopted country as a specialist in Political and Cultural Affairs here in America, in Kosovo, and during two deployments in Iraq. These adventures enabled him to bridge cultures and to promote the understanding and appreciation so sorely needed to bring about peace and security in these regions.
"Our Iraqi brothers are learning how to deal with each other, but there is still much infighting," explains Miskena. "Some are coming to their senses and are realizing they have to prove to the populace that they are the party to vote for because of constructive policies, not clan affiliations."
Our Greatest Challenge
Dr. Miskena realizes that remain many questions as to how to bring about full safety and stability in Iraq. He understands that the United States is a super-power with the capability of winning conflicts by force, but he believes that the greatest challenge we face is winning the peace; what we have to get better at is waging peace.
"My hope is that both military and civilians will come to a greater awareness of the benefit and the absolute need for mutual cultural appreciation in every aspect of global society in the 21st Century."
The conflicts in Iraq and Afghanistan are not over, and there are still many roadblocks to the path of peace, but Miskena believes we are taking the first steps. He believes that his birth country is on the long road to democracy.
Frank's Philosophy
Power lies with the people, not in oil or agriculture. Miskena believes that we need to help the Iraqi people build their identity again. Iraq civilization has a rich culture and history of art and education. A big believer in literacy and higher education, the state of the Iraqi education system – which was extremely good when he was growing up in Iraq – is presently very disappointing to Miskena, who sees it as the only way Iraq will ever gain stability and distinguish itself again.
"I am sitting between two nations all the time. And here is the beauty of how I think. Twice, I went up to see God and came back. Two heart attacks almost killed me. When you think you're almost carrying your life in your palm, you see power doesn't mean a thing."
He has seen the horrors of war. In reference to Abu Ghraib, where Iraqi prisoners were housed: "It has a smell I can't forget. It smells like death."
A gentle man who envisions a peaceful future, he sees that we could help a farmer in Afghanistan to plant wheat and not poppies.
"I am a diplomat and a warrior. Also, I am a healer because I am a doctor. I care about the human part of the globe, but also I am a veterinarian. I care about the human/animal bond. Animals show ultimate love, that is, not to seek anything in return. I want to give more than I take."