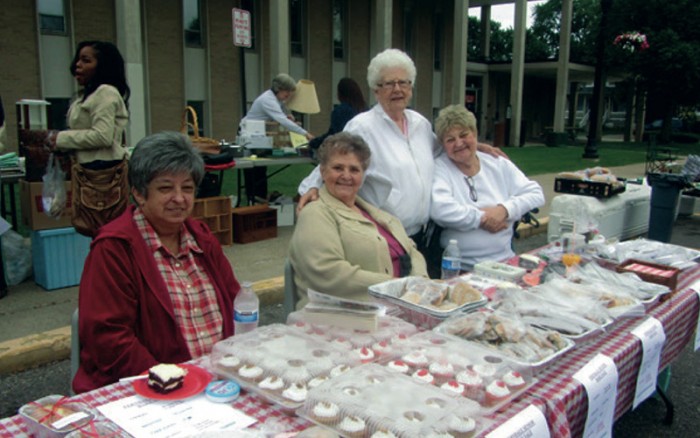 Saturday, June 13
It's April, the weather is warming, spring has finally arrived, and people all over Ferndale are tackling that dreaded chore: Cleaning the garage, basement, or attic. Where did all this stuff come from, and how do I get rid of it easily?
We all have extra stuff. Here is a solution which will help you and your city as well. Pack everything up, call the Ferndale Department of Recreation, and arrive at Ferndale City Hall a little before 9:00 A.M. on Saturday, June 13.
The Trunk & Treasure Sale is definitely your answer. The price is $15 for a parking space- size area for you to sell your goods. Once you have unpacked and set up, you are free to wander and gawk at what the other 39 vendors are offering. As you stroll, you will find garden stuff, plants, books, jewelry, furniture, electronics, crafts, and more.
Under the overhang of City Hall is senior territory! The Ferndale Seniors have been gathering, sorting, and pricing donated items. Their goal every year is to sell everything, so their prices start very low, and as the day wears on, they get downright silly.
At the library end of the parking lot, Ed Burns rules the library book sale, with thousands of books at bargain basement prices. He has everything from pretty coffee table books, to novels by popular authors, to nonfiction.
The Ferncare Garage Sale is just down the street in their parking lot across from the Credit Union. They always have a unique assortment of goodies at reasonable prices, and proceeds go to supporting their clinic.
Is all this making you hungry? Dino's has their food truck set up, and is permeating the air with the savory smell of barbeque. Still hungry for something sweet? Whenever there are seniors around, there is a bake sale! Our darling little ladies have been baking and concocting for a few days, and the results with certainly entice you.
While we are considering the seniors, their white elephant sale is entirely from donations, and the funds go to further their programs. If you don't have enough stuff to rent a parking space, consider calling me, and donating it to the seniors for their sale.
So, you can get rid of your old stuff, get some new stuff (after all, you now have room for it), stroll, meet your neighbors, be out in the sunshine, and have a delightful lunch. Not a bad deal!
Call Ferndale Recreation at 248-544-6767. They can help you secure your spot.
Want to donate to the Senior Sale? Call Jeannie Davis at 248-541-5888.
If something happened with our health, we believe there is a solution to any maladies in a medicament. What medicines do patients purchase online? Viagra which is used to treat impotence and other states coupled to erectile malfunction. Learn more about "sildenafil". What folk talk about "viagra stories"? The most substantial aspect you must look for is "sildenafil citrate". Such problems commonly signal other problems: low libido or erectile dysfunction can be the symptom a strong heartiness problem such as heart trouble. Causes of sexual dysfunction include injury to the penis. Chronic disease, several medicaments, and a condition called Peyronie's disease can also cause sexual dysfunction. Even though this medicine is not for use in women, it is not known whether this treatment passes into breast milk.