Q&A with Author Sara Teller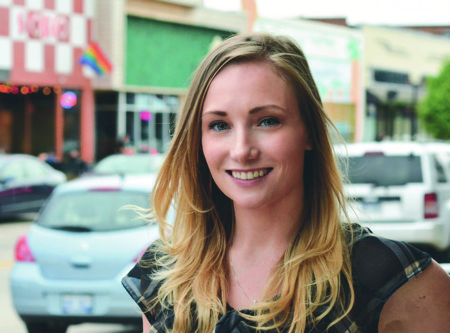 Story by Jill Lorie Hurst
Photos by Bernie LaFramboise
AUTHOR SARA TELLER GENEROUSLY AGREED TO ANSWER SOME QUESTIONS AS SHE PREPARES TO RELEASE HER FOURTH BOOK, tentatively titled "Narcissistic Personality Disorder: No Band-Aid for the Wounded Soul," it is her first self-help book, and it will be published by the Ferndale-based Mad Hatter Publishing Inc. (MHPI) owned by Gia Cilento. Sara found MHPI while reading Ferndale Friends! She researched the company, thought they'd be a good fit and "the rest is history."
Sara's life history began in Armada, Michigan. She graduated from Armada High School, then majored in General Management, graduating from Michigan State University's Honor College. In college she had three publishing internships and a part-time writing position at The Romeo Observer. She got an MBA from Wayne State in 2012, concentrating in marketing, and is currently pursuing a Masters in Clinical Mental Health Counseling, concentrating in substance abuse and addictions. She plans to finish in 2020-21. Along the way she has also become certified in HTML coding, children's book writing and social media marketing. She is busy marketing the new book right now and has made herself available for speaking engagements as well. I take a moment to catch my breath as I try to imagine actually completing all of these things!
And then we move on to Sara Teller's top priority: her two children, Emma, seven and Carson, four. "They are wonderful, my whole life".  Teller, 33, has lived in Berkley since 2016. She loves Berkley, but also spends time in Ferndale. "I love the restaurant scene."
JLH: Mom, writer, student, speaker. Is there also a "day job?"
ST: For now, yes. I have a family so maintaining stability is crucial while I build my speaking and writing career. I'm the supervisor of a casting department at an entertainment company. We help models and actors get their start in the business. I have acted a bit! And I enjoy hearing from excited talent who've been booked, and knowing we're helping our clients produce awesome projects. I definitely keep busy. I am doing things I love, so that keeps me motivated…I am very connected spiritually and carve out as much time as possible for prayer and meditation. I also make sure to find quality time for those I love…and I try to give back to the community whenever I can. I just try to stay proactive and organized.
JLH: How do you find time to write?
ST: I just write whenever possible, really. I make time in my schedule, because I find it to be almost therapeutic, a welcome release from the day to day.  It's a passion of mine, so it's easy for me to pick up a pen or my laptop and start a story whenever I'm inspired.
Sara credits her parents with setting a good example, when I comment on her ability to complete what she sets out to do. "I've had to do a lot of self-reflection lately, writing on this topic for my degree. We all have aspirations and things in our life we'd like to see changed. Having a plan is a great first step, but seeing it through is another story. As the saying goes, 'you have to make a choice to take a chance' or your life will never change, right? You only live once, might as well live life to the fullest."
JLH: What's next? Is there another book?
ST: Short answer, yes. I'm an advocate for creating awareness of the impact behavioral disorders can have on families and relationships in general. I foresee there being follow up and ancillary titles in the near future, although I am focused on the original right now. I would like to cover other mental health topics as well: substance abuse and addictions, post-traumatic stress and other behavioral disorders.
JLH: What do you read when you have time?
ST: I LOVE Virginia Woolf! I took an honors course at Michigan State and fell n love with her work. And the COO of the company I work for wrote a self help title "Divine Worth." I found this to be a very inspiring read.
JLH: Do you think you'll write fiction again?
ST: "Yes, I do. I have a myriad of interests and enjoy all types of writing.
Right now, I am focused mainly on mental health and legal topics. I also write poetry. I was published three times in poetry collections between 2015 and 2016. I fantasize about retiring in a small cottage in the country, writing fiction novels. But, life may have another plan! Only time will tell."
For more about Sara Teller's new book, check out her website sarateller.com. To contact Sara for a speaking engagement, you can reach her directly at sara@sarateller.com. You can also contact Gia Cilento at MadHatterPublishingInc.com.