Detroit's Kingpin of the Art Racket : Jerry Vile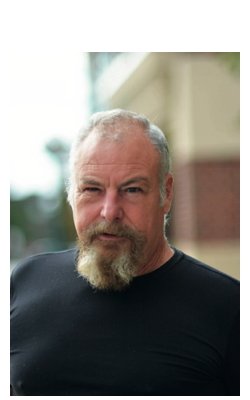 Story by Rose Carver
Photos By Bernie LaFramboise
Jerry Vile has been an integral figure in Detroit arts culture for over two decades. Once described as the "Undisputed Kingpin of Detroit's art racket," this imaginative mystic has more up his wizard's sleeve to contribute to the world of creation.
A painter, a photographer, a master party thrower; Vile (or Peterson, which he says is his slave name) has never been one to squander his vision to reach mainstream status.
Many remember him from his time as the founder and publisher of the irreverent Orbit Magazine, while others may know him from his annual erotically expressive and somewhat deviant art showcase, the Dirty Show. Others still may remember his famous additions to Detroit monuments of 2013, such as the giant Crisco can next to "The Fist."
Vile lived in Ferndale in the '80s, and according to him, his presence was the main reason it became cool. Vile says he learned everything from watching TV, but he was inspired early on by comic book artists like Robert Crumb, Max Fleischer and Ralph Steadman.
Orbit Magazine was born at the dawn of the '90s, and is now still very alive in legend and in plastic covers of historical preservation. His alternative magazine focused on arts, culture, satire, and stayed out of the realm of the political. One of Vile's earlier magazines, which served as a starting point for Orbit, Fun magazine, was a "free humor" satirical publication, which was around two years before The Onion. Vile is and always has been a true innovator of Detroit's alternative arts scene, and he continues his legacy every year with the Dirty Show, which usually occurs in February. It is now in its 18th year, which Vile says is the longest he's ever done anything. He said that the motivation for the first show was simply to impress his friends and to amuse people.
"The Dirty Show is an accident.  It was just a theme, fortunately it became a hit," Vile said. "This is our 18th year. We are legal. It takes a lot more now to amuse people, so it is challenging, which is why it is still interesting." The experience of the Dirty Show, as Vile describes it, is reliant upon the viewer and the way they will view the artwork. Past Dirty Shows integrate a wide variety of types of art mediums. Artwork within the shows theme is chosen by a panel that includes Vile. The true party is during the art shows opening, when one can dress up, and express their subconscious desires with leather or flesh. Every year there is a special guest, and while next years celeb has yet to be announced, in 2015 the show welcomed the likes of such royalty as filmmaker John Waters.
While The Dirty Show may be his magnum opus, sexual themes aren't the pinnacle of his interests as an artist. Vile says he often draws creatures and rarely starts out with a planned vision going into the process –but no matter what, his conceptions are never textbook.
"I just sit and my hand starts moving with the brush and I figure out what it is after I paint," Vile said. "Sometimes I will try to paint something, but it is not what my subconscious wants to paint so something different comes out. Its like spirit writing or something."
Perhaps he is an artist who is truly tapped in. Interested persons will have a chance to discover "The Oracle of Vile." On November 4th, Vile has an art show called "God's Mysteries Elucidated" which is a show of illuminated proportions. This night shall prove to be a night of "A Most Curious Re-emergence." The show stars Vile, walking among his works of paintings, sculptures, photography, and installations. The show guarantees to be the best art show you've ever seen, or your money back. The show is at Tangent Gallery, from 7-10pm.
For now, this sorcerous creator can be found at the Russell Industrial Complex, where he works in his studio. As for his future, Jerry Vile could see himself wandering to LA, New York, or London, continuing to follow his artistic aspirations. He said Detroit is a great city for creating art, but not so much for making money or getting known. As for his artistic future; Vile aims to never disappoint the true heart of what he does, never compromising his soul to sell out.
"Artistically, I do not want to be 'arty band in t-shirt, shoe-gazing while playing highly intelligent music' – I want to be Alice Cooper, Bowie or Kiss. These are the bands that created punk rock. I don't need the mainstream viewer, I think there are a lot of disenfranchised art fans art there," Vile said. "The mainstream can come to me when I am no longer relevant."