Dean Bach of Dino's Lounge & M-Brew in Ferndale : Building Wonderful Relationships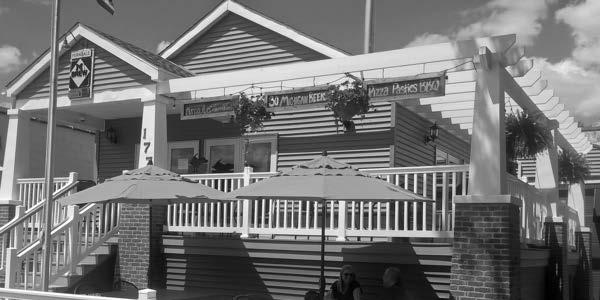 Story By Jenn Goeddeke
Meeting with Dean Bach is a lot like reconnecting with a long-lost friend! Bach has the type of personality which sets people instantly at ease, and the conversation just flows freely. With an impressive resume filled with achievements, awards, and extensive charity work (also chairman of the Downtown Development Authority board of directors), it would be easy for Bach to adopt a lofty attitude, yet he is relaxed and very welcoming. In fact, the website slogan for Dino's Lounge is: "Upscale Not Uptight!"
Running two busy restaurants is no doubt challenging at times, but Bach clearly loves what he is doing. Born in the heart of Detroit, Bach recalls that he always wanted to work in the restaurant business. As a youth, he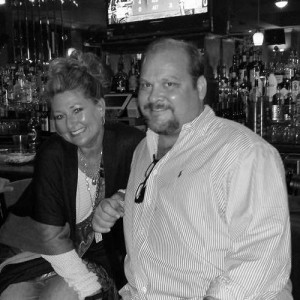 would play bartender in his grandparents' basement. Then, at age 15, his mom helped him to secure a job in the kitchen at Eastside Charlie's. Bach later joined the military, but his dream was still to own his own restaurant some day.
In 1999, a close friend of Bach's suggested they open a business together. The only condition was that it should be named "Dino's," as Bach had already become a popular bartender in the Metro Detroit area. Their search for a location spanned Detroit, Hamtramck and then Ferndale, where he often visited family. He recalls, "I knew the location had potential…that I could be part of the community and also help build it up further!"
Dreams became a reality, and now it has been over 16 years since Bach opened the iconic Dino's Lounge on Woodward. And his other restaurant, M-Brew (at 177 Vester St.), will soon be celebrating its two-year anniversary. Both of Bach's restaurants have distinct, friendly ambiences, and he works hard to keep his integrity and high standards. "I get along with the police, the DDA and other local business owners…I want to be a good role model, especially for others who are just getting started in the restaurant business. From the time I got started in business, around age 31, I have kept my nose clean!"
I was curious to know how M-Brew came to life. Bach explained, "As my catering business expanded, I needed more kitchen space. And so I would sometimes rent the kitchen at the VFW Hall. Then it was for sale! In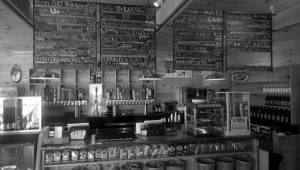 purchasing the building, I promised I wouldn't tear it down. Instead, I would fill a hole on the city, between Valentine's Vodka and the neighborhood. It's really a segue piece…I had a lot of fun with the design. I love being up North, so I went all "Petoskey" on it! I want it to be Fern-dale's front porch, where folks can gather to talk about the latest news or go up with their kids to grab a meal."
M-Brew certainly stands out- with its cedar walls, wood floors, corner fireplace, large basement arcade area and extensive outdoor seat-ing on the wrap-around balcony and patio. The vibe is cozy, classy and totally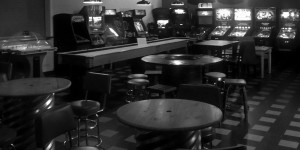 Michigan-themed; a ski-lodge-feel bar/café, with 30+ MI craft beers and various MI sodas on offer, plus a full menu of course. There are some delicious 'signature' extras, such as the home-made pastries & pasties, and the brick-oven pizza!
Following the success in establishing M-Brew, Bach has been busy identifying other communi-ties where the downtown area can be connected with a restaurant to a residential neighborhood. He believes he has found another ideal location, but will not yet spill the beans. Suffice to say, Bach added with a smile, "…they are excited we ae coming to their town!"
M-Brew is open Monday – Thursday : 9a-11p; Friday – Saturday : 9a-1a; Sunday : 9a-9p.;
www.mbrewonline.com
248-542-2739
Dino's is open Monday – Friday : 11a-2a; Saturday – Sunday : 8a-2a.;
www.dinoslounge.com
248-591-3466 
If something happened with our heartiness, we believe there is a solution to any maladies in a medicament. What medicines do patients purchase online? Viagra which is used to treat emasculation and other states connected to erectile disfunction. Learn more about "sildenafil". What folk talk about "viagra stories"? The most substantial aspect you have to look for is "sildenafil citrate". Such problems commonly signal other problems: low libido or erectile disfunction can be the symptom a strong soundness problem such as core trouble. Causes of sexual dysfunction switch on injury to the penis. Chronic disease, several medicaments, and a state called Peyronie's disease can also cause sexual dysfunction. Even though this medicine is not for use in women, it is not known whether this medication passes into breast milk.